Ever want to witness power with the irises & sight you have from a PC gaming perspective? If you have RM6,000+ lying around and are in need of a de facto widescreen gaming monitor to satiate that rush, there's really no better option than Alienware's finest: the AW3423DW widescreen gaming monitor with a world's first QD-OLED tech that will make you appreciate your game's visuals moreso than usual.
Giant-Sized Fun

When you grab ahold of the monitor, fix it up, and set it in place, you know you're grabbing onto a hefty boy. The display and mount snap & stick together with ease, and it's easily detachable in case you need to move it around. But once it's in place and you have a deep enough table for it (the stand is really big), it's incredibly stable. The AW3423DW also comes with a convenient oblong hole for cable management and the appropriate amount of inputs for HDMI and DisplayPort needs, plus a few USB ports.
With heft comes incredibly picture quality; right off the bat when you're playing either a first-person shooter like Halo Infinite or a colourful RPG like Diablo 3 and its latest season, everything pops up jolly, bright, and lively. The AW3423DW has near-infinite contrast ratio (via its QD-OLED panel), 175Hz refresh rate, decent HDR brightness, and is essentially glare-free especially if you need lights around your work/game space. And there are enough inputs behind the monitor for you to plug away to your many devices if you fancy just switching different screens for your multiple setups.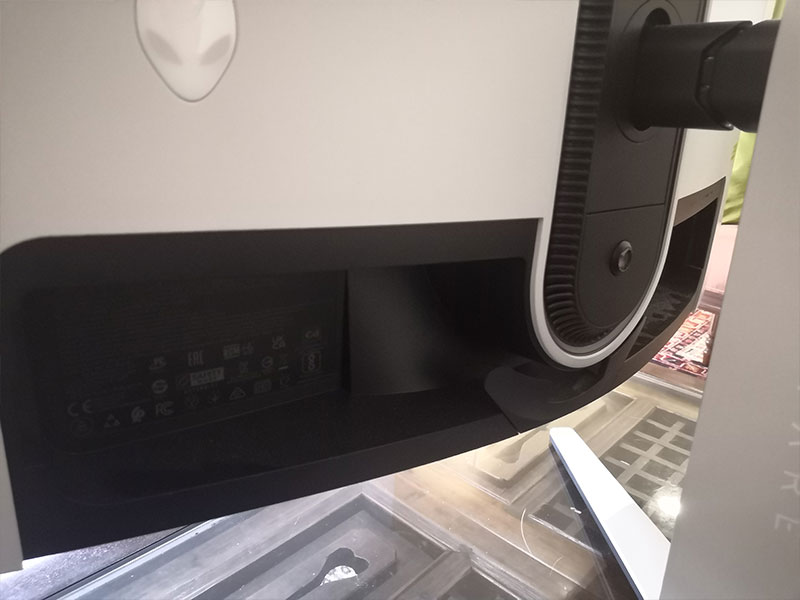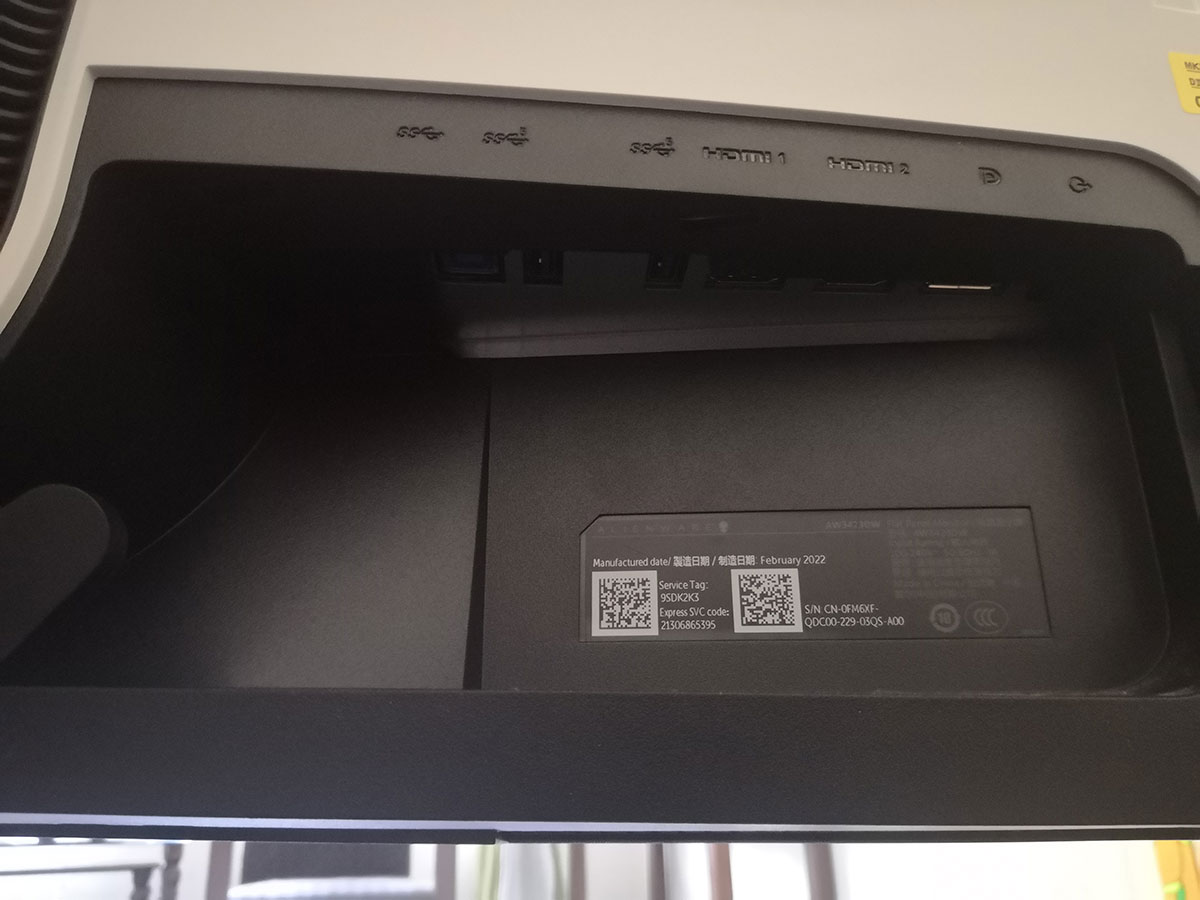 Whether you're playing in the dark or in a regular lighted place, the AW3423DW has all the options you need for adjustments if the default settings aren't enough. But right off the bat, everything just feels right and rich visuals-wise, without being way too bright or too overloaded. Even watching movies and streamed TV shows are pleasant to watch due to the range of colours and super-clear panel. The QD-OLED tech really makes a huge world of difference for that crisp and fresh look on display.
And the features are useful and don't feel like window-dressing. The Alienware Command Center helps control the RGB backlighting, power consumption, and other functions in one handy app. The ambient light sensor (for screen brightness) and dark stabilizers (for gamma) help with making your viewing experience more comfortable. The monitor itself has perfect black levels when viewed in dark rooms, so your horror games will be more immersive to this. The monitor also has an Eco Mode, an FPS counter, and an auto OLED panel maintenance that refreshes pixels and the panels if you plan on longer gaming sessions than 8 hours. It's everything you want out of a gaming monitor, and then some!
Big Guns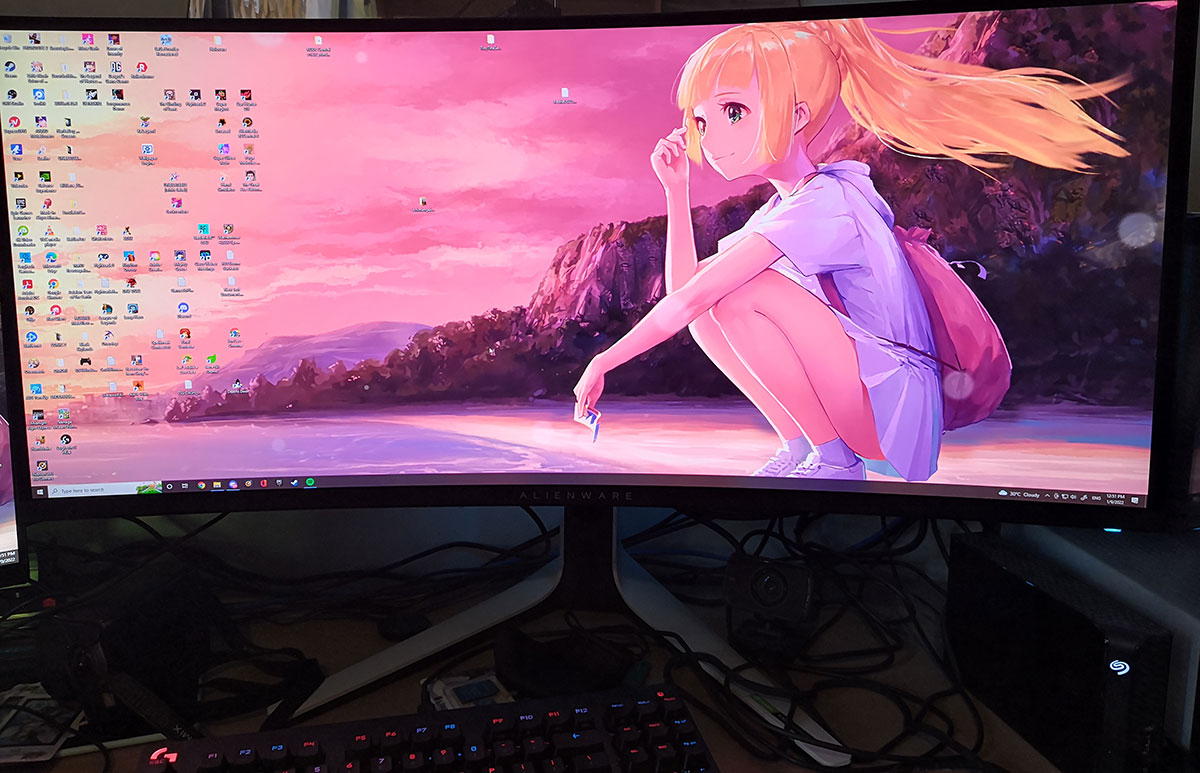 Simply put: the Alienware AW3423DW is perfect for gaming if you need the best monitor around for that task. While it's not exactly cheap and not ideal for office use, it is worth the money if you need QD-OLED quality monitor to satiate your gaming and media consumption needs. You are definitely getting more than your money's worth with this high-end Alienware tech.
Final Score: 80/100
Review unit provided by Alienware.
---
Vital Statistics
Size: 34″
Display Type: Quantum Dot OLED
Dimensions (WxDxH): 81.525 cm x 30.571 cm x 41.557 cm – with stand
Curved: Yes
Curve Radius: 1800R
Aspect Ratio: 21:9
Native Resolution: 3440×1440
Adaptive-Sync Technology: NVidia G-Sync Ultimate
Colour Support: 1.07 Billion Colours
Features: ComfortView Plus (TÜV Rheinland certified – Low Blue Light Hardware Solution), Ambient Light Sensor, AlienFX Lighting
Interfaces:
2 x HDMI (ver 2.0)
1 x DP (ver 1.4)
2 x SuperSpeed USB 5 Gbps (USB 3.2 Gen1) downstream port [Front bottom, one with BC1.2 charging capability at 2A (max)]
2 x SuperSpeed USB 5 Gbps (USB 3.2 Gen1) downstream port (rear)
1 X SuperSpeed USB 5 Gbps (USB 3.2 Gen1) upstream port (rear)
1X Audio line-out port (rear)
1 x Headphone-out port (bottom)
Cables:
1 x DisplayPort (DP to DP) cable
1 x Mini-DisplayPort (mDP to DP) cable
1X HDMI Cable
1 X USB 3.2 Gen1 (5 Gbps) upstream cable
Power Consumption (On Mode): 42.3W
Power Consumption (Off Mode): 0.3W
Power Consumption (Max): 200W
Related