By Alleef Ashaari|September 15, 2022|
During the Xbox TGS 2022 live stream, Blizzard officially unveiled a new hero named Kiriko, who will make her debut in Overwatch 2.
Kiriko is a support character who uses magic talisman paper to buff and heal her teammates. She also has shurikens as weapons, as well as teleportation skills (blinking) to get to places quick and help her teammates in need. She's described as a "single target hybrid healer" who can get into skirmishes and help out on the fly.
Here is her kit on display:
Primary Fire: Healing Ofuda
Kiriko is able to target allies and throw ofuda–paper talismans imbued with powers–in their direction to heal them. This is a series of five projectiles that will hone in on an ally.
The Healing Ofuda is a very slow-moving ability, so there's an opportunity for players to throw them ahead of time if they anticipate damage.
Secondary Fire: Kunai
Kiriko throws kunai with her secondary fire to deal damage. They are very fast and inflict more damage when they hit critically, making the ability more valuable to players who are used to aiming projectiles.
Swift Step
Kiriko's main movement ability is the Swift Step, which allows her to target a single ally–in the vein of Mercy's Guardian Angel ability–and teleport to them instantly. This teleport can even go through walls, making it invaluable when trying to catch up with a team or save allies from a skirmish elsewhere on the map.
Protection Suzu
The Protection Suzu is a small "bell" that can be thrown on the ground or into allies that gives a short burst of immortality and cleanses all debuffs. The cooldown for this skill is really long, FYI.
Ultimate: Kitsune Rush
Kiriko casts a "path" with an illuminated shrine that gives massive buffs to teammates. The buff gives allies movement speed, attack speed, reload speed, and a cooldown reduction.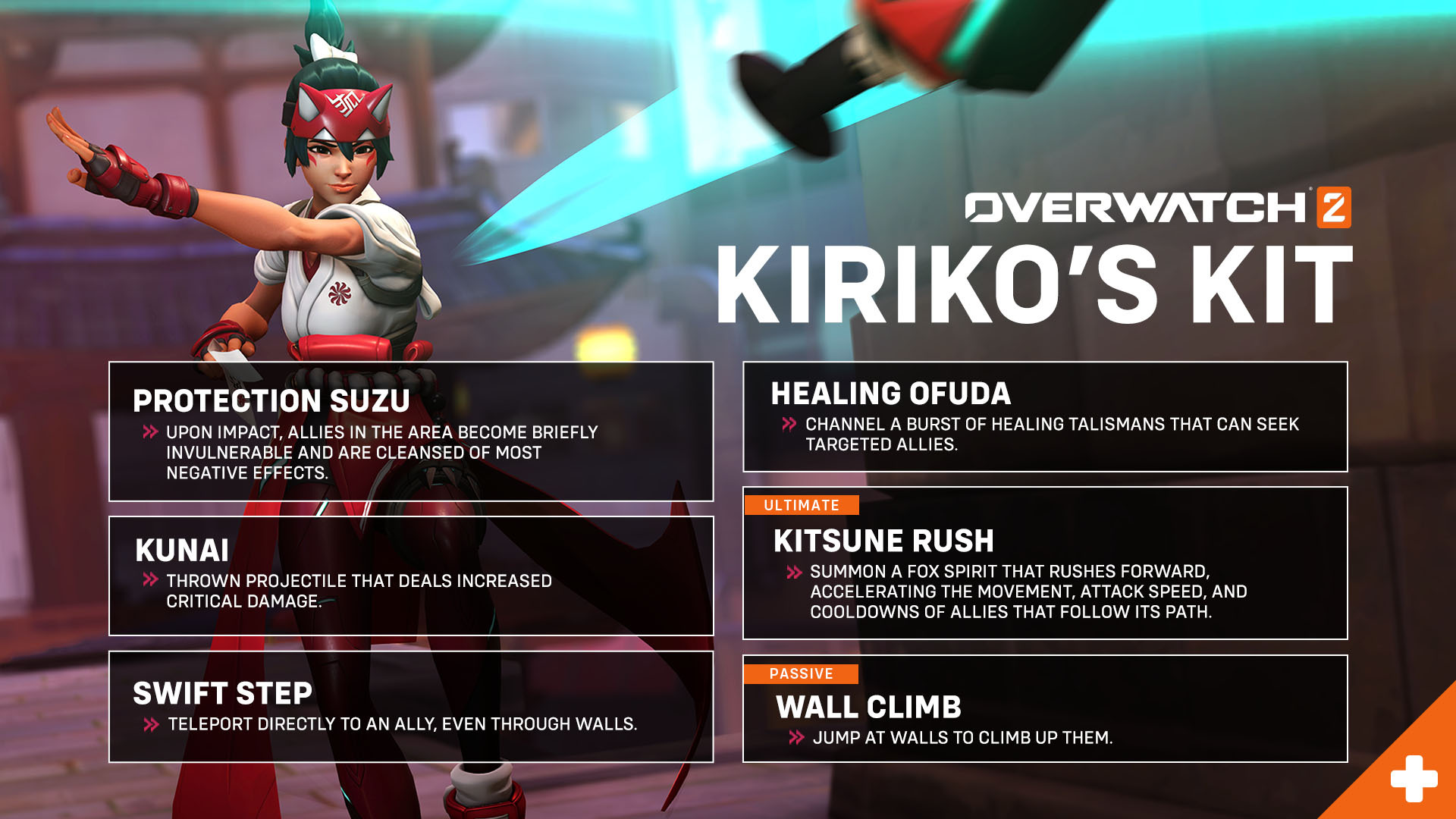 Overwatch 2 is slated to premiere on 4 October 2022 as a free-to-play game on PS4, PS5, Xbox One, Xbox Series X/S and PC.