Garena Free Fire x Maybelline Collaboration: SuperStay Matte Ink Free Fire Edition
By Alisha Alix|October 31, 2022|
Yes, you heard that right. Garena Free Fire has announced its first collaboration with Maybelline New York, one of the top cosmetic brands for their best-selling lipstick range "SuperStay® Matte Ink" line.
The limited-edition lipstick range will blend fantasy and reality by bringing Maybelline into the virtual world as popular female in-game characters will be seen wearing the shades and bringing Free Fire to life. Fans of both get to don 8 bestseller lip shades from this exclusive edition. The shades are named according to the famous female characters; Kelly, Caroline, Kapella, and Moco. SuperStay® Matte Ink Free Fire was first seen on famous influencers in the gaming and makeup community platforms.
Product Features
Level up your beauty experience as the features are focused on female gamers for a boost of 8 smudge-proof shades that can wear up to 16 hours! Who says you can't be fabulous and awesome at the same time?
Kelly: For the Happy-go-Lucky and Young at heart
Shades: #210 Versatile, #135 Globetrotter
The warm tones are great for those who prefer a simple go-to makeup to look fresh and peachy. It has never been simpler to style for any battle rises.
Caroline: For the Elegant Social Butterfly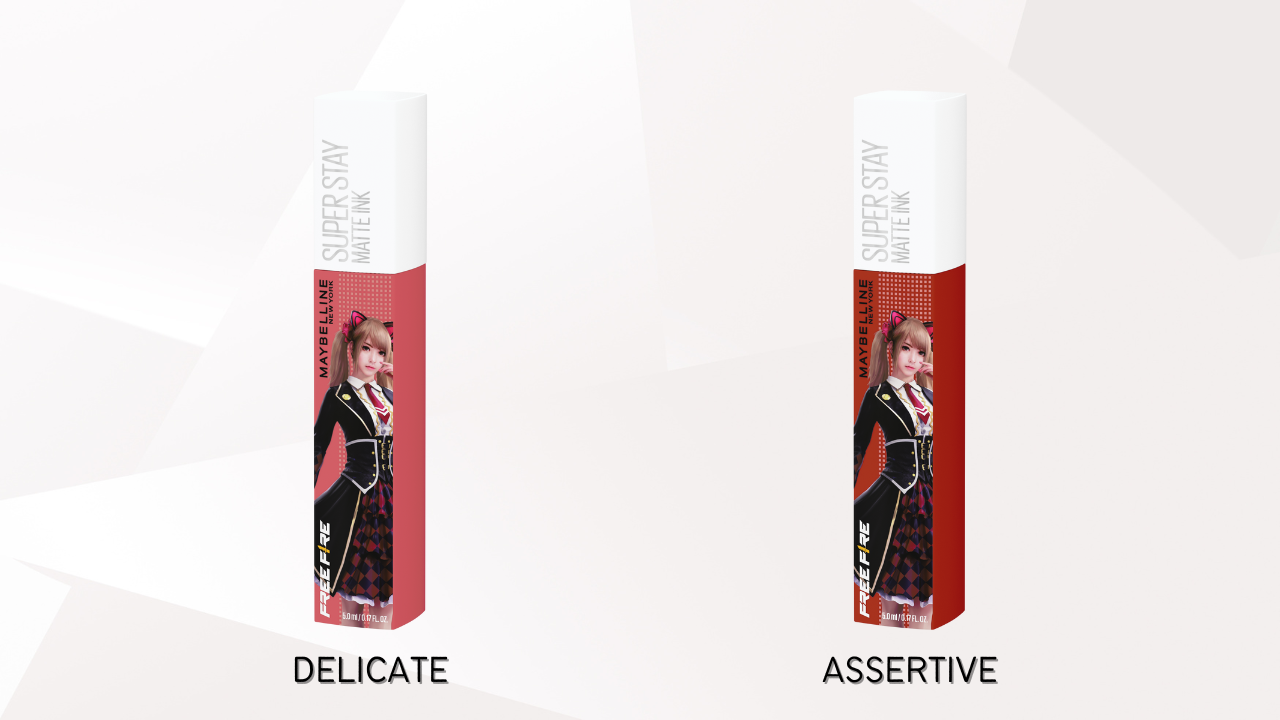 Shades: #225 Delicate, #205 Assertive
Get the spotlight with Delicate and Assertive shades. From sweet princess vibes using Delicate, a soft pink shade to the queen of the red carpet with a dash of dark red. Are you the versatile girl?
Kapella: For the Energetic and Obeservant
Shades: #65 Seductress, #130 Self-Starter
Feeling cheeky and playful? Seductress and Self-Starter are your go-to! These charming pink tones definitely exude a touch of zest into that bubbly personality.
Moco: For the Edgy and Driven
Shades: #220 Ambitious, #80 Ruler
Be that GirlBoss or unleash the girl power with the Ambitious and Ruler shades. Make a bold statement with these stunning hues that stand for the renowned prowess of Moco. When in doubt, go red.
SuperStay® Matte Ink Free Fire Edition was first unveiled by notable gaming influencers as well as beauty cosplayers. They have shared their experience with the line through various product demo, unboxing video, 'torture' tests, and makeup tutorials inspired by the females-in-game characters on social media platforms!
With discounts of up to 25% during the partnership time, the Maybelline SuperStay® Matte Ink Free Fire Edition is currently available for retail purchase on all official Maybelline New York e-commerce sites in Singapore for $18.90. RM42.90 on all official Maybelline New York e-commerce sites in Malaysia, with up to 35% off during the collaboration period, and PHP399 on all official Maybelline New York e-commerce platforms in the Philippines.
Have you experienced any of the shades above? Let us know in the comment section below. Sign-up on our website for more beauty-gaming related news.
Related