Marvel Snap is one of the most popular games in both the Apple App Store and Google Play Store. NuVerse and Marvel have blessed us with an actually free-to-play card game where you unlock new cards by actually playing and the only thing you really spend money on is cosmetic items like alternate art for your cards.
And there are a lot of cards! The majority of the cards also come with special abilities that actually make sense for the character. Nightcrawler teleports, Rogue steals powers and Uncle Ben? Well, if you destroy your Uncle Ben card it plays a Spider-Man card in its place which is so dark and wonderful.
But with all these cards and combinations, it can be pretty hard to put together a hand of twelve cards that play well with each other. So, if you're starting, here are some pretty simple ideas you can go with.
The Patriot Deck
First, we have the Patriot Deck, a deck that is really hard to screw up and can be really fun if things go your way.
There are cards that possess no abilities such as Shocker, Cyclops, and Hulk. It's easy to tell whether or not they have abilities because they'll have a quote like "Hulk Smash" where there would normally be a special ability description.
There are also cards that create "normal" cards. These are cards that, when played, produce more cards that have no abilities. Squirrel Girl creates two squirrels, Mister Sinister creates a clone. Things like that. You're going to want to stock up on these.
But save a spot for the young man Elijah Bradley, more popularly known as Patriot. When placed at any of the three locations, Patriot grants +2 power to any card that doesn't have an ability. If you happen to be able to duplicate him it creates +2 per. Meaning that if you play him at the Sinister London spot, it'll create a second Patriot at a different spot giving your boosted cards +4. If you're lucky enough to get Sinister Bar and play Patriot there it'll create four meaning that all your cards without abilities will be given +8 each. That turned the Hulk into a card with 20 power.
If you happen to play Ultron at the end, he'll give you 8 power at that location and then fill every available spot at the other two spots with drones that, when boosted, will be worth 3 points each.
Tip: I would also advise adding Venom to your deck because if you accidentally played too many cards that cloned and you find yourself unable to move, Venom's ability to eat all the cards at his location while keeping their combined power levels means that you can clear out a spot without losing any power.
The Moving Deck
With the Moving Deck, you will need to be a little bit more careful because a bad opening draw can really decide a round for you.
For this trick, you're going to want to look up cards that have special abilities involving movement. Examples of such cards are Nightcrawler and Vision who can teleport. You have cards like Doctor Strange and Cloak that can teleport others. And then you have cards that get more power when they move like Human Torch and Vulture. If you get a good mix of the last two you can really boost the power of your cards quickly.
The tricky bit here is that sometimes you're going to be able to play a card but you might want to wait. For example, you might have Cloak in your hand on your second turn, but if you play him, you'll only be able to move the cards you already have out on your second turn, meaning that if you don't have any cards out with moving abilities, Cloak is pretty useless.
With careful planning, you can also boost cards several times with careful placement. For example, turn 4, and have one of your cards be Iron Fist. In the next round, you play Vulture and Cloak. Because you played Iron Fist the last turn he'll hit Vulture making him go one to the left. Vulture's ability lets him gain +5 power every time he moves so now he's gone from 3 to 8. But because you also played Cloak, you can move Vulture over to Cloak on the following turn. Do that and Vulture goes from 8 to 13. And heck, if you manage to finish off the game by playing Heimdall—who moves all your cards one location to the left—you'll bring Vulture from 13 to 18. In the meantime, Iron Fish, Cloak, and Heimdall added 14 other points to the board.
Tip: A great card to add to this is the newly added Miles Morales card. While a card that costs 4 energy to play for only 5 power doesn't seem that great, Miles has the special ability of only costing 1 energy to play if a card moved on the previous turn meaning you can make a lot of turns a +5 turn just by moving a card.
The Ongoing Deck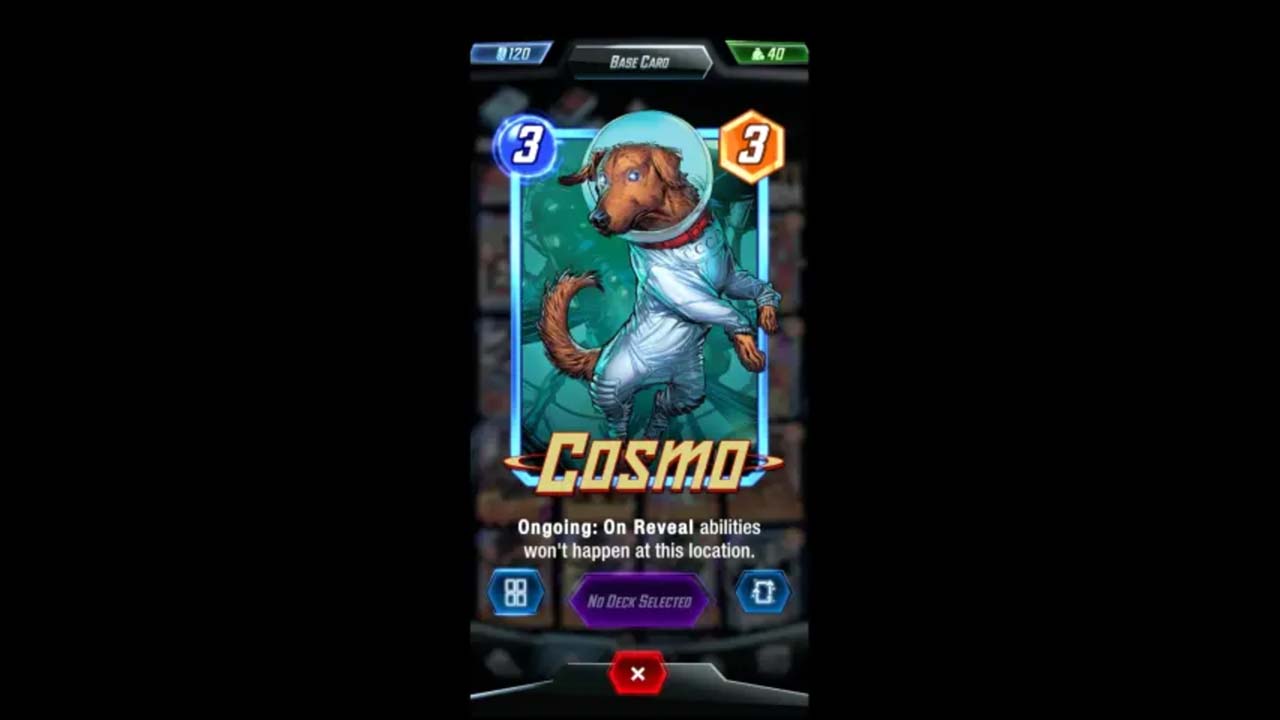 The last deck we have on this list is a fun one, especially if you want to familiarise yourself with the lesser-known cards in your deck.
In Marvel Snap there are two kinds of abilities your card might have. "On Reveal" means that they do what they're going to do when they're first revealed. An example of this is when Jubilee enters the game she brings in a random card from your deck with her in an explosion of fireworks. Then there are the "Ongoing" abilities. These are the ones that stay active and live during the whole game. For example, Colossus has an Ongoing ability that says "can't be destroyed, moved, or have its Power reduced." That goes the whole time.
As the name of the deck suggests, you will load your deck up with cards that have Ongoing abilities. They may seem a little all over the place but they'll work together eventually. Armour's shield prevents people from taking out your Ant-Man. Klaw will boost the power of the spot to his right and Iron Man will double the power at whatever location you play him at. Devil Dinosaur will get a massive power boost for every card you have in your hand, and if you play Moon Girl, while she's not Ongoing, she has an On Reveal action that doubles your hand giving Devil Dinosaur a huge power boost.
For some real fun, play Spectrum at the end. She has an On Reveal ability that gives +2 power to all cards on your side with Ongoing powers which can really turn the tables if you have an area with four Ongoing cards, giving that spot a +8.
Tip: A great Ongoing card to add to this deck is Cosmo the Psychic Dog. While he is the bane of any Marvel Snap's existence with the ability to prevent any card from being played at that location by using an On-Reveal ability, most of your cards are Ongoing. So unless you just happen to be playing someone else going all Ongoing, you're probably going to mess up their Christmas pretty well with that Cosmo.
Related