Platform(s): PC (version reviewed), Nintendo Switch
Genre: 2D action platformer with search action-like elements
The last time production house Rooster Teeth lent their Western animation/anime license RWBY out for a video game is for the Arc System Works fighting game crossover BlazBlue Cross Tag Battle, and that worked out very well for them. But as a standalone game? Well, they had decent luck with online co-op hack-and-slasher RWBY: Grimm Eclipse, so why not try their luck with a 2D action platformer with the huge development assist from experts WayForward?
I'll say this: if "decent" is what you want, you'll definitely get it in RWBY: Arrowfell. Just don't expect anything mind-blowing.
Four Play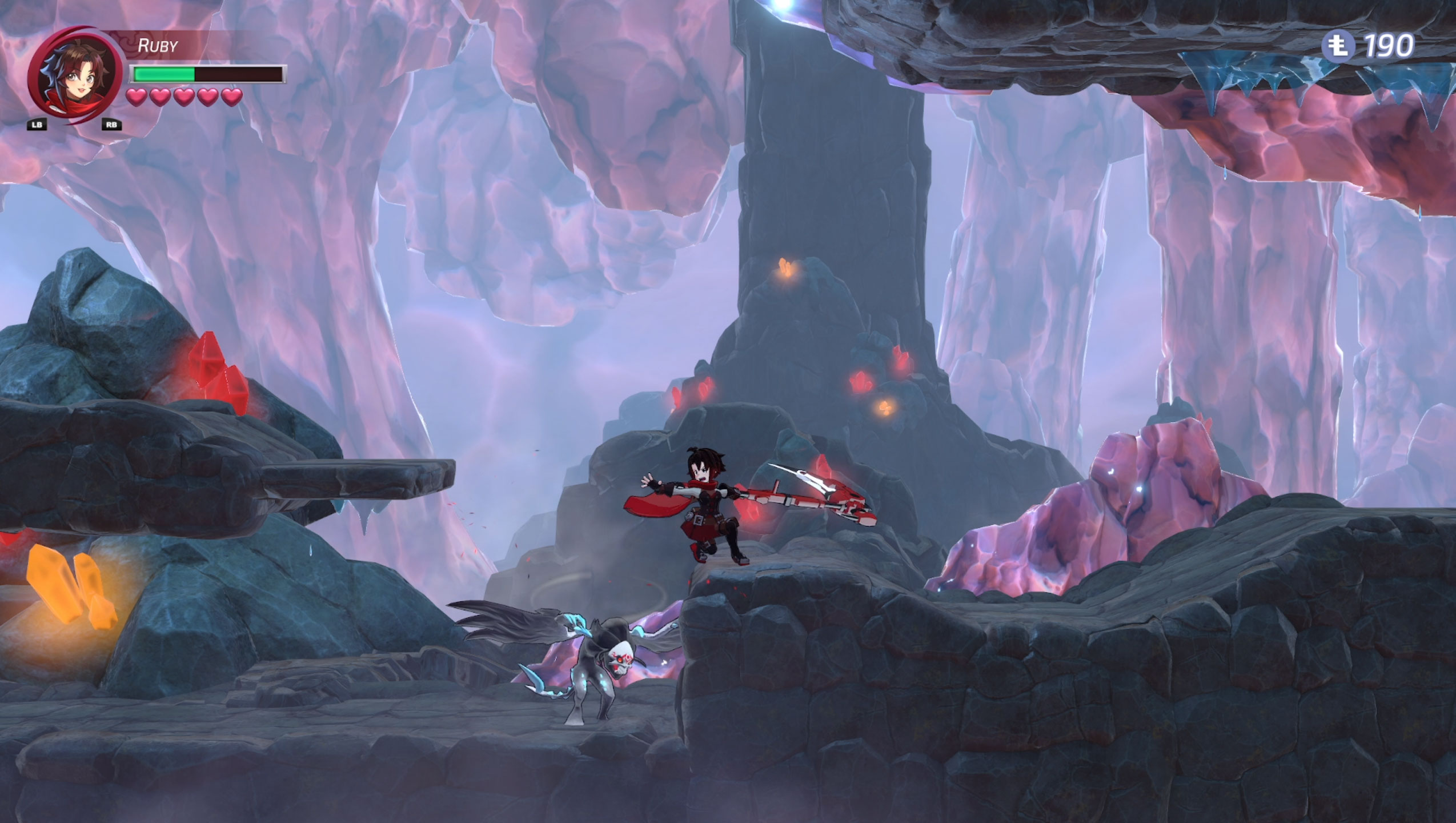 RWBY: Arrowfell takes place during RWBY Volume 7 where our four anime heroines -Ruby, Weiss, Blake, and Yang- are licensed huntresses and are tasked to protect the continent of Solitas, uncovering an underlying mystery involving dangerous military tech and even rival huntresses. You start the game off as Ruby, but right off the bat, you can switch between the three other warriors each with their own melee attacks and Semblance powers. Each of them is unique and can help the girls progress through the many simple puzzles laid across the 5-hour experience. Ruby can dash horizontally either on the ground or mid-air, while Weiss can summon an ice platform above her head.
Blake can summon a shadow clone to distract enemies or use pressure platforms as part of a puzzle, while Yang has a ground pound that destroys barricades. They also share a lifebar -3 hearts at first which you can upgrade further- as well as a green "mana" bar that's used as a "damage shield". If the green bar is empty and you get hit, you lose hearts instead in a dramatic screen freeze fashion. And you can only refill the bar by killing enemies and breaking stuff, so there's an incentive to keep on fighting instead of avoiding.
Later on, you'll get upgrades to your Semblances to access previously-blocked areas in previous map sections. RWBY: Arrowfell is a Metroidvania, but in the shallowest sense; there's no map you can refer to, though each stage is short and simplistic enough that you don't really need it. Oh, and you also have a ranged attack that uses the green bar, but those pea shooters are so useless and insignificant that the melee attacks can get the job done better and quicker.
See, Team RWBY can collect Skill Points that can be distributed among four stats: melee damage, defense, energy generation, and ranged attack. The last two stats are useless in the long run; if you hit hard and take the least amount of damage, you can pretty much steamroll through the entire game if your 2D platforming is up to snuff.
This Won't Be The Day…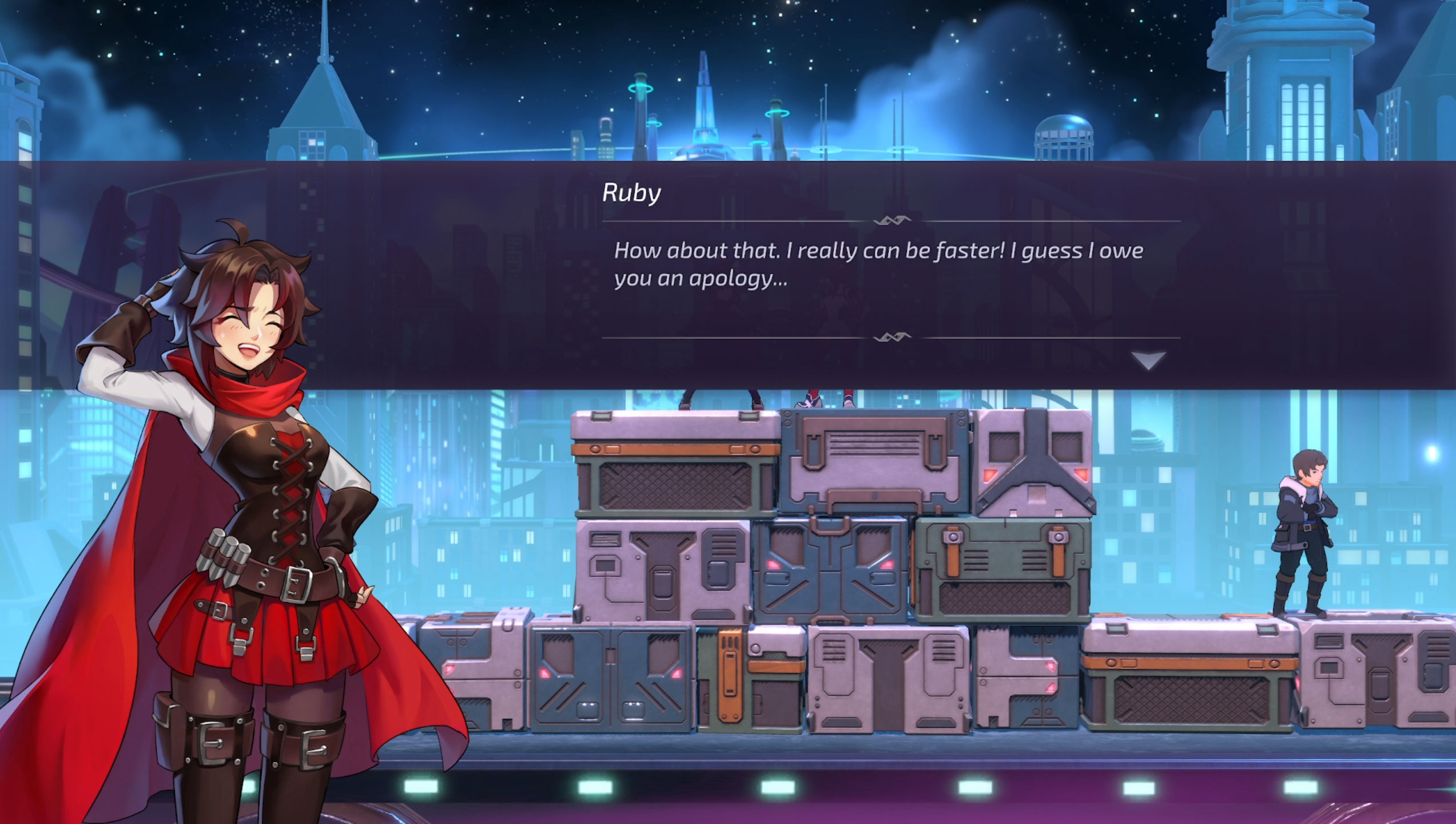 I get that RWBY: Arrowfell is adopting a simple RPG and search action levelling-up approach, but it does make the entire game a cakewalk. The repetitive use of the Ambush segments (where you're stuck in a room and have to kill all enemies), simple boss patterns and telegraphs also do not help with the lack of challenge and variety. At the very least, the game's controls are great, and switching between the lead ladies is painless and trying out their kit is fun. The game's "chibi" aesthetics and decent music (complete with new scores & vocal numbers from the show composers) get the job done in being a title that fits the license property it's using. There's also the search action problem of backtracking a ton, but there's an Exit Level option so that you don't need to retrace your steps if you've found a key item and have to leave.
As far as game license cash grabs go, RWBY: Arrowfell could have been worse. At the very least, there's a serviceable action platformer game here with loads of potential, but it's squandered by boring-level design and all-around simplicity. So it's keeping in line with the show's tone, really. As long as you don't expect too much to blow you away and if you have time to spare from other better action platformer search action-ish offerings out there in 2022, you'll be fine with RWBY: Arrowfell.
Final Score: 60/100
Related