Samsung Electronics has officially unveiled its two brand-new display products, The Wall All-in-One smart tv and the Odyssey Ark gaming monitor. These latest entries precedent new standards in the audio and visual world.
In addition to the tech giant's continuous effort in pursuit of greatness, Tok Sang Man, the Head of Consumer Electronics Business of Samsung Malaysia Electronics, said:
"With the boundaries between the visual and the physical world blurring, customers have come to expect and demand visual experiences that are as true to life as possible – detail so fine that you can almost reach out to touch it. This is why we are so excited to finally bring to Malaysian consumers both The Wall All-In-One and Odyssey Ark; both of which are designed to give your senses experiences you literally have to see to believe."
The Ultimate Professional Experience
The Wall All-in-One was first created as the ultimate smart tv for professional purposes, delivering advanced picture refinement and dynamic range visual, an all-inclusive component, crystal clear sound performance, and fast installation. Among those making use of The Wall is an international award-winning media production company CJ ENM, which has built the world's largest virtual studio capable of supporting a variety of projects, including movies and music.
The smart tv comes in three model options: 146-inch 4K, 146-inch 2K, and 110-inch 2K, removing the complexity of making critical choices in choosing your preferable model. The Wall series feature Black Seal technology, creating a seamless canvas for purer black levels with enhanced depth and details. The Ultra Chroma Technology adds narrower wavelengths that produce RGB colours that are twice concentrated as the conventional LEDs. Neural Quantum Processor 4K is instantly analyzed and optimized for flawless picture quality. The lineup also converts the standard 60Hz signals to 120Hz, to give out a smooth and seamless viewing experience, every time.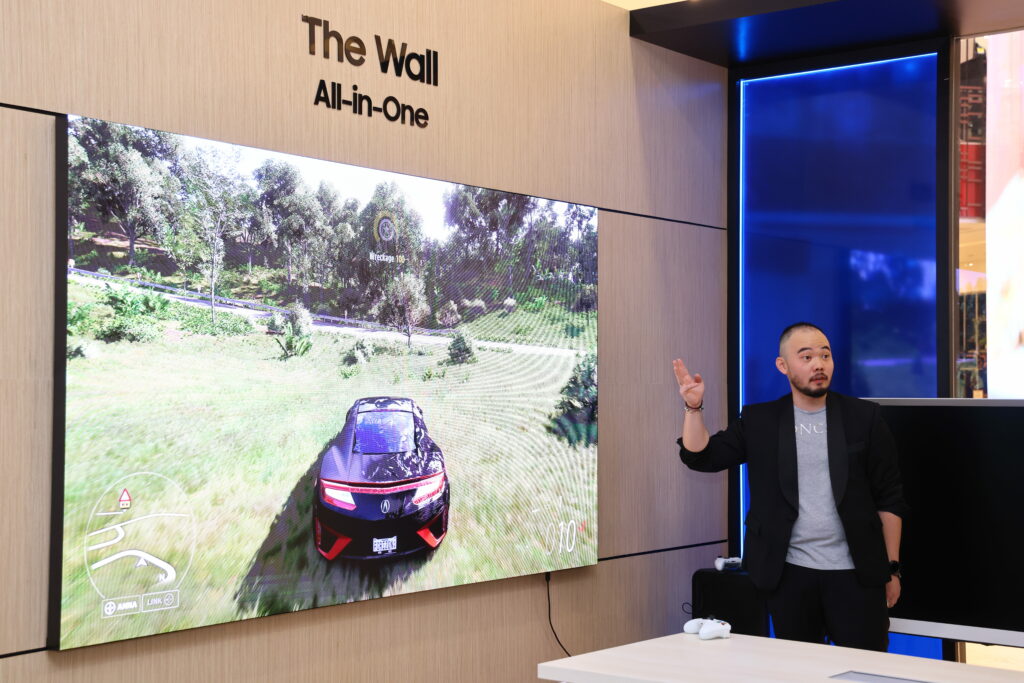 Given that Samsung The Wall-in-One series provides the best out of the best visual and audio performance, the retail prices are not to be taken lightly, starting at RM495,543.00 for the 110-inch 2K, RM707,132.00 for the 146-inch 2K, and the biggest and supreme model, the 146-inch 4K smart tv retails at RM1,229,419.00. Unless you're planning to purchase the smart tv for business purposes, we could not think of a reason for anyone to purchase it for household entertainment unless you have hundred thousands to splurge. Speaking of entertainment, perhaps their next display might interest you more.
The Extra To Push Your Gaming Performance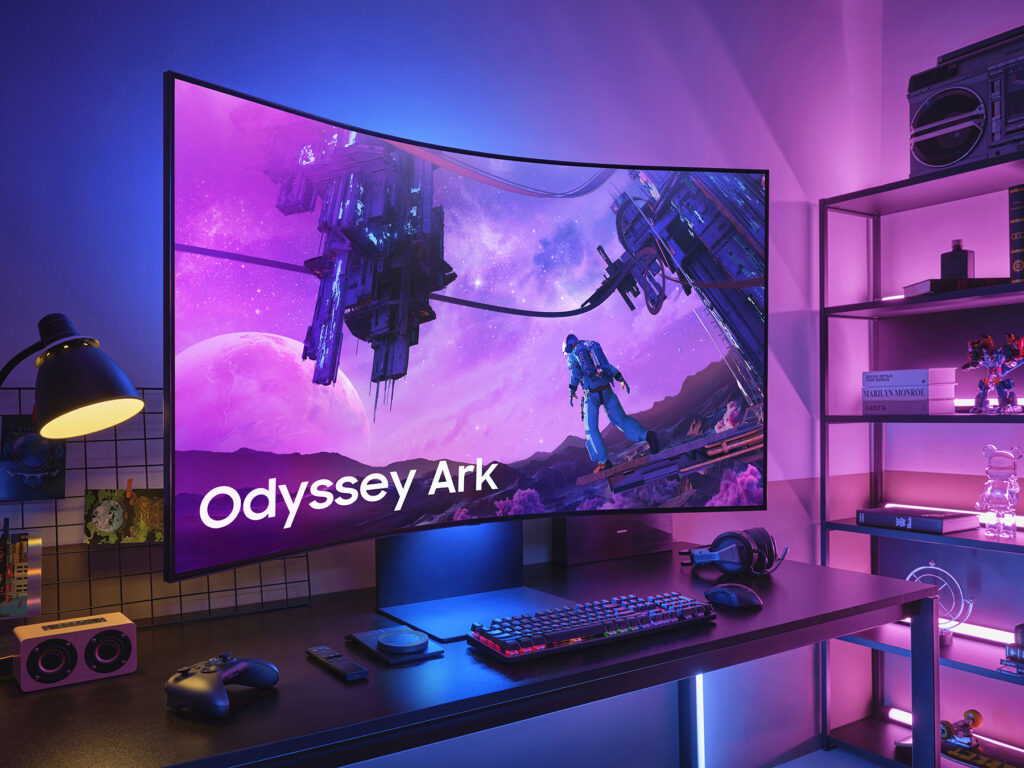 The Odyssey Ark, the world's first 55-inch 1000R rotating curved gaming monitor is a sensory feast for the whole family and a dream come true for gamers alike. The huge display offers cinematic and immersive experiences given its 165Hz refresh rate, 1ms response time (GtG). The gaming monitor introduces the Ark Dial, an exclusive rotating controller and Cockpit Mode to expand an entertainment experience like no other. Like many other gaming monitors, the Ark uses a VA panel, but it's brighter, with better contrast than others thanks to its Mini LED backlighting. As for its audio performance, Sound Dome Technology is included to give out an amazing soundscape to your ears, featuring AI Sound Booster and Dolby Atmos helping to create a three-dimensional sound immersion using only four speakers and two central woofers.
Samsung also pitches its Multi View which lets players take full advantage of the Odyssey Ark, offering up to four screens at once in landscape mode and three in Cockpit Mode. Imagine you can play your favourite video game while watching your favourite streamer, and also pulling up a guide article such as on how to upgrade gears in Hogwarts Legacy, all on one display.
Everything about the Ark is very extra, including its gaming feature called the Game Bar. Any hardcore or pro gamer can easily view the important game setting of their choices such as the HDR (high dynamic range), FPS (frames per second), and VRR (variable fresh rate), without having to disrupt the overall gameplay performance. So, say no to poor gaming performance when it comes to the Odyssey Ark.
Malaysians can now purchase Samsung's latest 55-inch Ark gaming display at a retail price of RM13,999. Both display products: The Wall All-in-One and the Odyssey Ark are now available for viewing at Senheng x Samsung Experience Store located at Shoppes, Four Seasons Place in Kuala Lumpur.
For more details of The Wall and the Odyssey Ark, head over to Samsung's official website here. Alternatively, if you're looking for something smaller with a great powerhouse, check out Samsung's 2023 flagship mobile devices.
In the meantime, watch the video down below for more of the Odyssey Ark.
Related