International Women's Day 2023: Celebrating Malaysian Women In The Gaming Industry
Let's face it. Female gamers are on the rise. Whether gaming is done for stress relief, competitively, or even just gaming development, us women, we're finally being seen for the big badass bosses that we are. That's why this month of March (on International Women's Day), we're celebrating women gamers that you may or may not know of in Malaysia.
So without further ado, let's talk about the four fabulous women we are highlighting to celebrate this International Women's Day!
Cindy Dharma, Associate Producer Cinematic at Larian Studios – KL, Malaysia
We managed to snag some time with the lovely Cindy Dharma. Cindy is not only a bubbly personality; she also had a good sense of humour and an infectious laugh during our interview. She had a background in film and advertising prior to entering the video game industry. Her background in film has contributed to her success in game development, and not just that, but it also highlights her ability to adapt and thrive in different creative industries. You can tell that she is definitely passionate about the video game industry, particularly about the Baldur's Gate 3.
Cindy mentioned to us that working for Larian Studios, the developer of the latest installment in Baldur's Gate 3, is one of her biggest achievements, due to the sentimental value it holds for her. She continued on to tell us she got to direct a team to work on the cinematic and lighting of the new series. So for all that aesthetic cinematic and lighting that you guys see in the game, and that production value, be sure to give her some love for it! Having been able to turn her love for the game into a career, and to even contribute to the creation of new content for other fans to enjoy, we're sure that Baldur's Gate 3 is something we are all going to look forward to. Go ahead and check out Baldur's Gate 3 official trailer.
Saqina Latif, Game Developer, Founder & Managing Director of Persona Theory Games – KL, Malaysia
Saqina Latif started her career in film production with a deep passion for storytelling. She took the leap and joined a group of diverse talented minds forming Persona Theory Games; showcasing Southeast Asian culture, mythology, folklore and history in the form of visual novels. The studio debuts its first title called Fires At Midnight back in 2020 and successfully featured in DreamHack Beyond, Steam Next Fest, and Level Up KL. Other games the studio has produced are Revive Arcade Festival 2021, Project Half Light, The Lonely Hearts Petshop, and Kabaret.
Despite discrimination and rejection due to her gender, she never lost sight of her goals and this contributed to the success of the studio as a whole. Now, she is recognized as an industry 'Titan' by Gamescom Asia and stands proudly among industry giants like Blizzard and Xbox. Her studio even participated in the ID@Xbox Bethesda event representing Malaysia for the upcoming game, Kabaret – a dark fantasy folklore adventure game portraying a wide cast of characters from Southeast Asian myths. Saqina Latiff's success as a female game developer in a male-dominated industry is an inspiration to women gamers everywhere.
Sophie Azlan, Game Developer, Journalist, Game Dev Lecturer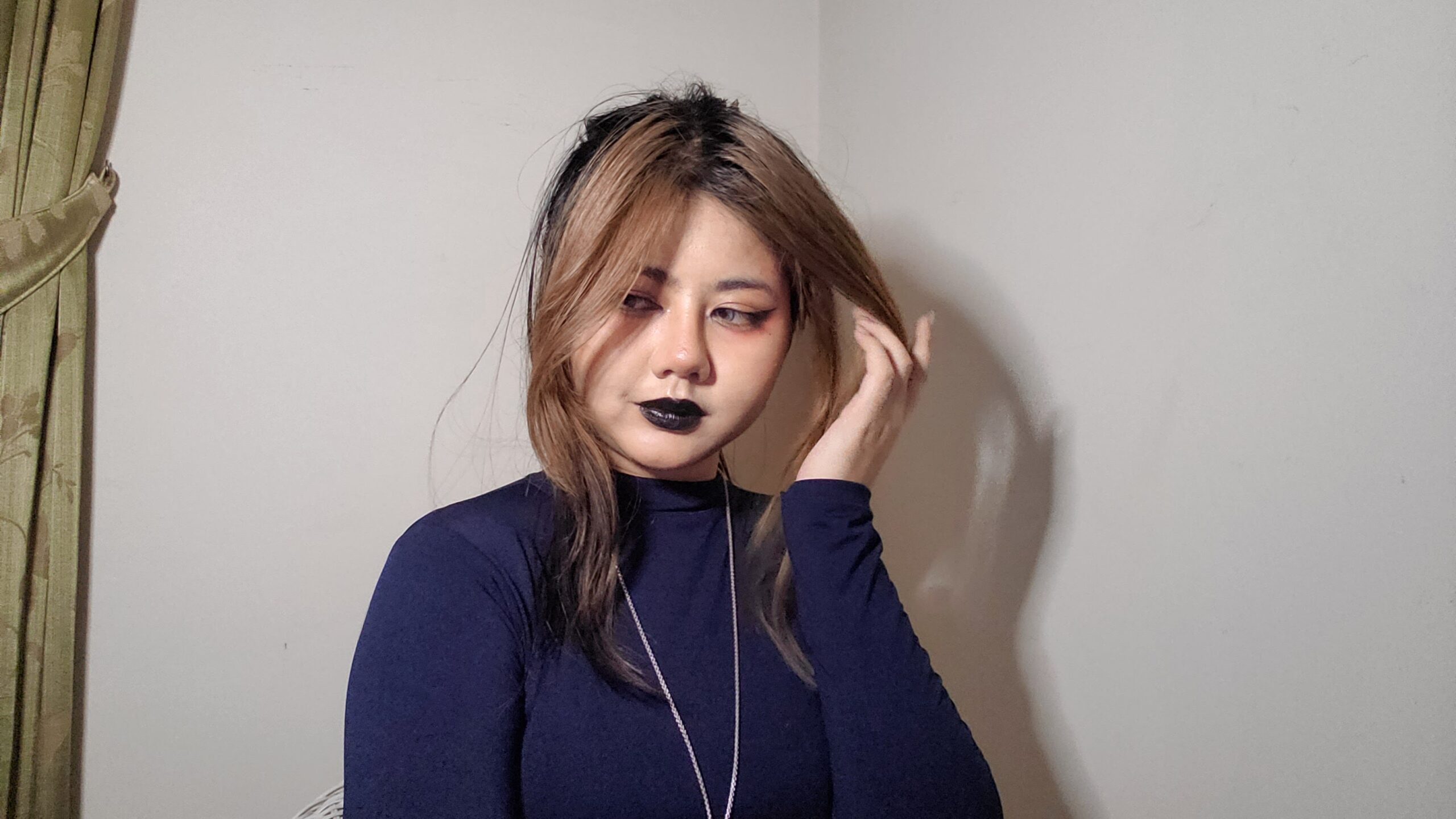 First of all, Sophie can carry off black lipstick that screams "I'M A BOSS" energy. Sophie Azlan is a passionate gamer who has nurtured her interest since her teenage years. She has transformed her admiration for game development into a strong desire to make her mark on the local scene.
We can say that Sophie is a visionary, eager to advance her experiences and achievements within the Malaysian game industry. Her contributions have not gone unnoticed and in 2022, she was inducted into The Game Awards' Future Class programme. Currently, Sophie serves as a game development lecturer at UWO Malaysia KDU University College. She is also involved in select indie projects as a game designer and project manager, being an active member of Women in Games Malaysia (wiGout), as well as write articles on our website related to indie games!
Disclaimer: Sophie Azlan contributes to Kakuchopurei on a weekly basis.
Nathalie Tay, Editor-in-Chief at The Magic Rain, Co-Founder of The Cham Drinkers
As fellow Malaysians, we all know what Cham is. But just to enlighten the non-Malaysians, cham is a Hokkien word meaning "mixed". Nathalie formed the streamer group, The Cham Drinkers when she noticed that most streamer groups in Malaysia were mostly esports focused. Nathalie is absolutely thrilled to be a part of a community that promotes and encourages variety-focused streamers, especially those who hold an interest in indie games. With 23 members already on board and growing, we are excited to see what The Cham Drinkers will become in the coming years.
She has successfully organized 15 events with The Magic Rain, six of which were dedicated to gaming, including game launches, e-sports tournaments, and community gatherings.
1. What is the most important message you want to send out to aspiring women in games?
Cindy: People often think that gaming is a very male-centric environment. I know women who are on Youtube, Twitch and all that and I salute all the young women who put themselves out there despite everything. I salute them for their confidence and all I can say is continue doing that, doing what you love, what you like, by just being a gamer. I do play games myself, not quite a lot, but I do know people get negative comments, regardless of male or female, people will always have bad things to say. But if you think what you are doing is no harm, and it's for your own sake, your own interest, just go ahead and do that.
Saqina: There's a place for you in the games industry.
Sophie: Community is key. The industry – as a developer, as a gamer, streamer, consumer – will always be unforgiving at some point. Having a community of like-minded individuals that you feel safe with and feel heard around, will go a long way in motivating you to keep going and keep it going for as long as you'll be able to. Friends in general are good, but having friends who'll get what you're going through will really take you even further than before. We can't wait to see Nathalie expand that list in the upcoming future.
Nathalie: Your voice and stories need to be heard. It's almost a cliché phrase at this point, but I've related the most to stories in games created by women, and I've learned the most from experiences that other women gamers have shared. It's so important to keep this cycle of communication and storytelling going because you don't know who it's going to inspire or impact down the line.
2. If you could be any character in a video game, who would you pick and why?
Cindy: Well, I've always loved RPG and fantasy games. I've worked on Baldur's Gate 3 for a very long time, so I resonate with one of our characters a lot, which is Lae'zel. She is a very strong, independent woman. So in the beginning of the game, you can already tell her character, she stands out a lot, not just because of the colour of her skin and because she's different, but the way she speaks her mind, and the way she takes control, take charge, and takes lead. I've always been that way as well, not purposeful, but I've always been able to lead the team, and help assist the team as well. I'm also very outspoken, so I really resonate with the character a lot. Every time I'd see things she would say, I'd go "Yeah I would say that."
Saqina: Albert Wesker, because I would chase Chris Redfield 24/7.
Sophie: There are so many characters that I've pointed at and been like 'they're just like me fr' that I can't pick just one, oh man. 
I'm gonna cheat a little! If I could be any character, I'd be Hatsune Miku from the Project Diva franchise! She's a bit like Barbie in the sense she's a blank slate who can do anything and be anything, and that's exactly it for me – I want to be able to do anything I want and look great while doing it and have a lot of fun. That's the dream, isn't it?
What!! You want another answer who isn't global superstar and international phenomenon; the Vocaloid, Hatsune Miku? Okay, here's one – Hilda Valentine Goneril from Fire Emblem: Three Houses (also in Three Hopes, the 'sequel')! She's a lot of fun and I love her character design, especially contrasted with her weapon of choice (a big axe) – she's a character who seems to be one way, then you find out there's more lying below the surface – then it turns out even below that, there are still elements of what you fell in love with on top. She's a little flirty and very funny, which is the dream and the goal.
Nathalie: Yennefer from The Witcher, 100%. She is so unabashedly her own person and never falters at any challenge life throws her way. I also love that she's intellectual and ambitious, and doesn't rely on her femininity to be a powerful character.
3. What is the most important piece of advice you have been given?
Cindy: I think, all throughout my working experience, I've always been told to believe in myself and people will follow suit. You have to have confidence, if not it reflects on you, it shows that you have the confidence to do what it takes and people will have confidence in you as well. Being an Associate Producer, we are leading the team not just the work in technical stuff, we get the team together. We get everybody together. If we fall, the team will also follow suit. We've always got to believe that "Okay, this will be done. I will get this done for you" and people will believe you. That's what I've always been told, and I have always followed it through and it has gotten me so far.

Saqina: It's not about how you fall, but how you pick yourself back up.
Sophie: There's always something to learn. Nothing wrong with not being the smartest person in the room. Especially as a game designer or entrepreneur, your senses are your most powerful tools – your ability to observe, teardown, recreate, remix, recreate, make your own, make new, create – these all stem from learning, which can be done anytime and always.
Nathalie: It's funny because this came from a video game personality test (that was literally called The Test) but it went something like: "Make sure to stop once in a while and appreciate what you've achieved so far." It's a simple one, but some days you really need that reminder.
4. What do you think needs to happen over the next few years to help push diversity in the industry further?
Cindy: The gaming industry is definitely getting better with the help of MDEC and our government. We have Larian Studios and some others coming through to Malaysia. So we are definitely seeing it already. With that being said, to push more women into gaming, is of course by giving them exposure. So by giving them exposure, I wouldn't say start young, but start nurturing them. Like what Larian has been doing is we've been giving talks to university students. I have also done talks in universities, and I can say back then when I was in university, film was also a very male-centric environment, so you see a woman so headstrong and confident, and you go "Hey, I wanna be like her."
So we have been doing that to tell the students, to let them know that the gaming industry is no longer very male-centric, it is very equal already, do not be afraid. Look at where we've come, we have a lot of leads and producers that are women as well. We definitely can make it out there cause our skill sets are just the same. People think males have more technical skills, but no no no, what they can do, we can do it as well. I wouldn't say much better, but the skill sets are equal.
After leaving uni, seeing my mentor doing everything alone out there, and again back then in the film and advertising the market was very male-centric, and to see she was seamlessly and effortlessly doing things out there, it was like, "I'm gonna be like her someday", and it carries through.
Saqina: More mentorships, scholarships, and funding across the board in games. Talks and panels in major game events with a more diverse speaker lineup. Funding serious games, not just games for profit. Education to schools outside of cities and private institutions.
Sophie: Inclusivity, awareness, compassion. I think we're getting pretty far in having more developers and consumers from diverse backgrounds, especially in a variety of ways – speaking from just a SEA perspective, people are interested in games – and making them !! – across culture, race, creed, gender, sexuality, economic class, neurodivergence, and more. By being aware and being more open about creating and consuming games in a more overall inclusive way, it does generate a sense of compassion that is ultimately a welcome addition. The work is being done, whether we see it or not. That being said, it's also up to us to keep it going.
Nathalie: I think there needs to be a change of mindset within the gaming community at a grassroots level. From a creator's perspective, I see so many women struggle to break into different genres or styles of gaming because of rampant gatekeeping and harassment. In order to foster more diversity in the industry, we first have to foster diverse interests in gaming.
5. What is the biggest barrier you've faced in your career due to being a woman? If so, how did you overcome them?
Cindy: I would like to say, specifically myself, I haven't really faced any obvious barrier as a woman. I've always, again, believe in yourself and well, people will believe in you. So I have carried that forward with me whenever I am, wherever I am, and whatever I am doing. So it shows in my planning, my strategies, and my execution. I believe that our skill sets are equal. I definitely believe in equality that's why I feel like we are no less, they are no more, and they are no less as well. So I treat myself very equally. I also understand it's not the same for everybody, that's very unfortunate and I am very sorry to hear that other women face discrimination and a lot of barriers at work. As for myself personally, I have never faced anything significant, because I have carried myself in such a way that I believe I can do whatever whoever can do.
We also need to know when to pick our battles, and not everything is a battle. The right battles will open better opportunities.
Saqina: Being taken seriously, especially when I had to pitch locally 5 years ago. I've had my fair share of bad experiences. I was lucky enough to have the support of my team behind me, and I'm a stubborn person – the more people tell me it can't be done (ie a game about SEA culture) the more I want to do it. And I did it.
Sophie: People just have, like, perceptions. Because they're always going to want to put you in a box so it's easier for them to figure you out – it's honestly not a super bad thing depending on the situation, typically it's more along the lines of "oh this person is x so they might like y" but when it goes into full stereotype territory and an assumption of your character, then it becomes a problem. Perceptions of me have often shifted around due to my gender, and sometimes there is a struggle to work with those perceptions or against them, depending on the situation. Granted, people are a lot less prone to assume things nowadays, but it's still an ongoing process. But a process means progress, and that's something to celebrate on its own!
Nathalie: We all know the assumptions people have towards women – whether it's their looks or personality or even working styles. I used to feel really pressured by this responsibility to "rise up and defeat the stereotype", but in doing so, you end up stepping into a completely different caricature. There's no running away from it. 
Now I just try to be as "me" as I possibly can be, and embrace the value I bring to the table; not as a woman, but as a person. If that helps someone else embrace their unique value, then that's all I need.
That's it for our feature on International Women's Day! Today we celebrate the achievements of women in our local scene. As we reflect on the significance of today, let's remember that there is still much work to be done. This year's theme for International Women's Day 2023 is #EmbraceEquity. So don't forget to show your support and tag us on social media and let us know what you are doing to celebrate the women in your life today.
Related