By Lewis Larcombe|March 10, 2023|
PUBG Mobile has just announced the first-ever partner teams to join their Partnership Program in the PUBG Mobile Super League, and guess what? Fifteen teams from the Southeast Asia region have made the cut!
Five teams from Indonesia, four from Malaysia, three from Thailand, two from Vietnam, and one from the Philippines have officially been confirmed as Southeast Asia partner teams.
So what does this mean for these teams? They'll receive guaranteed slots for PMPL and PMSL SEA, alongside all the additional partner benefits and opportunities. Speaking of PMSL SEA, the competition kicks off with Week One on 22 March and lasts for three weeks before the PMSL Finals from 14–16 April.
So how did these teams get accepted into the program? Well, it's based on a few things: their previous tournament performance, their commitment to the game, their popularity with fans, and the overall popularity of PUBG Mobile Esports in their respective countries.
With their new partnership status, these teams will get even more chances to develop their players, connect with fans, and give back to their communities. And as promised, here are the partner teams for the Southeast Asia region!
Partnered Teams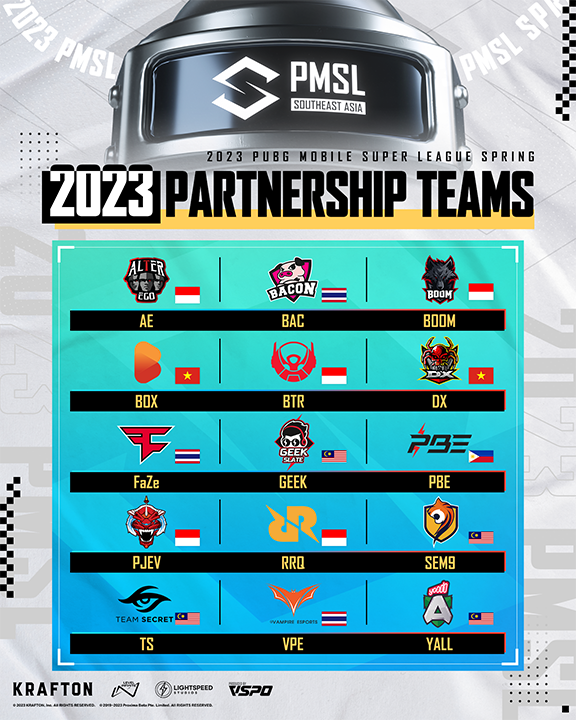 Indonesia:
Malaysia:
Thailand:
Vietnam:
Philippines:
So mark your calendars, because this is going to be one epic showdown! All the partner teams, along with the teams that qualified through PMPL, will be competing in the PMSL Spring Season. Get ready for three weeks of non-stop action as these teams battle it out across Sanhok, Erangel, and Miramar. And that's not all, folks! The top 16 teams will then advance to the PMSL Finals, happening from 14–16 April.
Believe me, when I say, this is going to be an event you won't want to miss. With the best teams in the region going head-to-head, we can only imagine the intensity and excitement that's in store. So whether you're a die-hard PUBG MOBILE fan or just looking for some high-quality esports entertainment, make sure to tune in and catch all the action!
Related