Oops! Overwatch 2's PvE Adventure Takes a Comic Turn, Ends up in the Recycling Bin
By Xandria Morden|May 17, 2023|
In a new live dev stream, Blizzard has officially announced that they have scrapped the PvE content that was promised. But fear not fans, creative leads game director Aaron Keller and executive producer Jared Neuss have assured fans that there will still be PvE content going forward. The difficult decision was made by the team saying they have opted to go a different direction. This was said to be done for the good of the game and to focus on improving their multiplayer component.
"We can't deliver on that original vision for PvE that was shown in 2019. So what that means is that we won't be delivering that dedicated hero mode with talent trees, that long-term progression…those things just aren't in our plans anymore." – Overwatch 2 Executive Producer Jared Neuss.
This was a big disappointment to many fans since they'd been waiting for a long time for an update on the PvE content. The PvE campaign was one of the main appeals of the shift from the first Overwatch to its sequel. As a fan who has been waiting for this content as well, I'm frustrated but I understand what a hard decision it must be for them to make. I do love the transparency and honesty from the team and greatly appreciate it.
"Development on the PvE experience has not really hasn't made the progress that we have hoped. The team has created a bunch of amazing content so there's awesome missions that are really exciting. There's brand new enemies that are super fun to fight and some truly great and ridiculous hero talents. But unfortunately, the effort required to pull all of that together into a Blizzard-quality experience that we can ship to you is huge, and there really is no end in sight or defined kind of end date where we can put that out into the world." – Jared Neuss.
In the words of Game Director Aaron Keller, Overwatch 2 is taking a different approach to PvE content. Instead of releasing big, one-time PvE adventures, they are integrating co-op experiences into the game's live roadmap. The goal is to provide players with more frequent and diverse co-op gameplay opportunities compared to the initial announcement.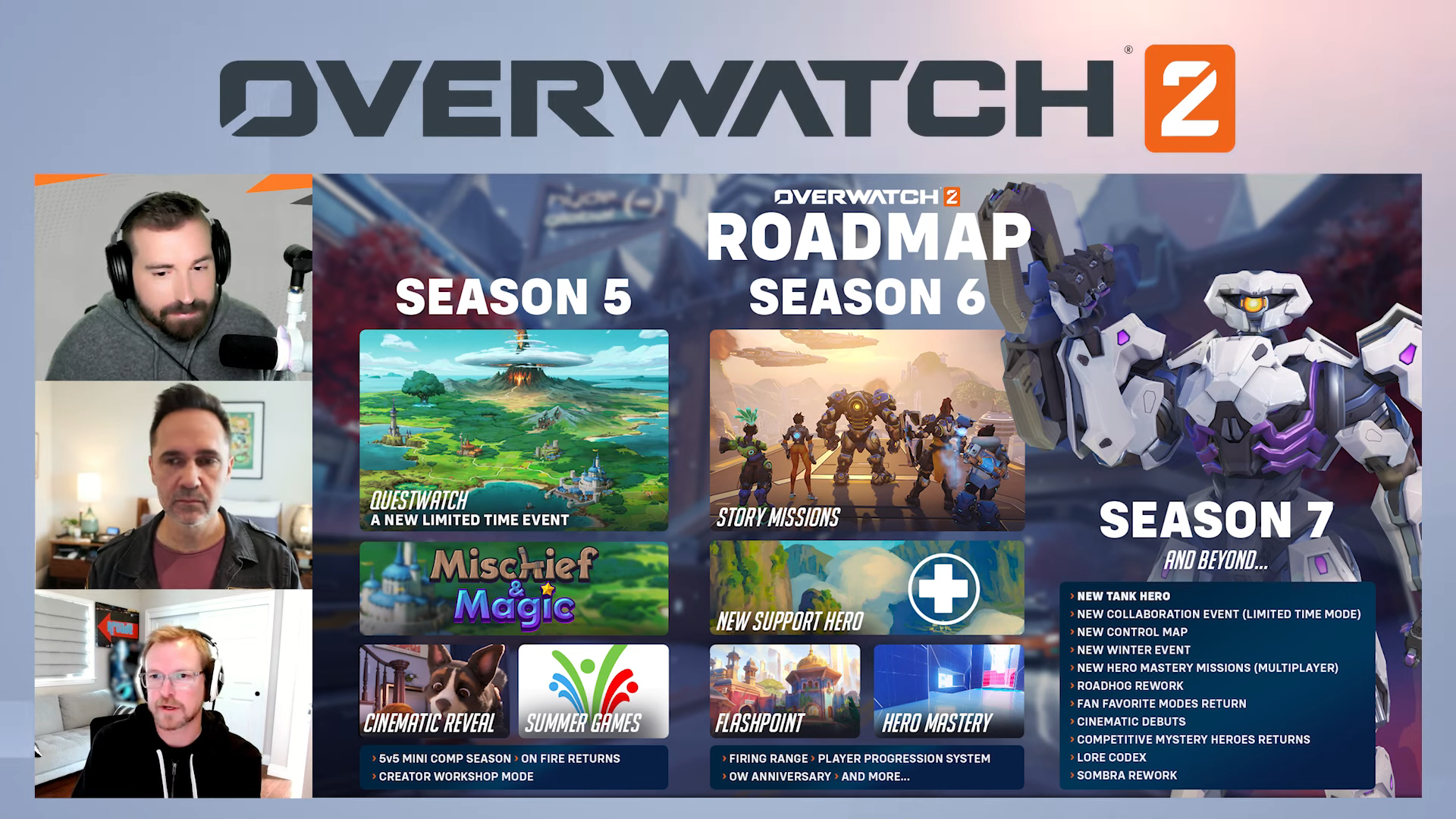 According to the new Blizzard roadmap, the first batch of PvE story missions is set to debut in Overwatch 2 Season 6, slated to kick off on August 15. Keller mentioned that future missions will encompass both "canon" and "very not canon" stories, allowing the developers to explore the Overwatch universe, its heroes, and villains while also experimenting with new ideas. This approach grants them the flexibility to delve deeper into the game's lore while introducing fresh and innovative content.
You can find more details on the roadmap here.