Last Time I Saw You is an upcoming narrative game by Maboroshi Artworks, telling a melancholic story of heartbreak and emotion, set in Japan in the late 80s. The art style of the game radiates a sense of warmth, and the story is set to tug at your heartstrings.
We had the chance to do a quick interview with game director Juan Fandiño, and ask about the game's inspirations and also his previous experiences in game development.
Where did the idea for Last Time I Saw You come around?
Juan Fandiño: Last Time I Saw You was born from a heartbreak that I experienced some years ago I decided to take all the conflicting emotions I had inside and try to make something useful with them, transforming them into a somewhat healing experience that other people could also enjoy and relate to.
Are there any games that served as an inspiration for Last Time I Saw You?
JF: Being this a narrative game I've been inspired by several similar games, being perhaps the most important references Night in the Woods and Mutazione, especially this last one in terms of narrative and character development. When I played it I felt for the first time in a long time that the characters were "real" people with real problems that we all can have, and that made me connect with them in a special way, motivating me even more to have a special and believable narrative in Last Time I Saw You. Similar to Disco Elysium, which has also been a great reference in dealing with adult themes in a natural and credible way.
Also, A Space for the Unbound, which has recently come out, I think has been able to portray depression quite well. Last Time I Saw You doesn't go in that direction but playing it has been a very good experience and inspiration when dealing with certain topics.
Tell us about your team!
Maboroshi Artworks is the studio I've created to develop the many projects I have in mind. During these years several people contributed to the team, providing their bit and helping a lot, but currently, we are the following:
Originally the game was coded by Alex Passera (now working for Ubisoft), and later Sergio Matta from Sonzai Games, creator of Bat Boy and Super Sami Roll, joined the team as a programmer to help expand what was already established. Jon Yves and Marina Suárez are in charge of the beautiful hand-drawn frame-by-frame animations that the game has. Raquel de Miranda, who has worked for Dontnod and Ubisoft, helps me with the writing as narrative consultant and Laryssa Okada, who composed the soundtrack of Manifold Garden, is in charge of the music. Finally, there is me, Juan Fandiño, who is the one who directs, writes, designs and makes the art among other things.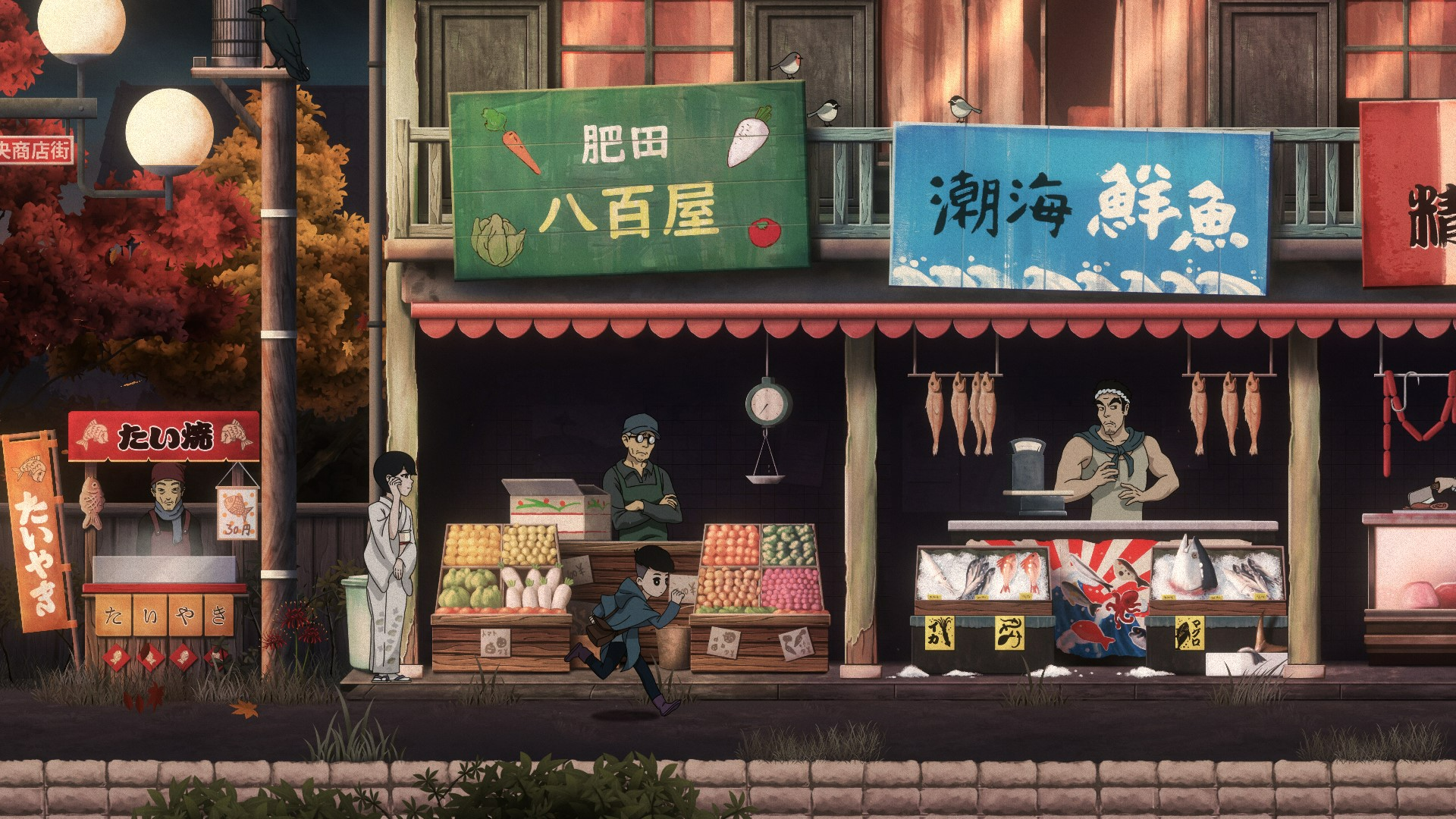 You previously were the art director of YUMENIKKI -DREAM DIARY-; how different is the direction of Last Time I Saw You versus YUMENIKKI ?
This is a tricky one! I'd say the most notable difference is that while Last Time I Saw You is my own project over which I have full control, Yume Nikki Dream Diary was a project done by the company where I worked for some years ago, and it was made on an already established IP. Also, in Yume Nikki Dream Diary I was only in charge of the aesthetics, how it looked, how it sounded, and so forth.
In Last Time I Saw You it's different and I have more control. With Last Time I Saw You I'm creating something new, starting from scratch. Telling the story I want to tell with the help of the team behind me, and that gives us a freedom that when you work for an established IP it's hard to have, especially if you want to respect the original material. I really learned a lot from the development of Yume Nikki Dream Diary, and thanks to all that knowledge Last Time I Saw You is now a reality!
Anything specific we should look forward to in Last Time I Saw You?
Last Time I Saw You aims to be a compelling narrative story and a meaningful experience, set in a Japanese town in the late 1980s, with strong components of magic realism and Japanese folklore. We are working as hard as we can and hope that when the game is released it will leave a positive mark in the hearts of the people who play it!
Check out the demo for The Last Time I Saw You on Steam, and follow them on Twitter!