I've always been a Disney girl growing up. However, the last few years, the movies have been well, quite a disappointment. Maybe it was just me, but I didn't buy into the Moana hype as much as everyone did. Encanto had some catchy songs but for me that was just it (Please don't kill me). Now Wish, is Disney's latest animated musical fantasy film directed by Chris Buck and  celebrating Disney's 100 years of magic.
Wish was directed by Chris Buck and Fawn Veerasunthorn with an amazing cast fronted by Oscar-nominee Ariana DeBose and Star Trek fan-favorite Chris Pine, as well as Disney legend Alan Tudyk.
Wish starts out by introducing the beautiful Kingdom of Rosas, ruled by the handsome King Magnifico (Chris Pine) who has the power to take and grant wishes. The story focuses on Asha, who is not a princess, but a normal girl living her every day life as a tour guide for Rosas. Asha finds out the terrible truth behind King Magnifico's reign and how he keeps the peoples' Wishes safe and thus begins her journey.  In a moment of desperation, Asha fervently expresses her desires to the stars above. In a remarkable turn of events, an adorable star, aptly named Star, descends from the heavens to fulfill Asha's heartfelt wish. United in purpose, they join forces to confront King Magnifico and champion a brighter tomorrow for the kingdom. Asha's realizing the harsh realities of the world, shattering her innocence, serves as a compelling starting point. It's a universal experience in everyone's narrative, and this propels her toward a quest for justice, transforming her into the heroic figure she may have once expected from others.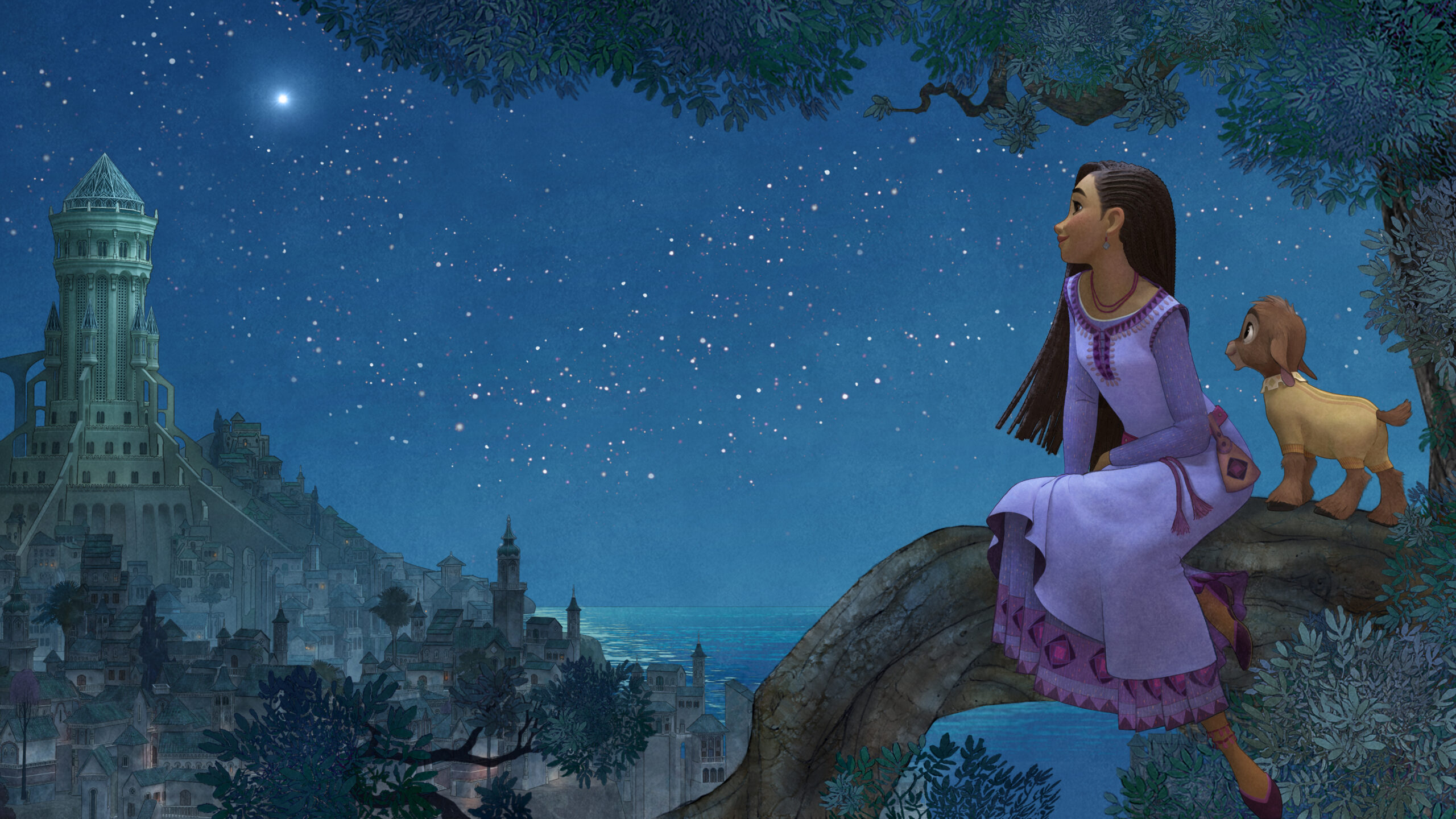 The movie bubbled up a lot of different emotions in me. One minute I was giggling like a little school girl, others I was snorting at jokes or even wanting to sing along with the crew. I really felt the heartfelt emotion Ariana DeBoseput into her portrayal of Asha. The theme revolves a lot around Hope and Dreams and I think everyone can relate to it, whether young or old. That's what makes Wish amazing for me. Sure we all love to pretend we're Disney princesses or even the prince charming, but Asha, just your normal usual girl, holds on to her wishes and dreams, she fights for it, and that's something we can all relate to. Asha is you, she's me, she's your best friend, your parents, even your next-door neighbour. Ariana's portrayal for me was spot-on perfect and it was fun to watch her. 'This Wish' felt raw and hit me hard, because God don't we all want and wish better for ourselves.
And just like every heroine in a Disney classic, Asha is joined by her lovely sidekicks Star and Valentino (Alan Tudyk). Star definitely steals everyone's hearts with its cute animations and emotions. Jennifer Kumiyama lends her voice to Dahlia, Asha's close friend and talented baker who is also disabled assumes the unspoken role of leader in their close-knit circle. This group includes Simon (Evan Peters), Gabo (Harvey Guillen), Safi (Ramy Youseff), Hal (Niko Vargas), Bazeema (Della Saba), and Dario (Jon Rudnitsky), each characterized by traits reminiscent of the iconic dwarves from Disney's "Snow White and the Seven Dwarfs."
The best part about this is each character stands out uniquely, leaving a lasting impression on you. Nothing feels unrealistic, nothing is exaggerated, they're just your normal day-to-day people.

You will find yourself falling in love with the charismatic King Magnifico, just like everyone else in the film. 'This is the Thanks I Get' brings 'Mother Gothel' vibes that you can't help but chuckle at the ridiculousness of it all. He truly is the epitome of a villain you will love to hate. I was genuinely surprised at how well Chris Pine did, but then I remembered him in 'Into the Woods' and wondered why I even doubted him in the first place. It's been awhile since we saw a real Disney Villain so this was definitely a fun film to watch.
WHEN YOU WISH UPON A STAR
Wish reminded me of my favourite animations, Princess and the Frog and Tangled all wrapped up together. It really reminded me of why I  fell in love with their animated classic films. The music will make you want to sing along and you'll find yourself tapping your foot to the beat! Julia Michaels did an amazing job with the music score. It's fun! It's quirky! It's full of banter and a little twinge of heaviness. The painterly watercolour art style was certainly very different but made me fall in love with the magical Disney world that I knew as a child. It's been exactly 12 years since Disney has incorporated any form of 2D animation, hence why the mix of 2D and 3D in this film is a breath of fresh air.
There are apparently over a 100 Easter Eggs in the film, and I don't want to spoil it for you, but you'll definitely see a lot of parts where you'll go "OH WAIT IS THAT-" and "OH MY GOD, that's a reference to-" if you're a Disney fan. It's a love letter and a tribute all in one to all the Disney films. You'll see a glimpse of different fairytales all round up into one.
No matter your age, Disney's "Wish" is definitely a Disney must-see. I can see people watching Wish more than once just to catch a glimpse and look out for the many Easter Eggs hidden across the film. I know I'll be forcing my partner to watch it with me again once it's out. It will make you laugh, cry, and you'll even want to jam along to some of the songs. Wish brings back Disney magic that everyone once fell in love with ages ago. It teaches you that wishes can definitely become a reality, it might not be now, it might not be near in the future, but eventually, it might come true.
Don't forget to wait for the post credits scene, which definitely did not make me tear up!
FINAL SCORE: 90/100
We attended an early screener of Wish courtesy of Disney Malaysia. Wish is slated to premiere in Malaysian cinemas on 23 November 2023.