Ahhhh, the tablet. The awkward sibling in the smart and portable devices family.
Always the second option to smartphones and laptops alike, and yet it's always seen as an essential inclusion to everyone's mobile office setup.
In the past, tablets are considered as the device to solve size-related issues. Want a larger screen than your average handheld smartphone to consume content? Get a tablet. Laptop too big and heavy to lug around? Grab a tablet. Want to appear more sophisticated when jotting down notes and, or sharing presentations? You get the drift.
However, with the emergence of folding phones with larger-than-usual screens, like the Samsung Z Fold 5 or laptops getting sleeker with touchscreen capabilities, the role of tablets seemed to have shrunk. Some even called them as being redundant. The price and build quality of the tablets sold in the market right now are also points of contention. Easily put, with the average price of these tablets being sold at versus what they offer, you're better off scoring a smartphone or laptop.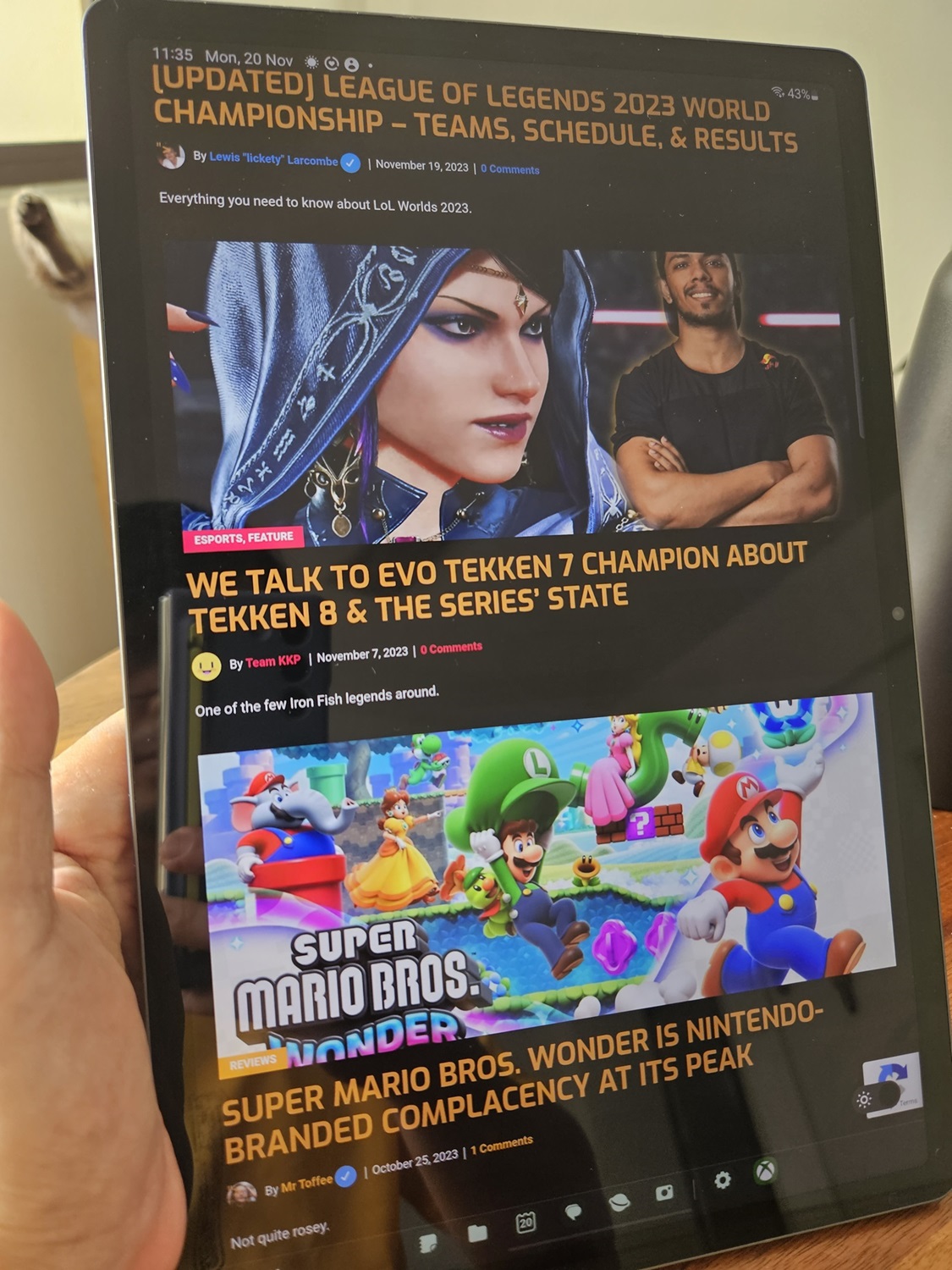 So when presented with the opportunity to review Samsung's latest tablet entry, the Galaxy S9 FE+, we decided to take a deep look and identify its place within the smart device spectrum. Where does it fit? Does it even belong? How does it fit into our ever-growing arsenal of smart devices?
And boy, once all the factors are locked in, do we have a surprise conclusion for you. For brevity's sake, and because the full name of the product is a mouthful, we shall refer to the tablet as the FE+ moving forward.
Quite A Combination
Straight out of the box, the FE+ tracks nicely with the trend of Samsung's recent offerings. Barebones, with the tablet accompanied with only the charging cable, card tray remover tool and the S Pen. However, we are happy to report that with these alone, you have everything ready to push the device to its full potential.
Specs-wise, the FE+ is a 12.4-inch IPS LCD, 90Hz tablet running on the Exynos 1380 chip, has expandable storage, and is built like a tank. However, the coolest part of the FE+ is that it is S Pen capable WITH an actual magnetic S Pen coming bundled in straight out of the box. A move future Z Fold devices would be wise to copy. Weighing a comfortable 628g, this slab made of glass and aluminum easily fits into any bag sleeve. An IP68-certified dust and water-resistant device, you won't have any qualms about taking it outdoors for a picnic or riverside barbecue, for example.
The FE+ will definitely survive minor knocks, accidental drops and spills for sure. However, it is always a smart move to put on a screen protector and sleeve. The aluminum back panel is a magnet not just for fingerprints, but unsightly micro scratches.
It is worth mentioning that the FE+ occupies almost identical space as the S9+ tablet, with the FE+ being a smidge thicker. This technically allows you to purchase and use S9+ accessories such as cases and sleeves.
Samsung's FE-line of products has gained an unwanted reputation of being the "cheaper version with several corners cut" option of late. However, following our review of the S23 FE recently, we found that this line has so much to offer once you look beyond pre-conceived notion. What we experienced on the S23 FE resonated in the FE+. There's a muted premium feel when you pick up the device. It screams "Let me show you what I can do!" with its industrial-like build and S Pen screaming to be detached from the rear of the slab.
The additional screen real-estate makes navigation a dream especially if you are already familiar with the Samsung ecosystem. Speaking of the Samsung ecosystem, the ability to quickly 'clone' the settings, look and feel from your current device via the Smart Switch. The FE+ comes with a fingerprint sensor on its power button which is as responsive as any Samsung smart device we've reviewed in the past. However, we are not a fan of its placement which is above the volume rocker button. Placing it underneath it would feel more natural considering how people tend to hold their table when in portrait orientation – slightly closer to the middle.
As stated earlier, many users utilize their tablets as secondary devices to their smartphones and laptop. The FE+ fills this role perfectly, ticking all the important boxes without having to blow a huge hole in your bank account. With brilliant speakers by AKG, consuming content on the FE+ sans dedicated earphones is a joy however if you plan to utilize the device under intense sunlight, the relatively lower screen brightness might be a slight hindrance.
We game a ton and when on the go and especially for overseas assignments, we have to forego playing on our main home console due to the lack of a portable screen. Of course, one remedy is to play the games remotely via cloud services. We tested the Xbox Remote play feature with the FE+ and it excels there too. Pair the device up with the Xbox controller and favourite earbuds via Bluetooth and voila. Portable console rig.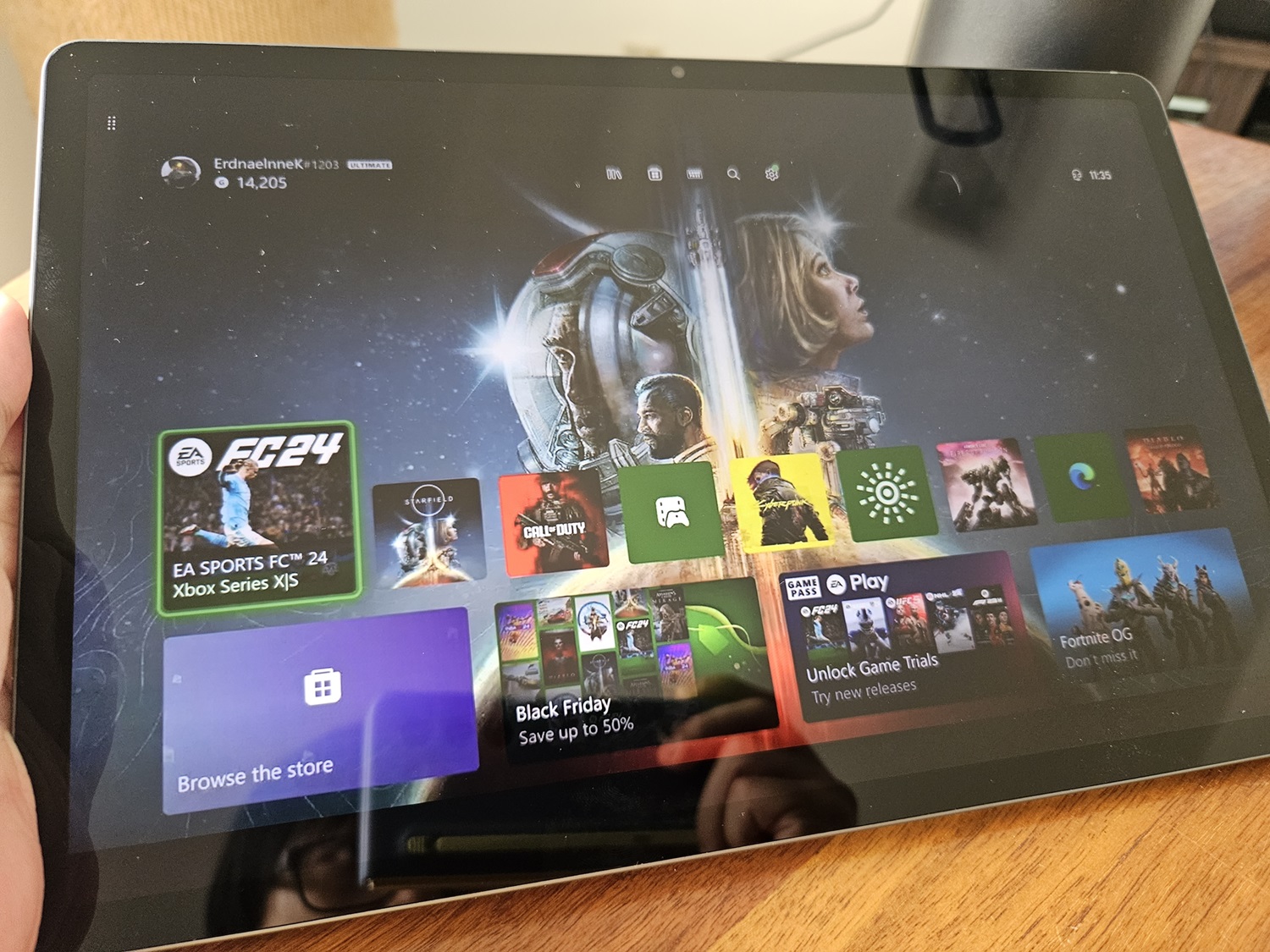 Sure, the FE+ 'only' sports two 8MP wide and ultrawide cameras but we cannot fathom anyone relying on these cameras when taking photos. This essentially negates any form of camera comparison with the FE+'s more premium sibling, the S9+.  But what it more than makes up for its relatively weak camera is the bright screen to scrutinize and edit photos. The full-sized S Pen which comes bundled in is a great tool for finer corrections and even scribbling over photos for a more personalized touch. The FE+ also solves the conundrum for those who want the S Pen experience but are unwilling to shell out a small fortune for the Z Fold 5 or S23 Ultra released earlier this year.
Speaking of the S Pen, the low latency gives an almost real pen-like experience when scribbling on the glass surface. There's barely noticeable input lag and with the capability to directly convert your scribbles into proper text – save for the worst of handwritings – taking notes is fun again. The much larger screen than those found on the smartphones sporting S Pen also enables more complex diagrams and notes to be scribbled on. No need to constantly scroll and move the screen to add more items.
With a massive 10,090mAh battery, users can expect the device to easily last them the day with plenty to spare. However we aren't fans of the relatively sluggish charging so if you do plan to take the FE+ full of charge ahead of your impending trip, we recommend juicing it up way in advance.
Starry-Eyed Replacement?
In all, the Samsung Galaxy S9 FE+ tablet is a good device made great once you account for its price tag. Of course, its specs pale in comparison when you put it side-by-side with more premium devices such as the iPad or Samsung's own S9+ and S9 Ultra. But for what it's worth, starting from RM2,799 for the 128/8GB variant, it is a package that's hard to beat.
It is hard to find faults of the FE+ but if we are to be super nitpicky, it would be the dim yet very reflective screen which slightly hurt the device's outdoor usage capability. However, with the S9 FE+, Samsung's FE line is no longer the 'cheaper option'. Instead, it has transformed into itself into the go-to line for those with discerning tastes, fully aware of what they need from their devices.
Final Score: 90/100
Available in four colours; grey, white,  lavender and mint, the S9 FE+ retails from RM2,799 for the 128GB/ 8GB model. The 256GB/12GB variant bumps up the price to RM3,099 and should you intend to slot in a SIM card into one, the 5G model (also 256GB/12GB) will set you back by RM3,699.00. For full details and perhaps, special deals since it's Black Friday and Cyber Monday season, head on over to Samsung's official store here.
Vital Statistics
Platform: Android 13, One UI 5.1
Body: 285.4 x 185.4 x 6.5 mm (11.24 x 7.30 x 0.26 in)~627g
Frame: Glass front, aluminum back, aluminum frame, IP68 dust/water resistant (up to 1.5m for 30 min)
Chipset: Exynos 1380 (5 nm)
CPU: Octa-core (4×2.4 GHz Cortex-A78 & 4×2.0 GHz Cortex-A55)
GPU: Mali-G68 MP5
Display: IPS LCD, 90Hz; 12.4 inches; 1600 x 2560 pixels, 16:10 ratio (~243 ppi density)
Memory (Internal): 128GB 8GB RAM, 256GB 12GB RAM; expandable memory
Main Camera: 8 MP, (wide) 8MP (ultrawide); Selfie12 MP (ultrawide)
Video: 4K@30fps, 1080p@30fps
Sound: Stereo speakers, tuned by AKG, no jacks given
Battery: Li-Po 10,090 mAh
Price: Starts from RM 2,799 (128GB/ 8GB)