When Vampire Survivors was released, I was obsessed. There's something about "Bullet Heaven" games that makes you want to keep playing. Slime 3K: Rise Against Despot is another one of these rogue-lite games with their unique style. What makes it unique is that it adds deck-building to the gameplay. The entire aesthetic of the game makes me squeal with delight. Who doesn't love some good pixel art?
Slime 3K is the new auto-shooter from Konfa Games and publisher tinyBuild. It's the latest game in the Depotism series, so if you are a fan of the series, this game might intrigue you. However the game just released in Early Access, so they only have 10 levels as of now but there are different play-styles you can experiment with throughout your runs.
SLIMING YOUR WAY THROUGH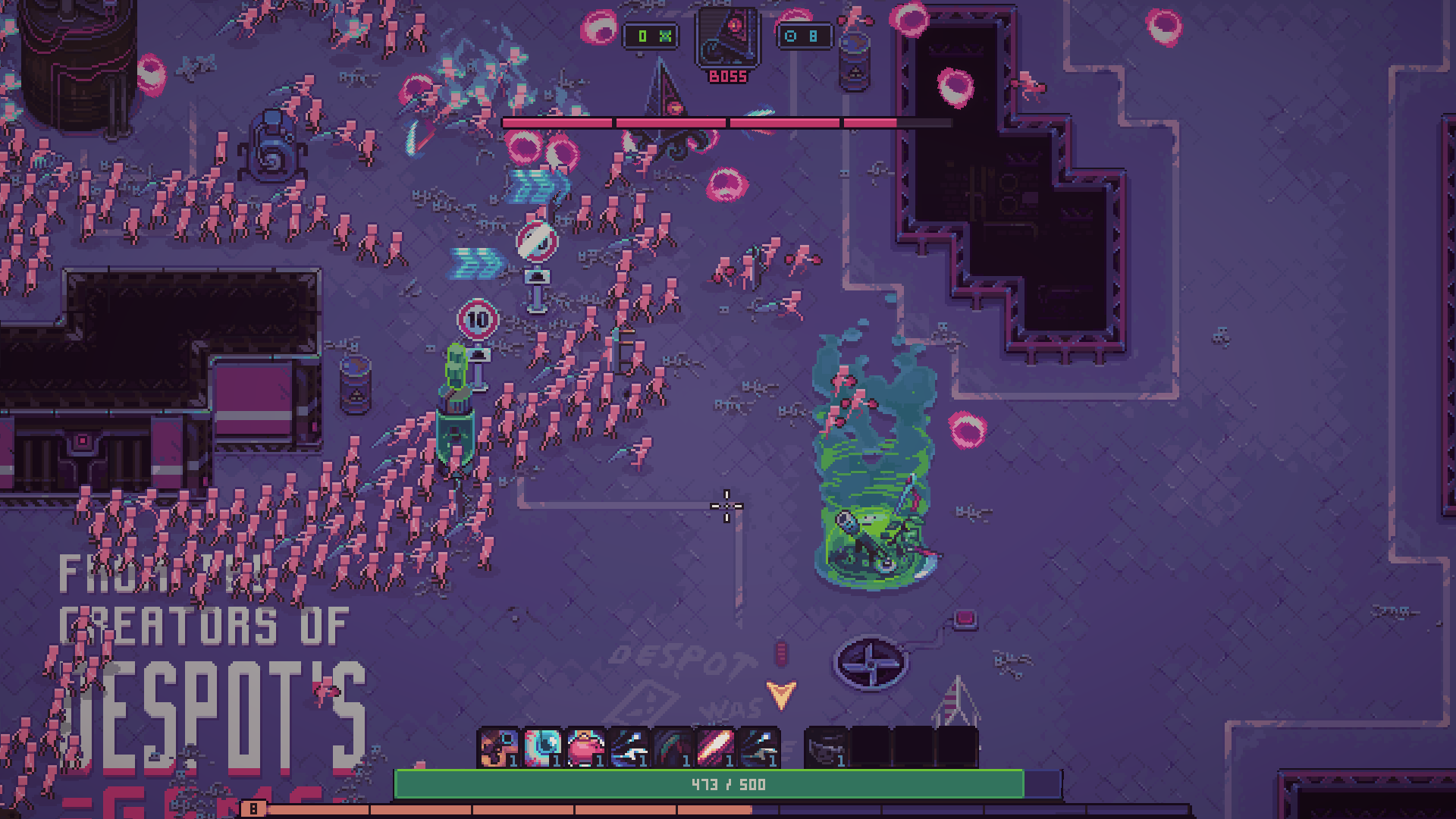 The gameplay is simple. You're a big blob of slime tearing everything down in your path, you get upgrades, do more shooties and pave a pavement of violence. ALL AS A CUTE SMILIN BLOB. It's creepy but cute at the same time. Unlike Vampire Survivors, you get a shop mechanic in which you build your little deck. At first glance, it looks like the shop appears at random, but it's actually by the number of enemies you have killed.
Your slime starts with this little pistol. When a shop pops up, it gives you multiple choices of different 'cards'. They range from slinging eyeballs at your enemies (basically auto-aim), randomly shooting out nails and even summoning friendly zombies to kill for you. You do have a limited inventory for the abilities that you pick, but I think the system is pretty neat. You will need three of the same cards to upgrade the existing ability that you have already chosen.
So you'll be constantly stacking these abilities to upgrade them. You'll also be able to upgrade your shop which I'd highly recommend since you will get better options of cards. One thing that I like about this system is that you can sell what you don't want anymore.
BIG SLIME RUSH
Your thick blobby is pretty much a tank, but he's not completely invincible. Health drops are all around the map like a little vending machine. Best part? It puts you back to full health, regardless of whatever HP you are at. You have 500HP so you can tank and take quite a bit of damage before needing to run over for some juice.
The art style puts a smile on your face because even grabbing a health pack kind of slushes out at you. Bosses weren't a problem and they seem to be quite a bit easy to kill. I only wish they were a bit harder because from how much I played, it didn't feel challenging at all. To be fair, the game just released on Early Access, so I hope they work on the difficulty level.
The game needs to be punishing but not too much, just enough to get you hooked and you screaming that you could have gone further if you hadn't died. The sound effects are delightful and playful! Every little thing has its unique sound that will make you laugh or smile. I know it made me chuckle.
A PLAYFUL REVOLUTION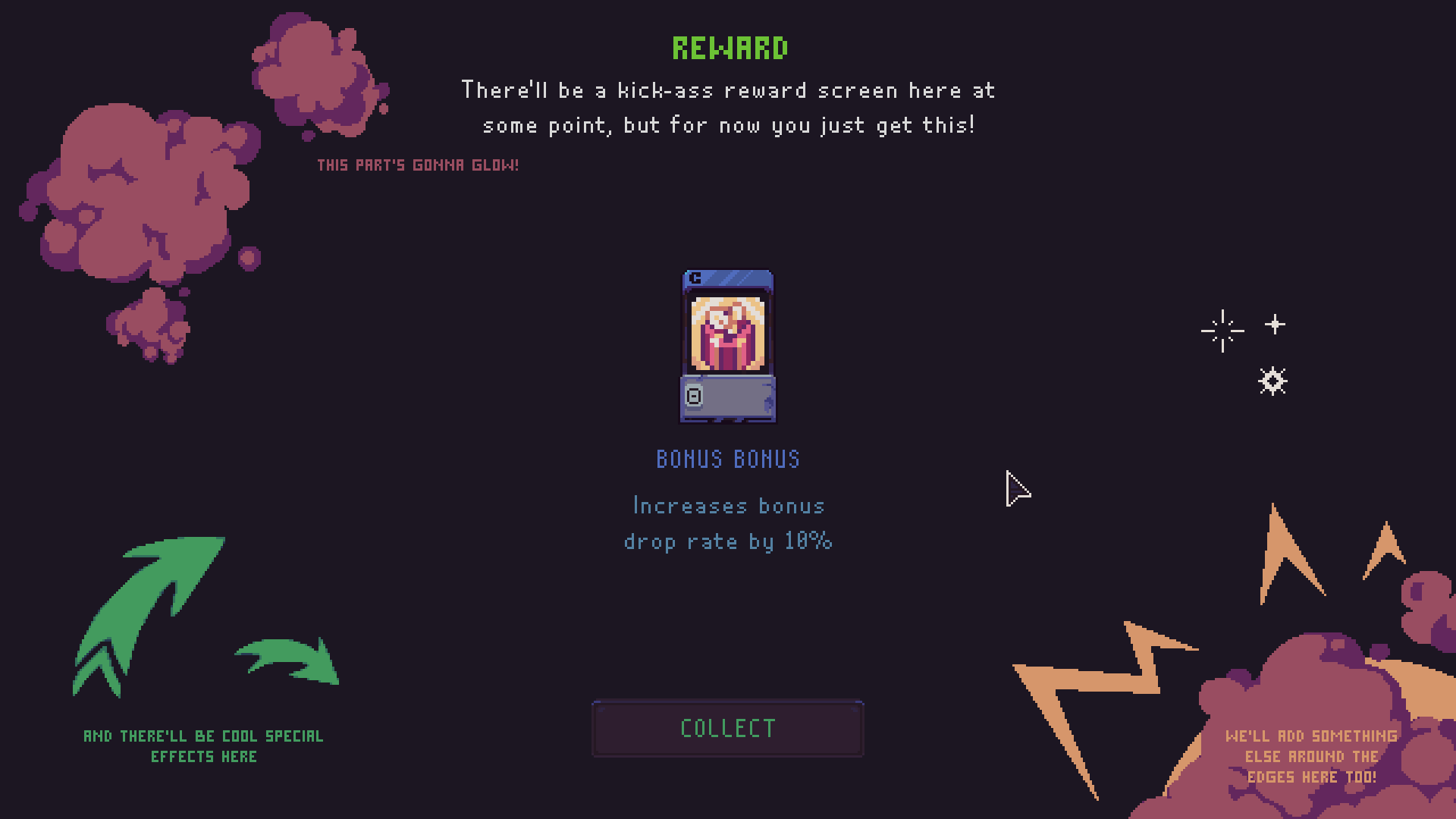 The developers have mentioned that the game will still be in Early Access for 6 months, which means that it will be fully released in Q2, 2024. It is still in early development but from what I've played, it's been very fun.
Being able to unlock tons of cards and experiment with different builds is exciting. The pixel art and the sound effects are what make the game fun for me. The silliness of it all will surely put a smile on your face. I'm excited to see what will come out of it during its development process!