Star Ocean: The Second Story recently had a remake out courtesy of Gemdrop and Square Enix, since that's probably the only Star Ocean RPG worth re-releasing with a budget again. On the other end of the spectrum, Bandai Namco has released the next DLC for Tales of Arise, with the developers still going strong under the corporation.
While different in scope, budget, and theme, both games share the same real-time action mechanics at their core. Both games have you controlling one character while the rest run on AI, following the tactics you set up. Yes, Tales of Arise is the more recent game, is using a 3D plane, and has more AI options and auto-commands than the Star Ocean 2 remake (which is still on a 2D plane). But the key pillars of both games are identical: real-time player-and-AI-driven action-heavy combat with special attacks with their own callsigns (yelled out in either Japanese or English dub) coming out like freeflow beer, peppering the screen with fancy attacks and lightshows.
How did we come to this point where we have two of these kinds of games existing under different developers and publishers? At a point in time, close to three decades ago, a game was made that had established these basics from the get-go; a concept unheard of at the time. And because of key decisions, the team that made this one pinnacle game split off to make their versions of an action-savvy JRPG with multiple party members-slash-anime-stereotypes acting simultaneously with nary a hitch.
The game that started this? Tales of Phantasia. The team I'm referring to? Wolf Team.
Wolf Among Us
A brief recap of Wolf Team: the company was founded in 1986 and went under a lot of subsidiaries and mergers. The core team was programmer Yoshiharu Gotanda, designer Masaki Norimoto, director Joe Asanuma, sound effects designer Ryota Furuya, and composer Motoi Sakuraba. The games Wolf Team were known for were shmup Sol-Feace and ports of arcade anime FMV titles Time Gal and Ninja Hayate.
Fast forward to 1993(ish), and the game that brought in the age of real-time combat in JRPGs was starting to be made: Tales of Phantasia, targeted for the Super Famicom (SNES but Japan). Originally called Tales Phantasia, the story was based on an unpublished novel written by Gotanda and featured a mix of Norse mythology and sci-fi elements from works of Michael Moorcock.
A game with a big vision does require a big publisher, so at the time Wolf Team approached both Enix and Namco. The former did not like the pitch they received, so they ended up publishing the game under Namco. Between 1993 and 1995, Namco was arguably one of the biggest and richest game companies out there with top titles like Ridge Racer, Tekken, and Time Crisis under their helm. Those games pushed current hardware to their limits and used 3D graphics, so a 2D JRPG entry for a soon-to-be-obsolete 16-bit console is a hard sell for a market in 1995 that craves for lush 3D graphics and gratifying instant action.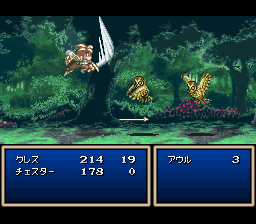 The action game hook of Tales of Phantasia was a selling point: Gotanda said that the game's Linear Motion Battle System system -constricted on a 2D left-and-right plane- was influenced by fighting games in the early 90s like the Street Fighter series. Having characters fighting against other JRPG-type enemies in real-time was new in a field known for slow and methodical turn-based combat.
But it wasn't enough, even with the talented developer's know-how. This led to the game's addition of voice clips in key story scenes and battles, as well as an opening theme song sequence. Keep in mind that this isn't possible given how big voice audio files are. Namco and Wolf Team have to cram all that and the game itself in a special 48-megabit game cartridge.
The game also featured redone character designs and artwork by manga artist Kosuke Fujishima, renowned for his popular works like You're Under Arrest!, Oh My Goddess!, as well as impregnating a 20-year old cosplayer in 2016. This all made Tales of Phantasia emulate the feel of an anime epic adventures similar to top Shonen Jump manga with fantastical elements like Dragon Ball Z and Rurouni Kenshin. Presentation is still important, and the first-ever Tales of game had that as its silver bullet in a pretty packed market.
With the SNES at its tail end of its life cycle, it is a pretty big gamble for Namco, especially with the fact that it was delayed a couple of times due to the changes and development setbacks. All this culminated from many internal conflicts between Namco and Wolf Team, with the latter not being fans of constant publisher interference.
A New Chapter
The game came out in Japan on 15 December 1995, with no international release and a localized English version. This is due to most consumers outside of the region moving on to PlayStations and Sega Saturns, the niche-ness of JRPGs pre-Final Fantasy VII, and the fact that making an English version for a small market is too expensive for an already-expensive-to-make project (48-bit cartridges are not cheap to mass-produce). Keep in mind that it took a year plus to localize titles to English back in the day, and resources for this kind of process were limited.
Tales of Phantasia did receive good reviews at the time, receiving a 30 out of 40 from longtime game magazine Famitsu. It also sold 1.3 million units in Japan alone over time. It was quite a treat for JRPG fans due to its newfangled action game mechanics and production values, despite sticking to 2D sprites and being exclusive to the Super Famicom. The commercials leading up to the game's launch also help cement it as a 48-megabit anime-style experience with a nifty combat system; Namco's then-budget did make all of this possible even when it was going up against Enix's Dragon Quest VI, the new entry in a longtime Japanese-favourite RPG series. This made the 1.3 million in sales figure for the game a lot more impressive, given how tough the JRPG competition space was.
Most importantly, it was definitely a potential franchise for Namco to build on in the region, and possibly release in English en masse.
Of course, all the proposed production changes and studio meddling had a price: by the time Tales of Phantasia shipped in late 1995, Gotanda and many others left Wolf Team to form an independent game company called tri-Ace. The apple doesn't fall far from the tree however; the new Wolf Team ended up sticking with Namco/Bandai Namco, creating a lot of Tales Of games ranging from 1997's Tales of Destiny (which saw a U.S and English language release a year later), all the way to Tales of Arise in 2021 since Wolf Team has rebranded themselves as Namco Tales Studio in 2003. While I argue that the series peaked with Tales of Vesperia in 2008, the game saw a lot of fans from all across the world due to its anime aesthetics, gameplay, and charismatic cast of characters.
tri-Ace also made headway in the JRPG space, creating the Star Ocean franchise with the first game on Super Famicom in 1996, a year after they split from Wolf Team and sided with publisher Enix (now Square Enix). All the lessons Gotanda and co. learned from their time making Tales of Phantasia ended up being used in Star Ocean: the compression of high-quality voicework and assets into cartridges, real-time combat system, and stellar graphics, which made the game a technical marvel for its time. By a technicality, you can call Tales of Phantasia a tri-Ace game.
However, Star Ocean featured a lot more freedom and player expression for its time with a crazy skills system involving crafting, scouting, and many activities on-menu, character relationship-building via Private Actions (Social Links pre-Persona 3), and multiple endings tied to the Private Actions system. The series reached its apex with the 1999 Star Ocean: The Second Story for PlayStation (and the first Star Ocean game to be out in English), which amplifies all of those features I mentioned and then some.
In fact, Star Ocean 2 is so good and well-received it's been ported once and was remade recently with a new HD-2D look for current-gen consoles and PC. The remake is definitely worth checking out if you want a classic late 90s sprite-heavy JRPG with a ton of freedom under a new coat of paint.
Of Stars & Swords
All in all, the Tales Of and Star Ocean series share the same DNA because both franchises splintered off from 1995's Tales of Phantasia, which set the standard for JRPGs with real-time combat systems. Who knows what JRPG history would be like if Wolf Team's core team had not disband and were more accepting of mainstream-tailored changes for the time? But as it stands, the split did make way for both Namco Tales Studio and tri-Ace to go their separate ways, creating fun-if-niche JRPG experiences that fans remember to this day.
While similar in some aspects, both companies deliver different visions of the battle system they both invented for the JRPG genre, and we're all the more wealthy experience-wise for it.