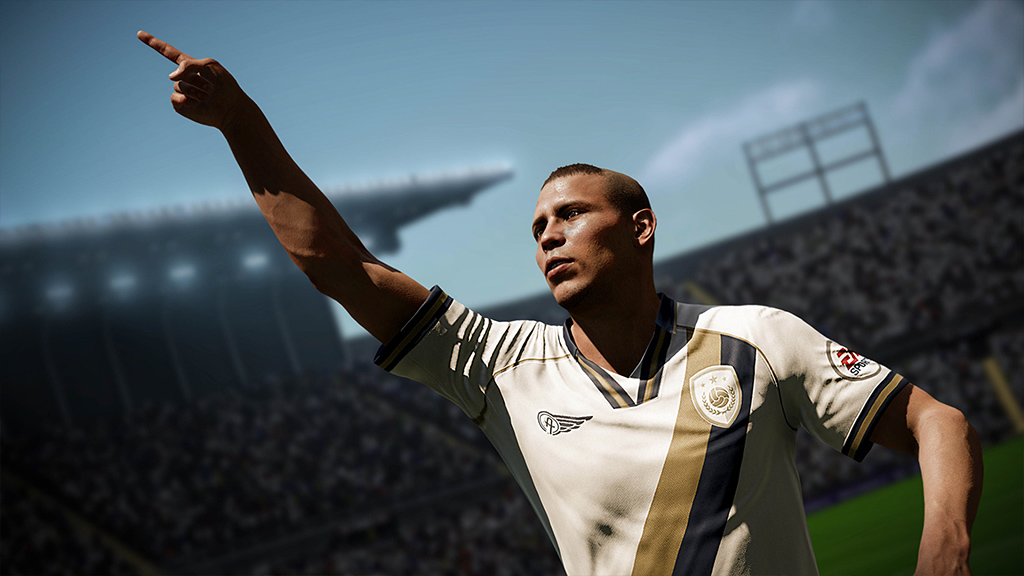 by in
For the flip side of this argument, head over to the counter feature on Pro Evolution Soccer 2018.
This feature is part of Gegenpress Time, a series on Spout360.com where we discuss about football games and today is pretty much a counter-argument to an article posted a few weeks back.
---
First up: calm down, FIFA fans. We got your backs covered. What? You think it was going to be a one-sided argument? Come on. If even on TV they allow a counter-argument from that clown Gary Neville to Jamie "Studs Up!" Carragher's comments, what more on the internet.
So let's cut straight to the chase, shall we? Sure, Konami has been making giant leaps and strides with their PES brand these past few years. However, the FIFA brand is far from being toppled over. Knocked off their perch? Not even close. You can quote me on that.
Anyway, here are three reasons why FIFA is still "The Chosen One" in the world of football simulation games.
License, baby!
Those who boot up FIFA want realism. While some games can brag about the realistic look of sweat dripping off Edison Cavani's chiselled chin, nothing disrupts immersion like reading 'MD White' or seeing (the team supposedly) Real Madrid clad in a garish kit that does not at all resemble the real thing. Do you want to see how Atletico Madrid's Antoine Griezmann look like in a United shirt? There; have it. None of this Man Red bull.
The FIFA series has always carried the world's largest license agreement when it comes to football games and they are miles ahead of their nearest competitor. To a majority of us, football on the gaming console is a form of escapism and us mimicking yet 'taking control' of something resembling real life as close as possible. And FIFA delivers on that.
Football Ultimate Team
Ever since FUT was introduced in 2009, no other game has come close to resemble the dynamic build-your-own-team ala trading cards game mode. While some detractors may point out the mode resembles PES' (or Winning Eleven) Master League mode, FUT has grown to be a beast of its own right, with constant improvements over the years, made even more realistic as the servers sync with real-life player performances.
The inclusion of legendary players with different stats across their careers marks another stamp of approval from us. This mode is a godsend especially those who can never shut up in discussing which Ronaldo is THE BEST Ronaldo (it's fat Ronaldo, FYI).
The Various Game Modes
For that amount of money paid for a full-priced AAA title in FIFA18, gamers deserve as much as they can the moment they walk out of the game shop or once the game download is complete. The various and engaging forms of game modes on FIFA makes it a much more logical pick in the long run for those who feel they want more than just a bog-standard one-on-one mode be it against their friends or the CPU. Had enough of FUT? Then hop onto Career mode or if you're heavy on the narrative, jump into Alex Hunter's boots as he works his way up in the European pro scene in The Journey.
The point is, FIFA 18 comes with more bells and whistles to keep players occupied in the long run. While it may seem trivial, the licensing allows a much more dynamic and realistic take on the complex climate of football which is evolving at such a rapid pace.
FIFA 18 is already out this week on the PS4 and Xbox One. It will still hit older consoles like the PS3 and Xbox 360, but these versions will be watered down. It will also come to the Nintendo Switch but if based on our experience with the FIFA on handhelds (sort of), we'd stay clear away from it.
After reading these two football sim features, which one will you buy this month: Pro Evolution Soccer 2018 or FIFA 18? Comments section is right below, and you can read up on the case for PES 2018 at Spout360.com here.
---