By Syazwan Bahri|April 1, 2019|
Sega's classic console, the Sega Genesis, also known as the Mega Drive in certain regions, is getting a reboot in the form of the Sega Genesis Mini/Mega Drive Mini. Think of it as the PlayStation Classic, but in Sega flavour.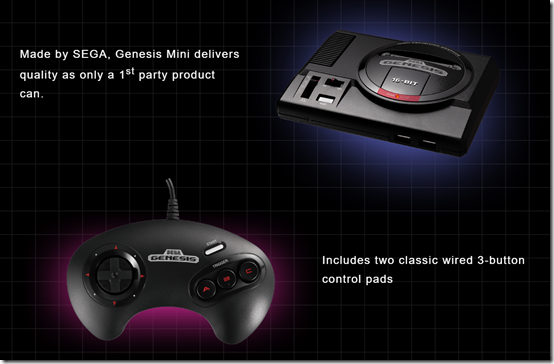 The console will include a three-button controller as opposed to the six button controller in the Japanese Mega Drive Mini version. While the Mega Drive Mini will be sold in SKUs that come with one or two controllers, there is only one Genesis Mini SKU, which contains two USB-wired controllers by default. The package also includes a USB power adapter, a power cable, and an HDMI cable.
The games will differ according to different regions. The Japanese version will get these games, along with more unannounced games;
Gunstar Heroes
Comix Zone
Shining Force
Space Harrier II
Sonic the Hedgehog 2
Castlevania: Bloodlines
Puyo Puyo Tsu
Madou Monogatari I
Powerball
Rent-A-Hero
While the American version will have these games preloaded;
Sonic the Hedgehog
Altered Beast
Dr. Robotnik's Mean Bean Machine
ToeJam & Earl
Ecco the Dolphin
Castlevania: Bloodlines
Comix Zone
Gunstar Heroes
Shining Force
Space Harrier II
The Sega Genesis Mini/Mega Drive Mini will release on 19 September 2019 worldwide. So far, there is no pricing in sight, nor any pre-order date revealed. Keep an eye out as we update on more info of the classic console.
For more info, head on to its official page here.