November isn't just a glorious week for loot-and-shoot folks like Destiny 2 and Borderlands 3 players: it's also a time for Genshin Impact action RPG fans to search through meteor residue and collect the spoils for awesome rewards.
That's right: Genshin Impact's Unreconciled Stars event has started. Here's what you need to know about Mihoyo's latest event.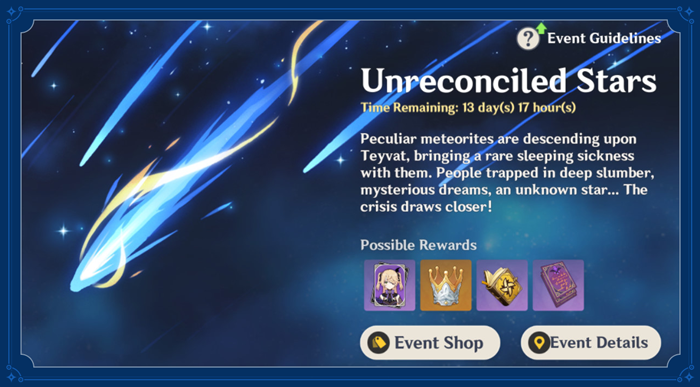 You Need To Be At Adventure Rank 20 To Participate
Most Genshin Impact players are already at this stage in the game, so this shouldn't be an issue.
The Following Characters Will Get An Attack Boost
Tartaglia, Mona, Fischl, Lisa, Beidou, Ningguang, Chongyun, and Xiangling will get a 60% damage buff during these challenges. If you happen to have them in your party, now's the time to use them. I already have Mona, Lisa, and Fischl as my mains, so I'm pretty much sorted.
All You Have To Do Is Find Meteor Crash Sites…
…and salvage meteorites. You'll probably have to fight a bunch of enemies trying to do the same, so get prepared for combat. While the missions from "Unknown Star" to "Star of Deceitful Dreams" are a little different from one another, the main event hook is the same. Head to the crash site using your Visions or intuition, fight enemies in the area to ensure a smooth salvaging process, then collect your rewards for a fight well-fought.
It Lasts Until End of November
You have from now until 30th November to play through this event. Here's the breakdown:
Unknown Star – 16th November
Star of Deceitful Dreams – 18th November
Star of Destiny – 23rd November
Event Shop duration – 16th November – 6th December
You can get more details here. For now, enjoy digging through meteor residue!