This guide is still under development…
Genshin Impact version 2.1 is now live for all to play through. That means you get to experience the new Watatsumi Island and its glories, the new gacha characters like Kujou Sara and Raiden Shogun, and finally complete the Inazuma story arc.
Here's a guide that tackles all of those in great detail. But before that, do check out our existing guides:
Raiden Shogun Best Build & Weapons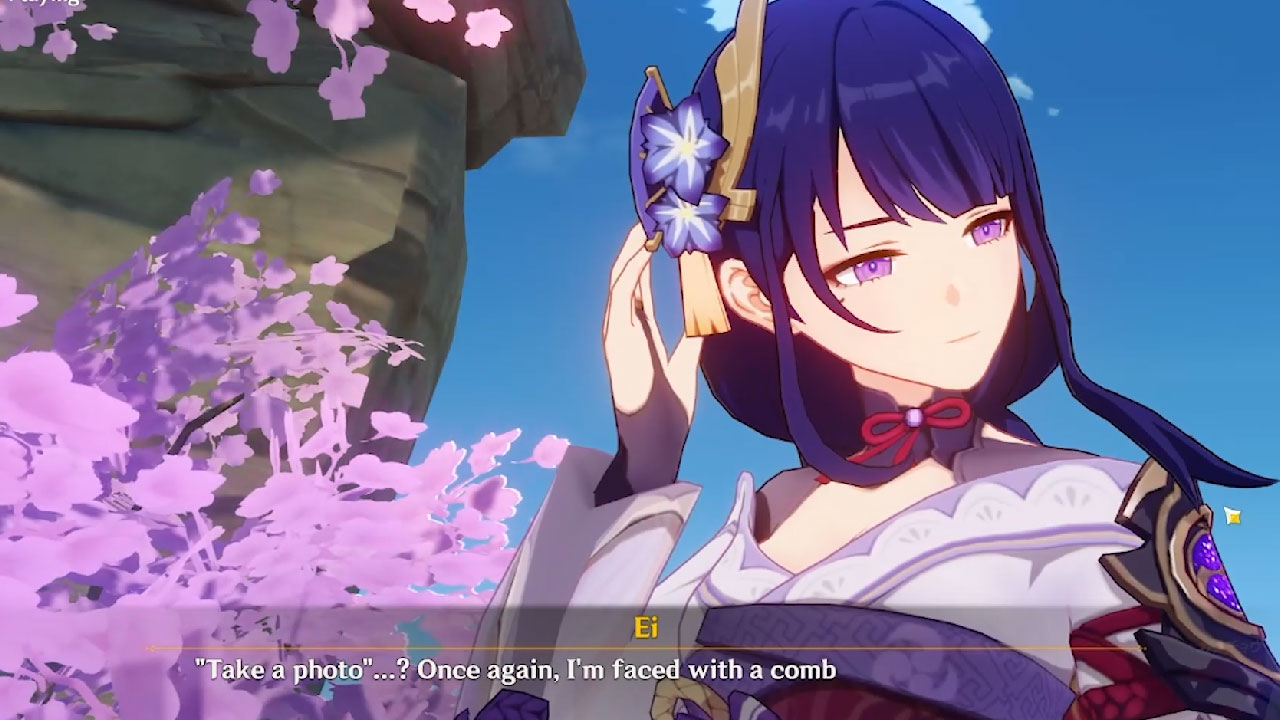 Artifacts
Raiden's best when she deals damage and gets buffs from her Elemental Bursts, so find artifacts that improve that. Here are a select few, with the Noblesse Oblige being the easiest to get:
Emblem of Severed Fate (Momiji-Dyed Court Domain)  – (2 piece) Energy Recharge + 20%, (4 piece) Increases Elemental Burst DMG by 25% of Energy Recharge. A maximum of 75% bonus DMG can be obtained in this way.
Thundering Fury (Midsummer Courtyard Domain) – (2 piece) Electro DMG +15%, (4 piece) Overload, Electro-Charged, and Superconduct damage +40%. Triggering those 3 reactions reduces Elemental Burst cooldown by 1 second. Can only activate once every 0.8 seconds.
Noblesse Oblige (Clear Pool & Mountain Cavern) – (2 piece) Elemental Burst DMG +20%, (4 piece) After using an Elemental Burst, all teammates get +20% ATK. Lasts 12s, does not stack.
Weapons
If you cannot be bothered with spending real-life money to gacha her trademark Engulfing Lightning, just go for Skyward Spine, The Catch, and Favonius Lance as alternatives.
Engulfing Lightning (5 star, weapon banner)Â – Attack increased by 28% of Energy Recharge over the base 100%. You can gain a maximum bonus of 80% ATK. Gain 30% Energy Recharge for 12s after using an Elemental Burst.
Skyward Spine (5 star) –Â Increases CRIT Rate by 8% and increases Normal ATK SPD by 12%. Additionally, Normal and Charged Attacks hits on opponents have a 50% chance to trigger a vacuum blade that deals 40% of ATK as DMG in a small AoE. This effect can occur no more than once every 2s.
Primordial Jade Winged-Spear (5 star)Â – On hit, increases ATK by 3.2% for 6s. Max 7 stacks. This effect can only occur once every 0.3s. While in possession of the maximum possible stacks, DMG dealt is increased by 12%.
The Catch (4 star)Â – Increases Elemental Burst DMG by 16% and Elemental Burst CRIT Rate by 6%
Favonius Lance (4 star) –Â CRIT Hits have a 60% chance to generate a small amount of Elemental Particles, which will regenerate 6 Energy for the Character. Can only occur once every 12s.
---
How To Unlock Seirai Island & Complete The Stormchasers Quest
To unlock this island, you'll need to initiate the Seirai Stormchasers quest. Once you reach Adventure Rank 30 and complete Act 1 of the Inazuma Archon quest, you can get the mission from Katherine in the Adventurer's Guild. Use the Waverider that you can spawn on the southeast of Tatarasuna to head to Seirai Island, which is southeast of Inazuma.
Head to the Statue of the Seven in the middle of the island to reveal Seirai Island onto your map. Refrain from exploring the island; there are way too many areas affected by thunderstorms for now. Continue on with the Stormchasers quest by heading to the quest marker and talk to Eiko.
Head to the next marker and you'll be paired up with another adventurer named Taisuke. When that's done, head to the marked spots where you'll see several cats. Eventually, you'll come across Asase Shrine and a talking cat named Neko.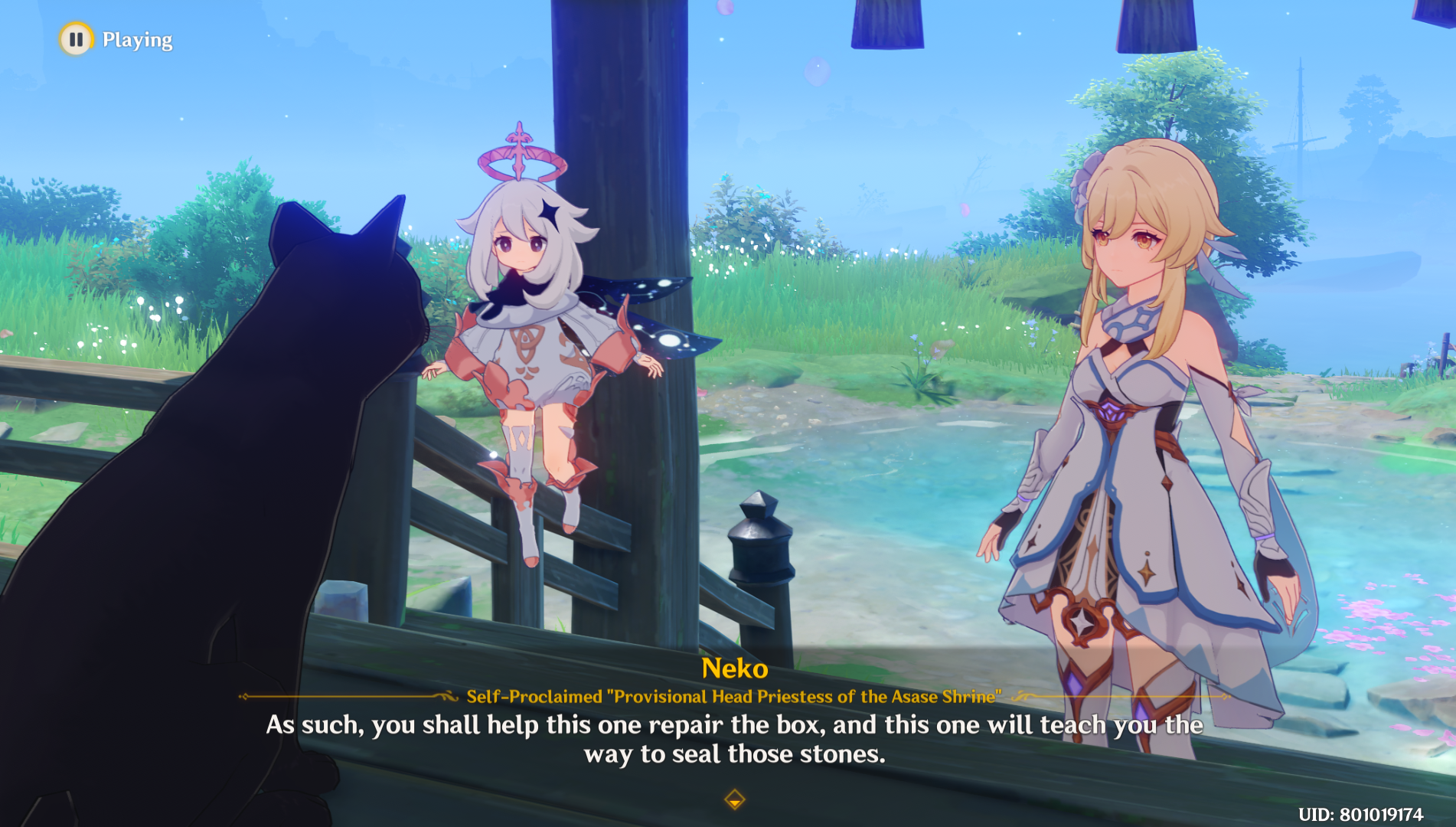 You'll be assigned to various locations. Defeat the Treasure Hoarders located there. You'll then head to a second location; pick up the glowing objects, then return to the Asase Shrine. Fix the donation box, talk to Neko, then return to the area where Eiko and Taisuke were last seen.
You're now able to solve the Warding Stone puzzles and able to stop the thunderstorms on Seirai Island. To solve them, you have to rotate the stones to match the symbols, making them glow. When that's done, you can touch the paper charms that were protected which then shrinks the thunderstorm area, making it easier for you to explore the island.
Warding Stone Puzzle #1
Touch all three paper charms.
Rotate the top stone once.
Rotate the bottom stone three times.
Warding Stone Puzzle #2
There are three paper charms to touch. The first two are easily spotted, while the third requires you to use a Phase Gate to head to a nearby island.
For the puzzle: Rotate the top stone three times.
Warding Stone Puzzle #3
Rotate the Phase Gate in this location until it's got a purple glow. Pass through it and it'll take you to ledges that are further up.
Use the Thunder Boughs/Electrograna grapples and tag the fast travel point. Continue using the grapples until you've interacted with all Paper Charms.
For the puzzle, rotate the bottom stone once then the top stone twice.
Warding Stone Puzzle #4
Use the thunder grapple until you reach the highest platforms.
For the puzzle, rotate the bottom stone twice, then rotate the top stone twice.
Once that's done, you'll have to head to a newly-formed arena and fight the Thunder Manifestation. Beat it and the quest is complete. We suggest adding a non-Electro bow use and non-Electro catalyst user in your party to hit it while it's flying around.
Amakumo Fruit Location (For Raiden Shogun & Kujo Sara Ascension)
To level up Raiden Shogun's Ascension levels, you need to collect Vajrada stones, Amakumo Fruit, Handguards, and Storm Beads. You can get Vajrada stones and Storm Beads by fighting bosses like Hypostases and Thunder Manifestations, while you can get Handguards from ronins and samurai in Inazuma. To find Amakumo Fruit, you have to search for them high and low all over Seirai Island.
Here's a visual guide to help you out: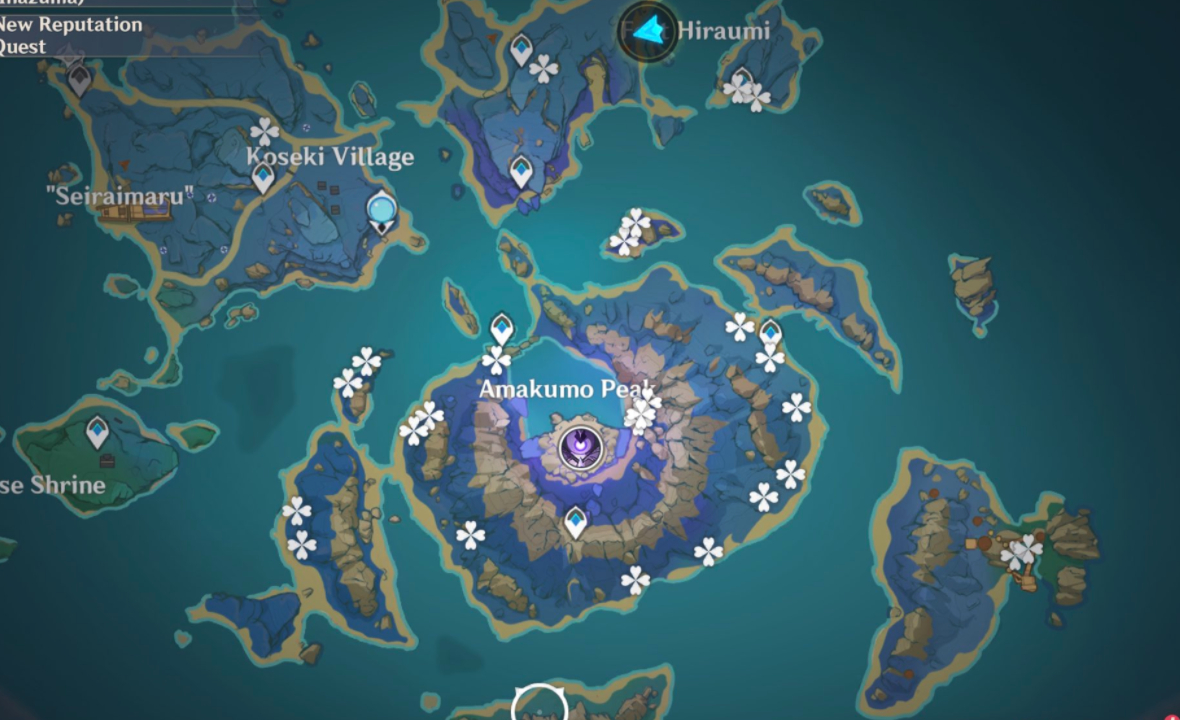 ---
Raiden Shogun Story Quest Walkthrough
Need help with fishing in Teyvat? Here's a guide on how to catch big ones.
Related