To celebrate the release of Ghostbusters Afterlife this week in Malaysia and Southeast Asian cinemas, I'd like to bring up a good number of Ghostbusters licensed games that came out and were fun to play.
Okay, that was a lie: there weren't that many. A good chunk of them ended up being complicated for their own good, while the ones that came out recently were terrible and overpriced. The less said about the twinstick shooter game from Activision, the better.
In fact, the ones we're talking about aren't exactly placed on the high bar of video game movie tie-ins like your Batman NES titles and the Batman Arkham series. As a fun diversion, however, they at least offer a good dose of fun and are a byproduct of the current gaming trend they're stuck in. At the very least, you'll at least remember these curios and their own renditions of the Ray Parker Jr.-made theme song.
Ghostbusters (1991) – Sega Megadrive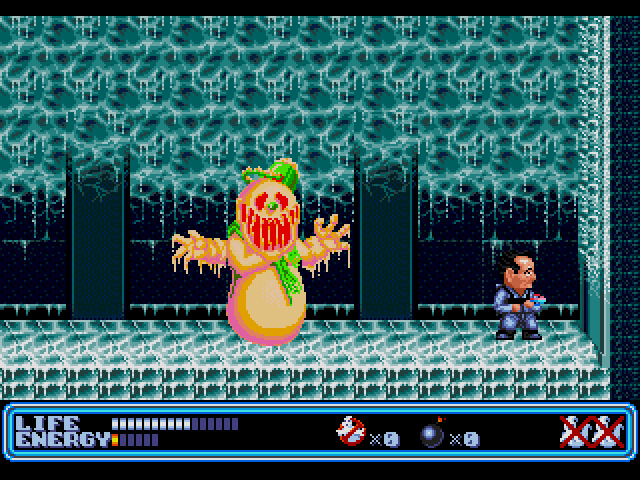 Let's start with the Sega Megadrive game that really got me on-board the non-Nintendo camp in my youth. This 1990 game is basically a 2D side-scroller shoot-em-up with search action elements and supposedly takes place after the first movie. You play as either Peter Venkman, Egon Spengler, or Ray Stantz, exploring the assigned stages you're in that is filled with cute ghosts, odd-looking spirits, and all sorts of video game-type enemies you have to blast down.
You have to explore the area, kill the minibosses and trap their ghosts, and then fight the main big boss that's terrorizing the place they're in. Luckily, you have a pretty decent default blaster, and you have your choice of buying better equipment that uses energy like a slow-but-powerful fire shot or a bubble spread shot gun that basically covers a lot of ground.
There's also a simple plot involving stone tablets; collecting them all will lead you to a scary castle stage and an underground stage where you have to fight previous bosses again to gain access to the main big bad. Again, pretty standard stuff but it's still fun thanks to its simple controls and aesthetics. Having said that, there are some frustrating bits involving certain stage layouts and hitboxes for your character. The house on fire stage comes to mind; you're pretty screwed if you didn't buy enough "torches" to light the path ahead.
Still, I hold this game close to my heart just because it's adorable seeing big-headed and small-bodied versions of Bill Murray, Harold Ramis, and Dan Ackroyd in 16-bit form, blasting the heck out of demon snowmen, a headless tuxedo ghost with a hungry spook with a detachable head, and a giant Chinese dragon. And shooting a poltergeist cup blocking the way with more proton bullets than necessarily needed.
To this day, I still wonder why the developers at Sega and Compile didn't add in Winston Zeddmore. Racist much?
New Ghostbusters 2 – NES
Made by HAL Laboratory -the same ones behind the Kirby and Super Smash Bros. series- this top-down shooter was made for the Japan NES market in 1990 and was released for PAL markets two years later. And if you're expecting the same kind of ingenuity from HAL's past marquee titles, you'd be wrong.
It's not all bad though: New Ghostbusters 2 pits you and a partner Ghostbuster to get rid of ghosts in different office buildings, a courthouse, sewer stage, and a ghost train. You'll eventually fight against big bad Vigo The Carpathian, but not before dealing with the multitude of chibi ghosts and random bosses that probably came out from a Wanpaku Konami title. You control one of the Ghostbusters who takes lead, while the other follows behind you. After you shoot ghosts down with your proton blaster, you then command your partner to shoot out the ghost trap to capture them; that's the only way to eliminate them in-game.
It's simple enough, and there are some good challenges here and there against the many bosses here. And that's all you're going to get, which is fine since that's all HAL need to work on: a nice arcade-like fix on your home console.
Ghostbusters: The Video Game – Xbox 360, PC, PS3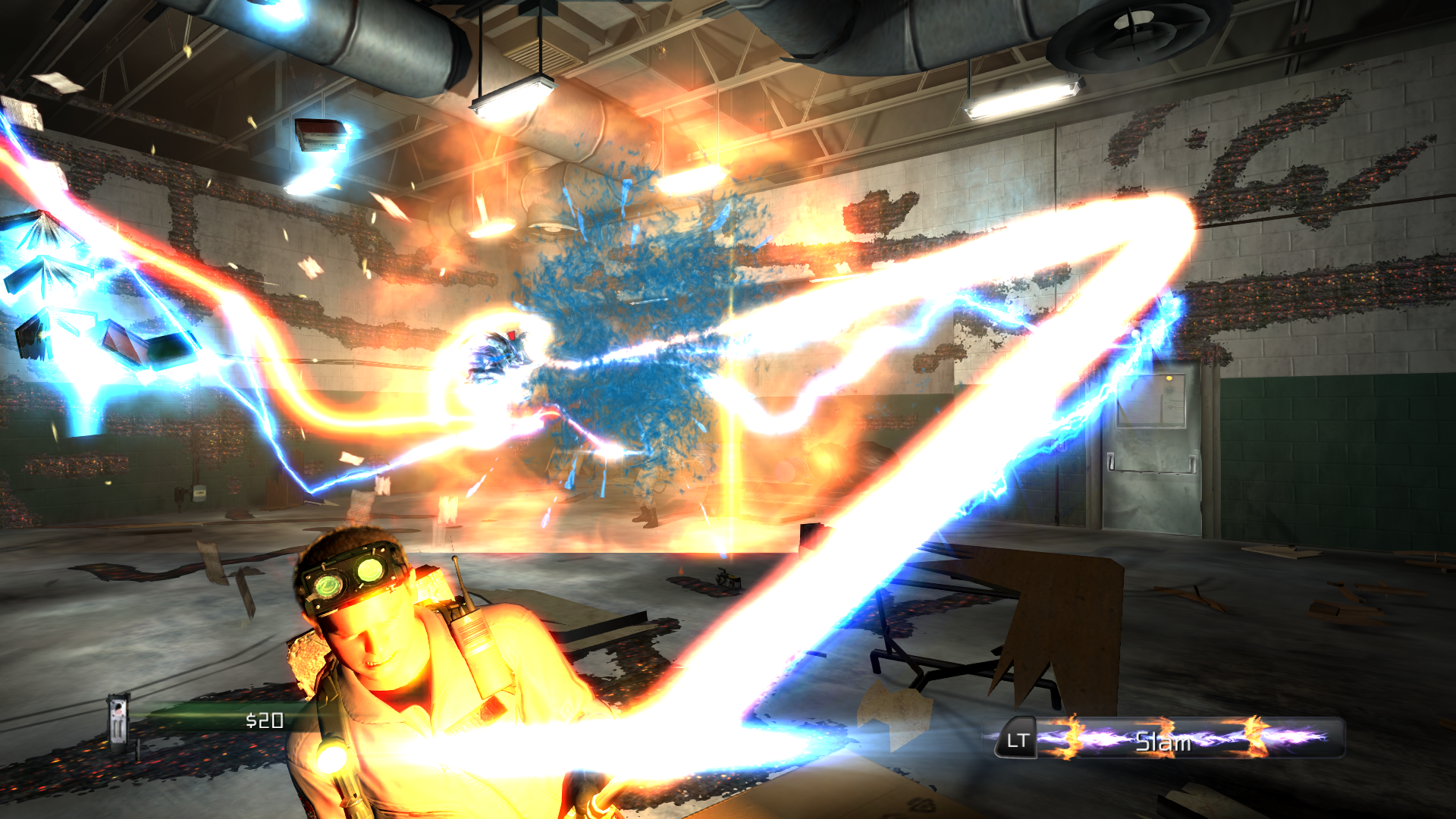 If I'm being honest here, the Ghostbusters game in 2009 for the Xbox 360 and PS3 is the true sequel to Ghostbusters 2 the movie. After much planning, we actually get to hear the quips and banter of the four Ghostbusters played by their respective original actors. The fact that the game's story and script were written by Dan Aykroyd and Harold Ramis is also proof that the lost movie that fans were clamouring for was in front of them the whole time on their last-gen consoles.
Is the game itself any good? It's fine and it's essentially the product of its time. Ghostbusters: The Video Game is a third-person shooter in the veins of other hot third-person shooters at the time like Gears of War. Only instead of chainsawing ghosts in half, you blast them with proton cannons and beam them down into traps just like in the films. However, you're not going to remember much about the game and its eventual boss fights with iconic ghosts like the Stay Puft Marshmallow Man. Though to be fair, the second half of the game features all-new areas and sections that probably would have cost a movie production house a serious ton of cash to pull off.
No, you're here for the intellectual riffing between geniuses Ray Stantz and Egon Spengler, complemented with snark and reality-bringing shakeups from Peter Venkman and Winston Zeddmore. In-between all this is the player character, the fifth rookie Ghostbuster tagging along for the cinematic gaming ride and getting the feel of the camaraderie of the group. All of this holds up to this day, and you can still check out this canon Ghostbusters story via the remastered edition on current-gen consoles and PCs.
Related