Genshin Impact's 2.6 update is up right now and features a ton of new quests. Chief of them is the new Archon Quest which furthers the main plot of the game, and it takes place in a brand new location: The Chasm.
Here's a guide on how to find the Chasm and get through the majority of it.
Genshin Impact Chasm Archon Quest Guide
Part 1
You'll have to go West from Liyue to reach The Chasm. There, you'll find an adventuring/mining group at the surface trying to figure out how to unlock the passage downwards through the big hole.
Basically you need to find a number of Bedrock Keys and destroy them. Head to the different locations listed in the map and video below (Fuao Vale, Cinnabar Cliff, Glaze Peak). Destroy the small rock clusters that are glowing to collect energy that powers up the Bedrock activation device. Then hit the device to shoot at the big Bedrock Key to lower it. Repeat this with the different devices nearby to destroy a key.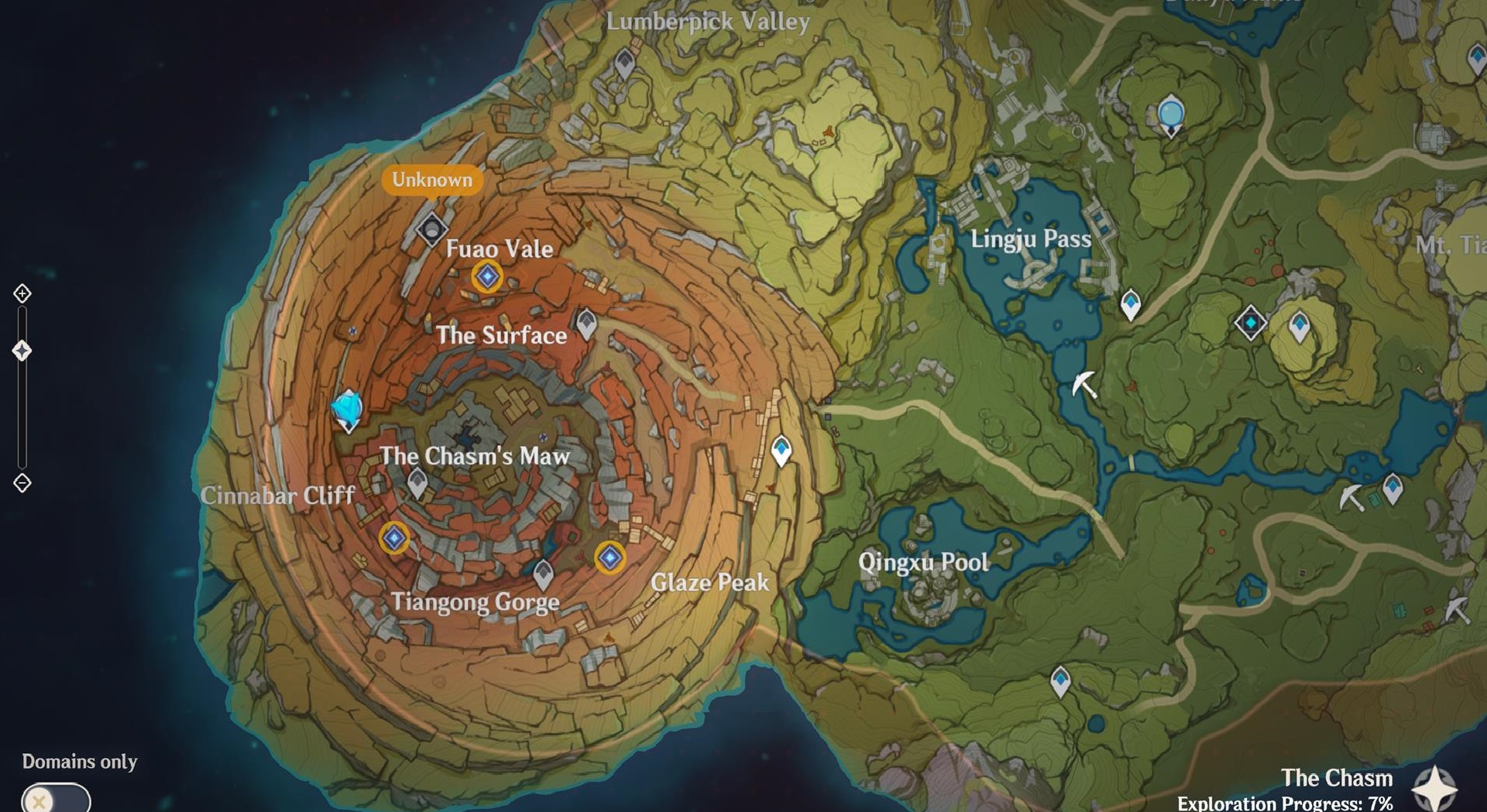 Part 2
In this new section of The Chasm, you'll go deeper underground and help out the Liyue Mining group. The group will give you a Lumenstone Adjuvant, which is a crystal lamp gadget that lets you deal with the Chasm's black goo that's impeding some of the puzzles in the tunnels and mines.
Lumenstone Upgrades
Yes, you can upgrade the Lumenstone so that it becomes a tad more powerful. In fact, you need to do it a couple of times to get through the main Archon Quest (specifically up to Rank 2). To do this, you need to talk to Jinwu and have a few Lumenspar crystals handy; they're scattered throughout the map and underground.
You can upgrade the Lumenstone up to 10 ranks. The higher the ranking, the more light charges and the more powerful it is at dealing with the black ooze growths and powering up certain contraptions.
Part 3
The last section of the Chasm and Archon Quest are pretty straightforward. Just press downward, talk to Dainsleif, and fight a number of bosses. The main ones you'll be fighting are the Abyss Herald (Hydro) and Abyss Lector (Electro). These enemies have a few set attacks that you can avoid easily. However, they will summon their respective Elemental barrier when they're down to a quarter of their life bars. Just persevere and nuke them with Elemental Bursts and combos aplenty; they'll go down in no time.
The video walkthrough below also features some spoilers of the game's main plot. You've been warned.
Ayato Kamisato Story Quest
The following video below is not quite Archon Quest related, but Ayato Kamisato's story quest is part of the 2.6 update, so we'll put it here if you're curious.
This guide is still under development.