It's been seven years since 2015's Jurassic World and now the conclusion to the entire Jurassic era, which started with 1993's Jurassic Park, is finally here. With the iconic trio from the original cast returning for this final movie, this movie attempts to tie a neat bow around the franchise's saga, sort of like what Star Wars Episode IX The Rise Of Skywalker did for its respective franchise. Does Jurassic World Dominion succeed, or is it just another Star Wars Episode IX The Rise Of Skywalker?
End Of An Era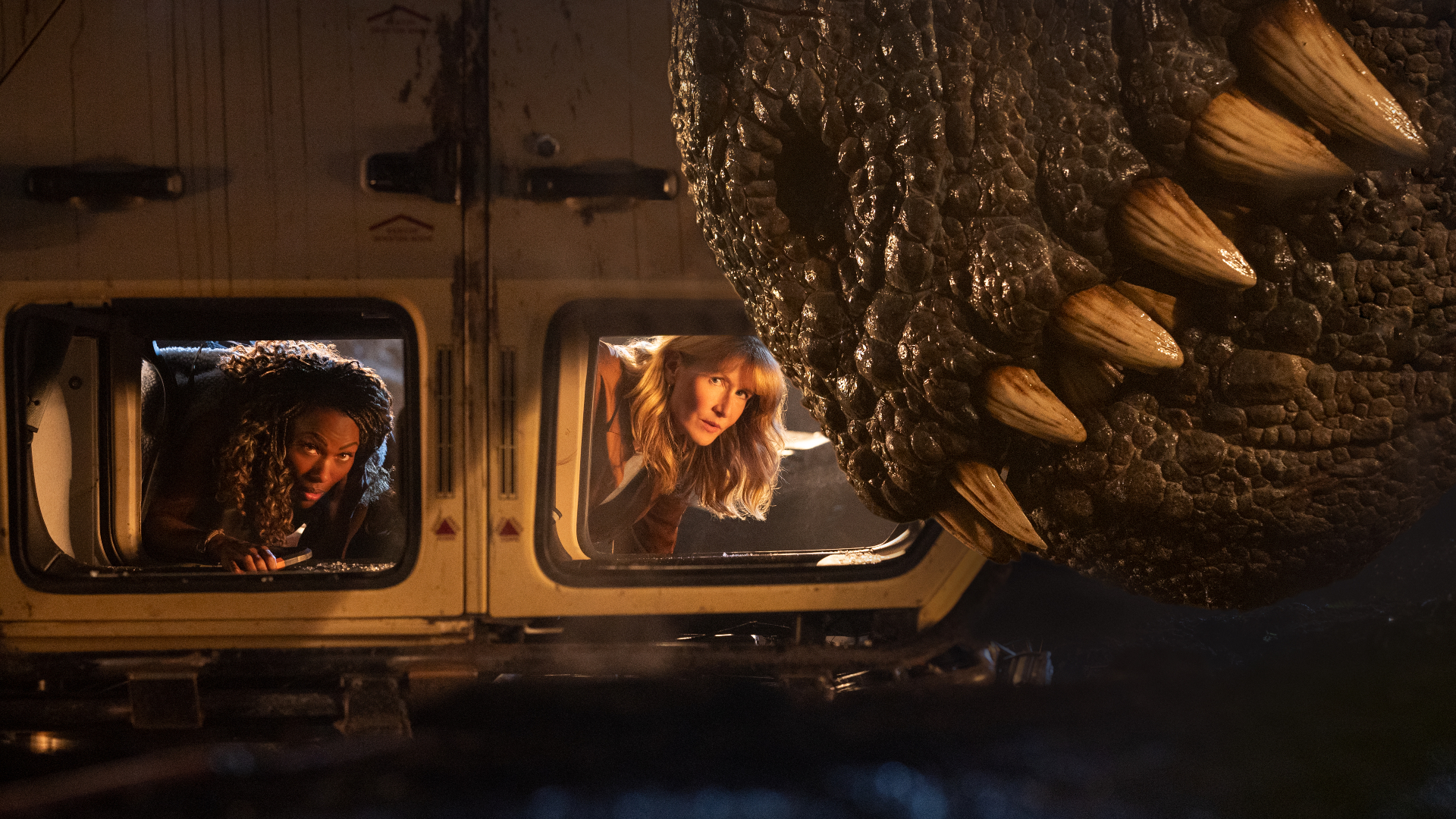 I won't lie: it was good seeing the original trio, Laura Dern's Dr. Ellie Sattler, Sam Neill's Dr. Alan Grant and Jeff Goldblum's Dr. Ian Malcom, again after all this time. Unfortunately, they can't really do much to make Jurassic World Dominion much better when the script is so derivative and generic. Obviously, I won't spoil the movie's plot details, but if you're expecting the movie to be more unique and innovative, it's not. The movie mostly rehashes the original Jurassic Park and Jurassic World formulas, with a few exceptions.
Jurassic World Dominion doesn't really fulfill its premise's full potential. The idea of humans and dinosaurs co-existing should have meant that there would be more scenes set in cities and urban areas where people actually live, but we don't see much of that. There's only one major sequence that takes place in a city/urban area, and part of that's already been shown in the trailers. So, yeah, there's nothing like what we saw in the climax of 1997's The Lost World Jurassic Park.
Still, I'm sure most viewers will watch this movie for one thing, dinosaurs, and there's definitely a lot of that. The highlight of the movie is the intense and dread-filled horror-tinged scenes featuring the cast being stalked or attacked by dinosaurs (look out for the scary and vicious new feathered dinosaurs). These are exciting, and begs for the movie to be watched on IMAX and the biggest screens possible. You won't be disappointed if you're looking forward to some dino action.
However, therein lies another problem, because the movie is almost a whopping two hours and 30 minutes long (it's actually the longest in the entire franchise). Most of the best scenes take place in the second half of the movie, especially in the third act. Meanwhile, the pacing of the first half in Jurassic World Dominion feels somewhat plodding and slow, as it mainly sets up the second half and the climactic third act of the movie.
Despite the movie's flaw, I'm sure many fans of the franchise will appreciate that it looks like Jurassic World Dominion features more animatronic dinosaurs and practical effects than its two predecessors. Visually, the animatronics and practical effects add more a more powerful impact to certain scenes that CGI wouldn't have accomplished. There's a reason why the best horror movies still tend to rely on practical effects and not fully CGI; viewers are more scared of something that's actually there, rather than something that's clearly made of pixels.
The best performances in the movie are from the aforementioned original Jurassic Park trio, which is no wonder why they were so heavily promoted for the movie's marketing. The rest of the returning Jurassic World cast are just like they were before, but we do get to see Chris Pratt's Owen Grady and Bryce Dallas Howard's Claire Dearing play parents to Isabella Sermon's Maisie Lockwood. I would also like to praise Bryce Dallas Howard for killing it in showing how terrified Claire was while getting stalked by dinosaurs. The MTV Awards have an award for Most Frightened Performance. If anything, she definitely deserves to win at least that.
It's A Dino World, And We're Stuck In It
Is Jurassic World Dominion a perfect conclusion? Nope, it isn't. If you're here for a rollercoaster ride with dinosaurs, it's a flawed one with a slow start and no genuine surprises, but at least it delivers on the dinosaur spectacle.
Jurassic World Dominion is a fun blockbuster action flick that your whole family can enjoy, just like Jurassic Park and Jurassic World. However, there is wasted potential in its premise, which could have been made into an even better and more memorable film, considering that it's the supposed final movie of a trilogy and the end of a saga.
FINAL SCORE: 60/100
We attended a press screening of Jurassic World Dominion courtesy of United International Pictures (UIP) Malaysia. Jurassic World Dominion premieres in Malaysian cinemas on 8 June 2022.