Aniplex and DeskWorks! give a deep dive into their new mobile RPG titled World II World which will be available on both iOS and Android.
A couple of days ago, Aniplex announced their joint venture with developers DeskWorks! to make World II World which is slated to be an offline single-player mobile RPG that will utilise turn-based combat and will feature weekly scenarios to further develop the story.
The showcase begins by emphasising the fact the game will only be single-player to help with immersion in the game. Following this we're introduced to the synopsis of the game which goes as follows:
Right now, many worlds are on the verge of crisis.

The "Division" brought discord among the people, leading to their slow demise.

Divan, the "King of the Divide," desires their demise. Weave, the "Girl on the Boundary," resists it.

In the loneliest depths, a girl entrusts you with the last remaining fragment of hope.
The story involves a number of worlds, six of which are divided worlds. These worlds are:
Annulus World
Machina x Labol World

Labol Side – Protagonist: Fujo
Machina Side – Protagonist: Rakka

Fantasy x Reality World

Reality Side – Protagonist: Maruma Mac
Fantasy Side – Protagonist: Haruta Komiya

Gunman x Samurai World

Gunman Side – Protagonist: Koru
Samurai Side – Protagonist: Kenmaru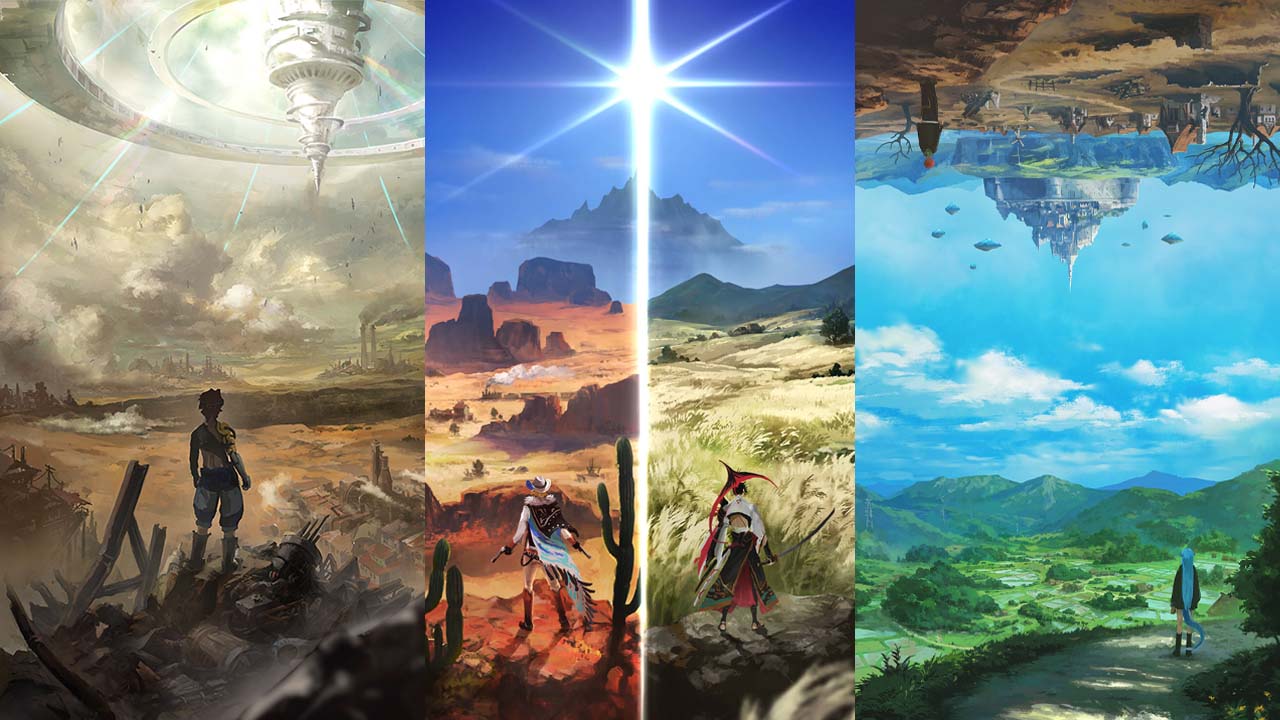 Because there are six worlds, this also means there we follow six protagonists, each paired with the respective divided world counterpart who will come together at some point much later in the story. It is also revealed that there will be over 160 characters for you to play as and interact with, each with their own fleshed-out stories.
The game will feature weekly scenarios that will develop the story and every 12 scenarios there will be a "climax", which will feature animation. Following this, it's revealed that the story will also be serialised in a weekly shonen magazine and will begin serialising when the game releases. We also learn that the story will not be set in stone and can change depending on player feedback.
FIRST OF ITS KIND SPLIT-SCREEN GAMEPLAY ON MOBILE
It's here where we finally understand the concept of the worlds being divided. The gameplay itself will be split in half on your mobile device's screen, with one side of a divided world on one half of the screen and its respective counterpart on the other half. Characters on either side of the screen are able to move independently or together if the player wishes. It should be prefaced that both screens are interactive with one another meaning that if you were to shoot a rocket from the world on the bottom half of the screen upward, the rocket would appear and affect the top half of the screen.