Updated on 23 November 2022:
Sorry, folks. HypeTrain has been postponed indefinitely.
Stay tuned on Kakuchopurei for more future updates!
---
Time to brush off the cobwebs and grease those elbows. Here are the titles which you would want to get yourselves well acquainted with in order to stand a better chance of dominating at the HypeTrain. 
FIFA 23 (published by EA Sports)
GigaBash( published by Passion Republic Games)

Street Fighter V: Champion Edition (published by Capcom)

Mobile Legends Bang Bang (published by Moonton)
The full contest mechanic and points-scoring system will be revealed soon. But to sum it up: win games, score points, which equals a higher chance of winning the big prize at the end of the event. Easy, right? Of course, you aren't required to participate in all four games' activities, but doing so does help a lot in accruing more points.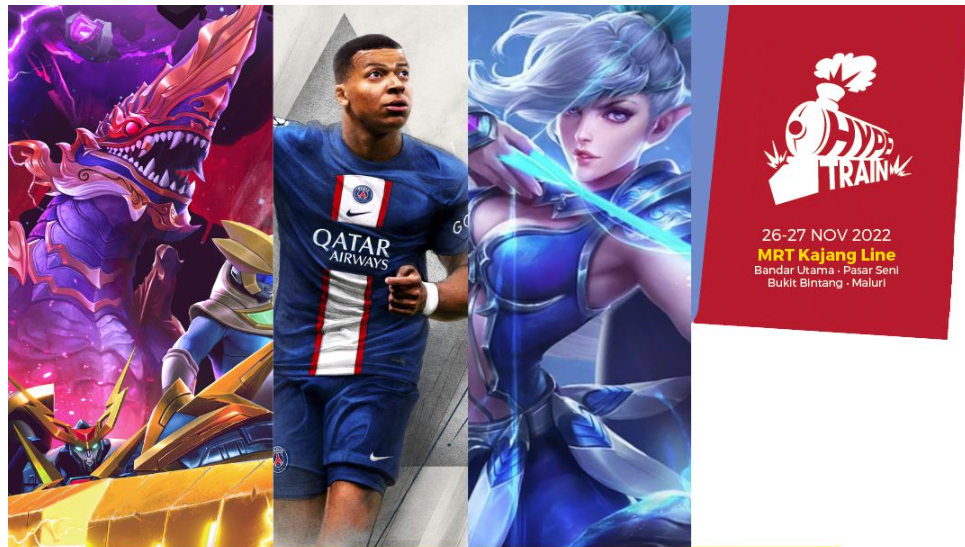 Also, here are the four MRT Stations which will play host for the inaugural HypeTrain event which is set to take place on 26-27th November 2022
The HypeTrain participants can start at ANY of these participating stations by registering their name with our staff when at the respective stations. Pre-registered participants will receive some kind of leg-up, of course, and we will tell you what it is in the next news reveal. 
Thereon, once you have done all of your activities in any of these Hype Booths, you can head in any direction you prefer for your next challenge. You need not rush to the next stop, as The HypeTrain happens throughout the whole weekend, and you can carry your progress forward to the following day. 
Stay tuned to Kakuchopurei for more info and to find out when you can start pre-registering for HypeTrain. See you there!