Grim Guardians: Demon Purge is the latest from developer Inti Creates, and the game features on-the-fly protagonist switching – a multitude of weapons to unlock, and enemies that you can take out in a blaze of gory – err, glory.
Inti Creates Knows Their Stuff
Inti Creates is no stranger to the 2D action platformers with a strong sense of adventure and world – having previously worked on Bloodstained: Curse of the Moon 2, Azure Striker: Gunvolt, and Mega Man Zero to name a few. The majority of the games in their catalogue are ones with vibrant designs on both character and enemy sides, as well as a world that feels lived in, with often smart level design that doesn't handhold the player, but rather teaches them how to use the mechanics organically.
Grim Guardians: Demon Purge is no stranger to the above, and a great take on the 'games where you can change playable characters on the fly to approach something in different ways' genre. You control one of the two Kamizono sisters, Maya and Shinobu, to navigate their school-turned-demon castle, each with their own skill sets. Maya is better at melee while Shinobu is a ranged fighter with her demon-killing Uzi.
Weapons and support tools for the ladies continue to get unlocked as you go through the game, furthering a sense of progression and fulfilment that keeps you wanting to play right there and there. It feels good to switch between the two and play as them, though this comes as no surprise given Inti Creates' know-how.
Really Fun Visuals
The game is quite pretty, there's no way around it. The colour palette is sufficiently moody, really bringing in the "grim" from the "Grim Guardians" title – then there are the little pops of colour within the level, the little bits of fuschia that pop up in things like curtains and other bits of decor, that mesh really well. Then the character designs – in their drawn CGs or in their pixel sprites that run around the screen, are really fun and the contrast between their colour palette, with the rest of the levels standing out quite well.
Enemy designs are also a lot of fun, looking exactly like the kind of creatures you'd like to take down in a gothic castle setting. However, there are times when the backgrounds can look a little muddy in certain stages where the palette is intentionally made grim.
Backtracking That Doesn't Break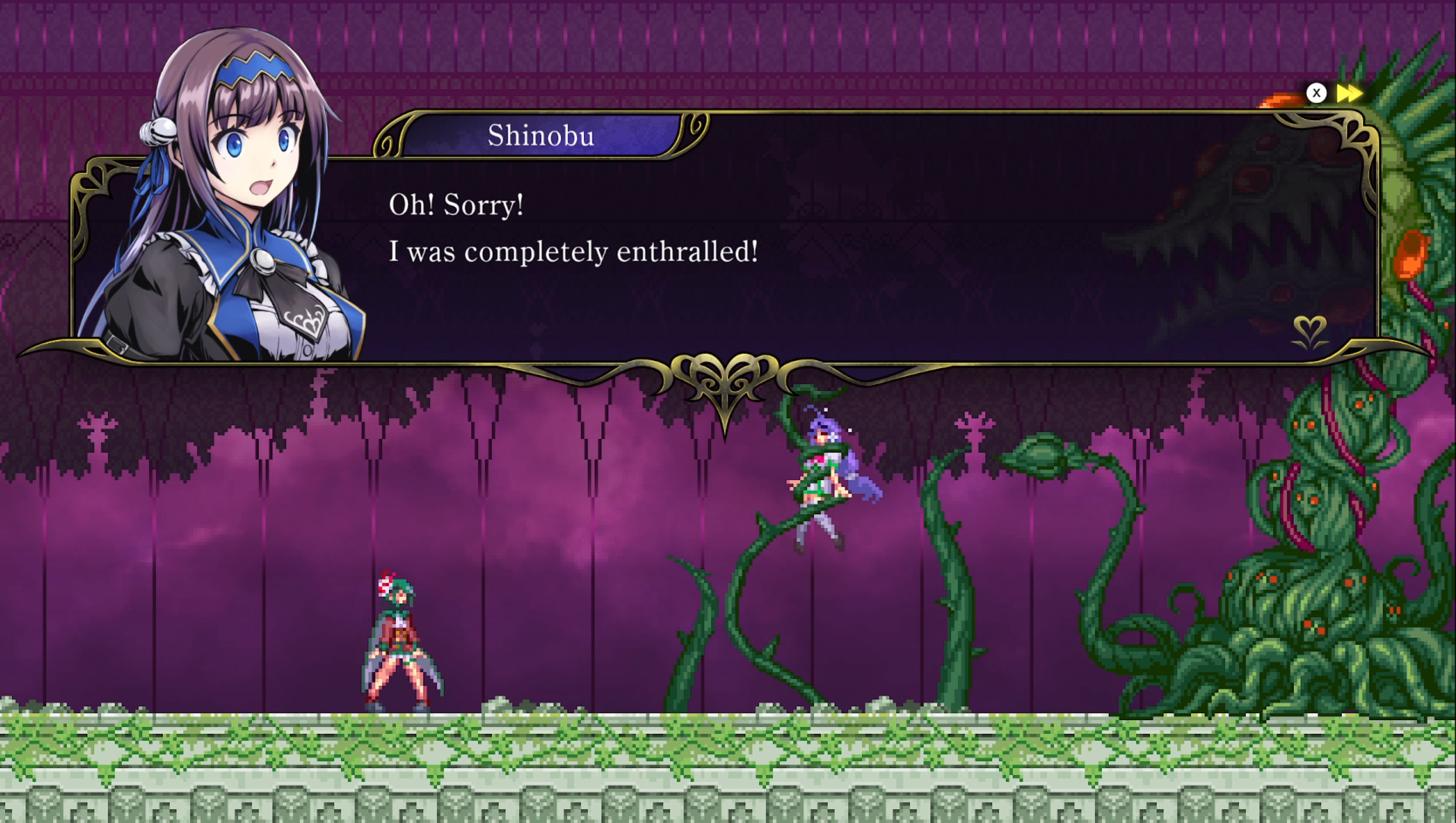 Is there backtracking within the game? Definitely – towards the end of it all, there's a series of sequences that require you to revisit previously conquered stages.
However, there is still this sense of progression and it feels pretty good to go back and look at the places you had knocked down specific enemies not too long ago – it doesn't feel like too much of a grind, and it's not necessarily a feature, but when you get to that point, you won't feel like you're regretting your playthrough.
Sounds Good To Me
One of the most unique features of the game is actually the voice-over options – there are two settings, the "pure" and "refined" voice tracks. The "pure" experience is the original Japanese voices for story mode, focusing on the original experience of the game which focuses on the story mode. However, the "refined" experience features English voice acting that focuses on the action, which Inti Creates describes as "being tailored for fans of the genre".
Neither voice cast nor experience is outright better than the other, as they have different intentions in regard to what they're trying to achieve. It's a bit like picking the game's difficulty; you want to choose something that best suits your playstyle, then tries again with the other option if you feel you'd like to give it a shot after your first playthrough. In my case, I went with the "pure" experience first.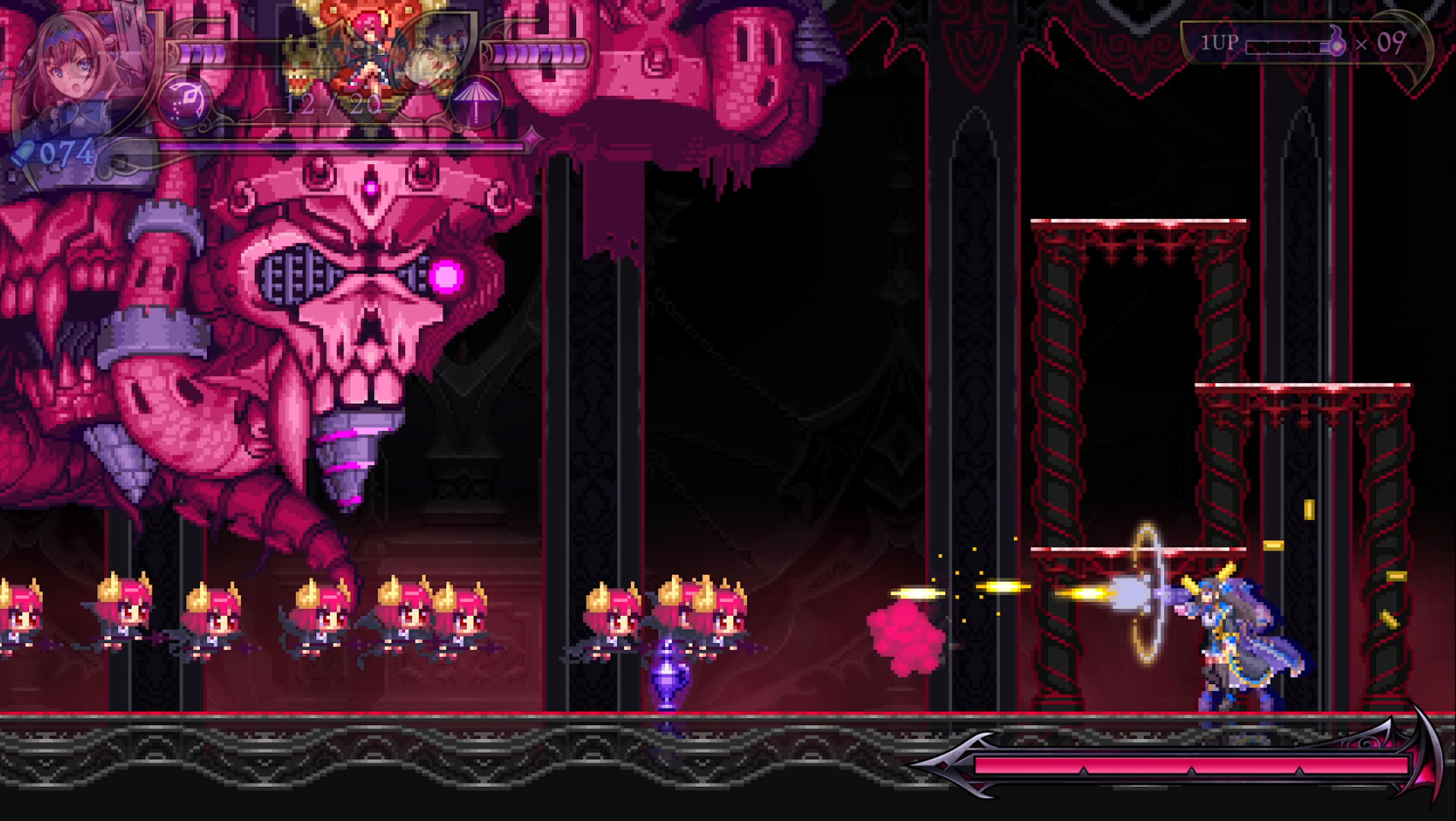 Grim Guardians: Demon Purge is overall a fun and concise experience. It is by no means perfect, especially if you're a fan of previous Inti Creates games and you have a certain level of expectation. The world doesn't feel as whole or fleshed out as it could be, and there's a level of detail that isn't quite there.
However, it is by no means a bad game, nor is it unenjoyable. It's a little experimental and solidly fun, and that's all it really needs to be.
Pros
A short and fulfilling experience overall.

Both protagonists are fun characters to play as.

Great sense of pace and progression.
Cons
The grimness of the colour palette can make the backgrounds look a little muddy.

Voice acting can be grating after a while.

Not as engaging as previous Inti Creates titles.
Final Score: 70/100
Review copy provided by the publisher.
Related