Convergence: A League Of Legends Story Is Fun 2D Platforming Akin To The Best Prince Of Persia Titles
Platform(s): PC (version played), Nintendo Switch, Xbox Series, Xbox One, PlayStation 5, PlayStation 4
Genre: 2D action platformer with time-rewind mechanics
The rewinding mechanic in games -where you manually go back a few seconds of a playthrough in-game so you can do over a segment you messed up, or want to perfect- is a godsend for game design since the release of Prince of Persia: The Sands Of Time back in 2003. Apart from Forza Horizon and Forza Motorsports, there hasn't been a game that implements it fully in its gameplay and design. It's more of a do-over tool; it helps manage the pace of a playthrough at your own pace and also ditches the concept of "lives" as you only need to worry about the resource that powers up the rewind.
Leave it to Double Stallion and publisher Riot Forge to answer that call with their latest League of Legends spin-off game, Convergence, and with an appropriate character in the MOBA game's lore to boot.
Time After Time
Convergence: A League of Legends Story is about Ekko and his quest to protect the town of Zaun (made famous by the Netflix show Arcane). After a factory explosion, he's tasked with collecting special volatile crystals that are used as weapons from the world's chembarons and maintaining the peace, all the while meeting friend and foe. Ekko's kicker is that he has a Z-Drive that manipulates time temporarily to his favour.
Ekko has a hub area to get his upgrades and cash in his findings -for cash and bonus lore items- throughout the many levels and sections of Zaun, from an indoor greenhouse with killer plants to even a fun airship-filled stage with tons of platforming with no margin for error (kind of; we'll get to that). While the game is laid out like a search action title, it isn't: the hub area connects you to the many stages with a linear path with some discoverable secrets and challenge rooms.
You'll not only fight a good amount of enemies and machines -ranging from sword-wielding bandits to even exploding-in-your-face flybots and their respective metal hives- but also have to traverse obstacles with Ekko' s agility. As you progress, you'll be able to grind on rails, use your Timewinder projectile to activate platforms, double jump, dash in the air, and even use a "force push" that pushes obstacles and destroy specific barricades. You can even invent items and powerups to equip that can help Ekko with his combat and Z-Drive/time-based gadgets with the cash and items you find; just find a workbench and have the items at the ready to make them, then equip them based on how many Capacitor nodes they take up. Ekko can also learn a few moves, though only the parries are essential for survival.
You'll need all the help you can get because Convergence is old-school with its 2D actioning and platforming approach. You can die instantly from falling into a pit or onto spikes. You only have 3 hit points and you don't have invincibility frames when you're recovering from a hit. This is where the rewind feature comes into play; it's incorporated in the game design meaning that the old-school platforming gameplay of a 2D platformer is present, challenge and all, without compromising the difficulty.
Many of Convergence's platforming segments require you to master Ekko's moveset, but even if you botch up parts of it, the game is generous with its rewind mechanic to let you attempt it again and again, especially for combat. If you didn't parry that enemy projectile correctly, you can rewind back to the instant you're safe, then try that timing again. If you get hit by an attack, just go back a second or two and just jump out or dodge out of the way. Missed that jump because you didn't get off the rail on time? Rewind, rewind, rewind until you get it right. Or until you're out of Chrono energy, in which case you start at the nearest checkpoint and do that segment again. The game's checkpoints are pretty generous and don't mess up your pacing and progress.
"My Pasts Have A Way Of Catching Up…"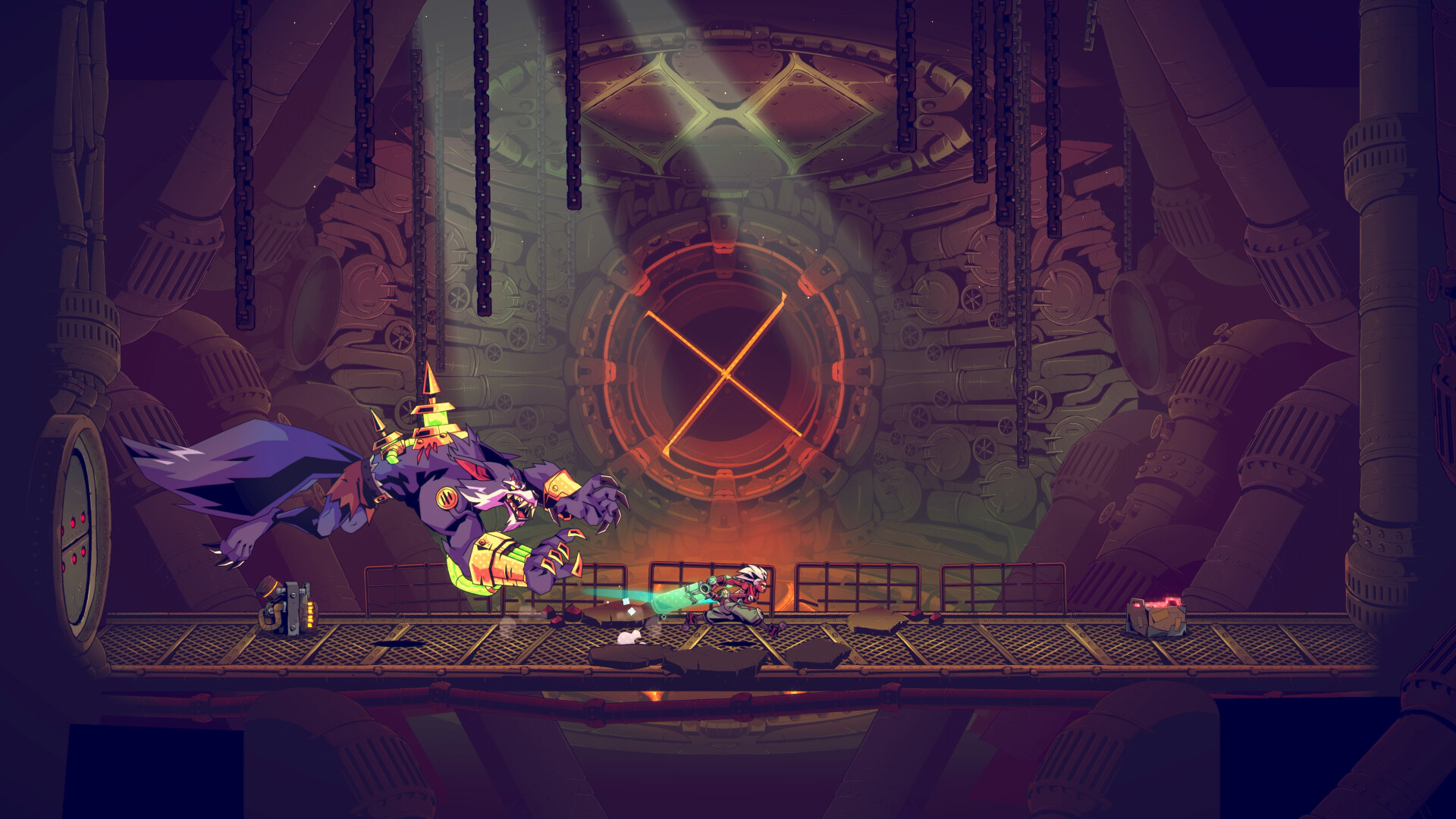 It's because of Double Stallion's understanding of what makes platformers challenging and fun that makes Convergence a thrill ride from start to finish. My favourite moments in Ekko's adventure include the challenging time trial-type areas where I have to chase a robot through an obstacle course to pilfer its treasure. They're tough, but the rewind mechanic lets me do over portions of it, failing that I'll just do the whole thing again. I also dig most of the platforming that involves wall-running and vaulting through a greenhouse, and also using bouncing pads in the game's really fun airship-slash-hot-air-balloon concert level, along with the level's accompanying boss battle. Convergence's art direction mixes the vibrant feel of a 2D platformer with the dark vibes of Zaun's worst and slightly-worse areas, and it really is fun to witness in motion.
In fact, Ekko himself feels really good to control, otherwise the whole game would fall apart. He's so fast, speedy, and slippery, that even the game's 2D camera has trouble keeping up with him. I know it's weird to talk about how wonky a game's 2D framing is, but the screen can go left and right in a haywire-y manner that some players can get motion sickness. Perhaps it's because of how small Ekko is on display and how zoomed-out the camera get, but I understand the decision because you need to see what's ahead for you to jump and traverse.
Still, I do hope Double Stallion can sort out the camera's focus on Ekko as it can get disorienting. Sonic The Hedgehog was made in the early 90s and solved that problem with a speedy character just great; why can't Convergence? The game's combat can also get chaotic with so many projectiles and enemies crowding onto you; you might have to rewind a copious amount of times just to find out where you are amidst the mess.
Tick Tock
If you miss the Ubisoft Prince of Persia games, but prefer the 2D iterations that came after Sands of Time, Convergence: A League of Legends Story is the best substitute for that proverbial antidote in 2023. It's fast, frenetic, fun, well thought-out, and has slick controls. Apart from some screen positional & focal point issues (along with some default difficulty issues), everything else about publisher Riot Forge's first foray into segmented 2D platforming with time-bending mechanics is golden.
Timeless? We'll have to wait and see, but it's definitely an experience you want to clock in, especially for its low asking price and 8-hour-or-so playtime.
Pros
Great controls & platforming feel.
Lovely level design, challenges, and boss fights.
Vibrant art style.
Lots to love for League of Legends lorehounds.
Cons
Screen & 2D view can't keep up with Ekko's agility.
Combat can get chaotic and hard to make out at times.
Final Score: 80/100
Review copy provided by Riot Games. Convergence: A League of Legends Story will be out on 24 May (GMT+8).