Street Fighter 6 is coming out on 2nd June, which is just less than a month away. As such, the game's roster for its launch is set with 18 characters, each with their various playstyles.
In this entry, we'll be focusing on JP, one of the new characters in the game and possible new villain in the Street Fighter mythos.
Note: This guide is still in development.
All inputs are in numpad notations. For example, Hadouken from player 1's starting side is 236P.
Attack buttons are as follows: LP, MP, HP are light punch, medium punch, and heavy punch respectively. LK, MK, and HK are light kick, medium kick, and heavy kick respectively. None of this Fierce or Roundhouse bulls*** in Asia. 
Credits: Fighting Game Anniversaries, WoolieVS, FlawlessDeku, Capcom, Reversal
Street Fighter 6 JP Overview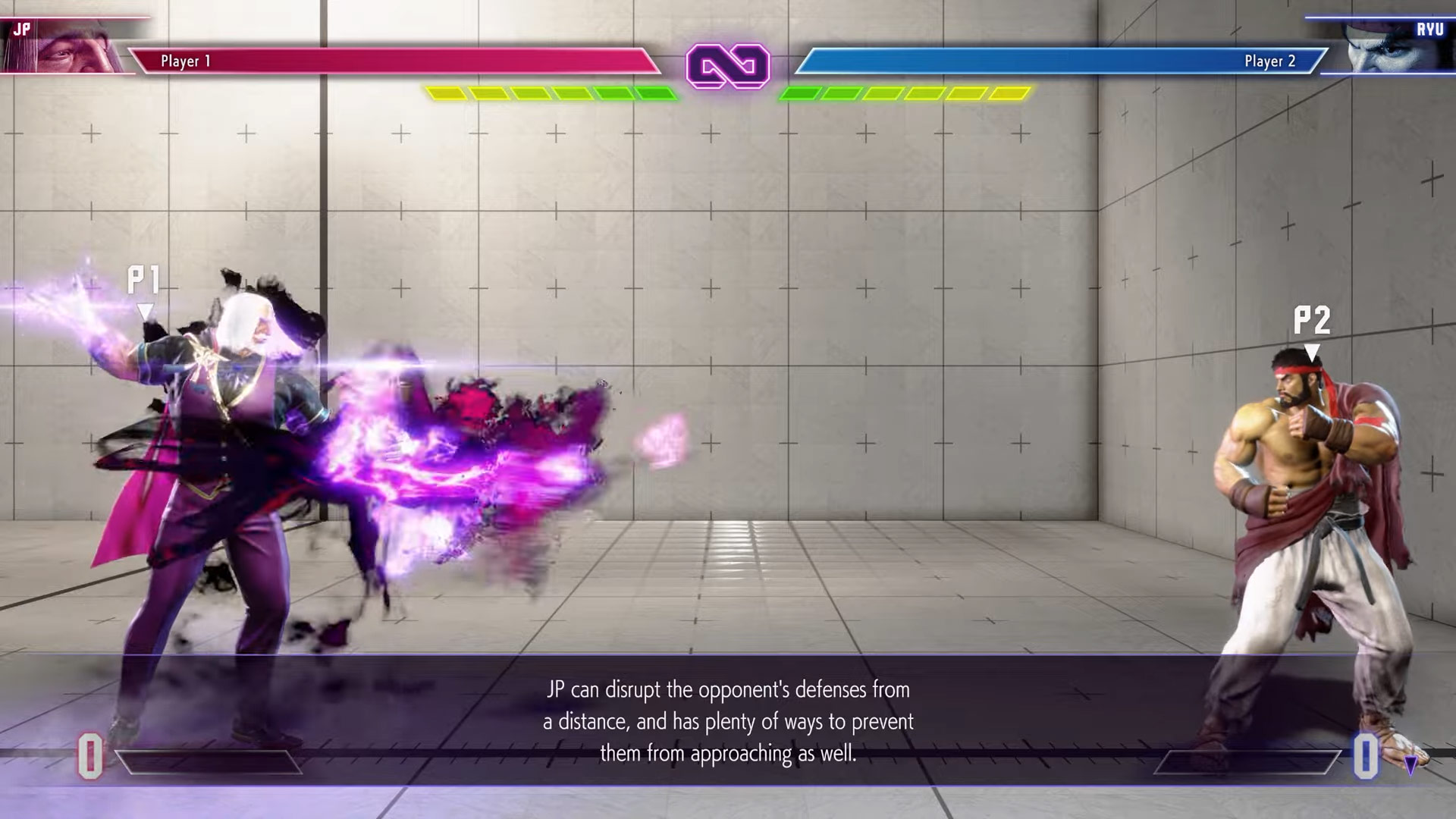 JP is a zoner; he relies on tricks and far-reaching attacks to decimate his opponent using his "Psycho Powers".
His Triglav lets him throw out Psycho Power thorns in predetermined distances (ala Goenitz's killer wind and C.Viper's Seismic Slam), while Stribog is meant to end combos and push opponents away to start his actual game plan: filling up the screen with Departure where a spike can pop up to disrupt opponents or JP teleports in for a quick few hits. Or he can bait people into hitting him, in which he can use Amnesia that is a countermove that pushes him away and attaches a Psycho Mine onto an opponent that explodes after a second or two. His other few long-ranged moves are Torbalan and Embrace, with the former either hitting high or low, and the latter being a command grab.
To counterbalance all this nonsense, JP has no wakeup or reversal, and has no answer for anything close-ranged and fast. You'll have to use Departure or Amnesia to make a huge between you and your opponent.
Play If: You like to turtle and play lame, love filling the screen with garbage that will frustrate your opponent from mid to far range, if you like a full-screen Level 3 Super, if you love controlling the screen, if you hate grapplers and want them out of the way.
Avoid If: You prefer up-close confrontations, prefer a safety of a reversal with you, can't handle rushdown characters.
Street Fighter 6 JP Move List
Special Moves
Triglav: 22P. Summons a spike on the floor; its location is dependant on the strength of the punch used.
Stribog: 236P. Used as a combo ender.
Departure: 214P. Summons portals in the air. Wait a while for the spikes to pop up; you can activate them using 214HP. To teleport to them, do 214LP or 214MP.
Amnesia: 22K. Counter-move. If activated, JP leaps backwards and attaches a Psycho Mine onto opponent.
Torbalan: 236K. Summons a shadow clone like a projectile.
Embrace: 214K. Summons a shadow clone that grapples the opponent and explodes. Slight delay & different telegraph than Torbalan.
Super Art
Chornobog: 236236P. JP fires two interlocked shockwaves forward. Used for combos or counterattack.
Lovushka: 214214P. JP generates clones to attack opponents from all directions. The higher clones perform overhead attacks, and you can jump in and add in your own attacks mid-way.
Interdiction: 236236K. Full-screen grapple on the ground. You can jump out of the way to avoid it, but it's really fast and can catch people who press buttons. Great to punish whiffs, or anything with recovery at least.
Unique Attacks
Guillotinna: 6MK
Malice: 3HP. Low hit, can cancel into special moves.
Bylina: 6HK. A launch kick that you can cancel into special moves.
Grom Strelka: 4MP>MP. Can be cancelled into special moves.
Zilant: HK>HP. Target combo that can be cancelled into special moves.
Zilant Mid: HK>HP>HP
Ziland Low: HK>HP>HK