Platform(s): PC (version reviewed), Xbox Series, Xbox One, PS5, PS4
Genre: Scifi Role-Playing Game With special Hollywood stars Idris Elba and Keanu Reeves
Back in 2020, we said that CD Projekt's magnum opus scifi game Cyberpunk 2077 needed way more time in the oven. While a stellar RPG title with branching narratives & endings, everything in-between is held up by pretty worn-out duct tape, to put it mildly. Bugs, glitches, teleporting cops, what-have-yous: it was the talk of the town in 2020 and half of it is usually negative.
It's already been a couple of years. CD Projekt clearly learned their lesson and made it up with not just a big 2.0 update, but also an expansion to the base game with its own meaty quests and stylized storyline involving the government and spy games. It also helped that the Netflix anime series Cyberpunk Edgerunners instilled more faith into the brand; it IS one of our favourite shows of last year. But let's not get ahead of ourselves; CD Projekt's dip from grace is long past thanks to what we have here in 2023.
Spy Hard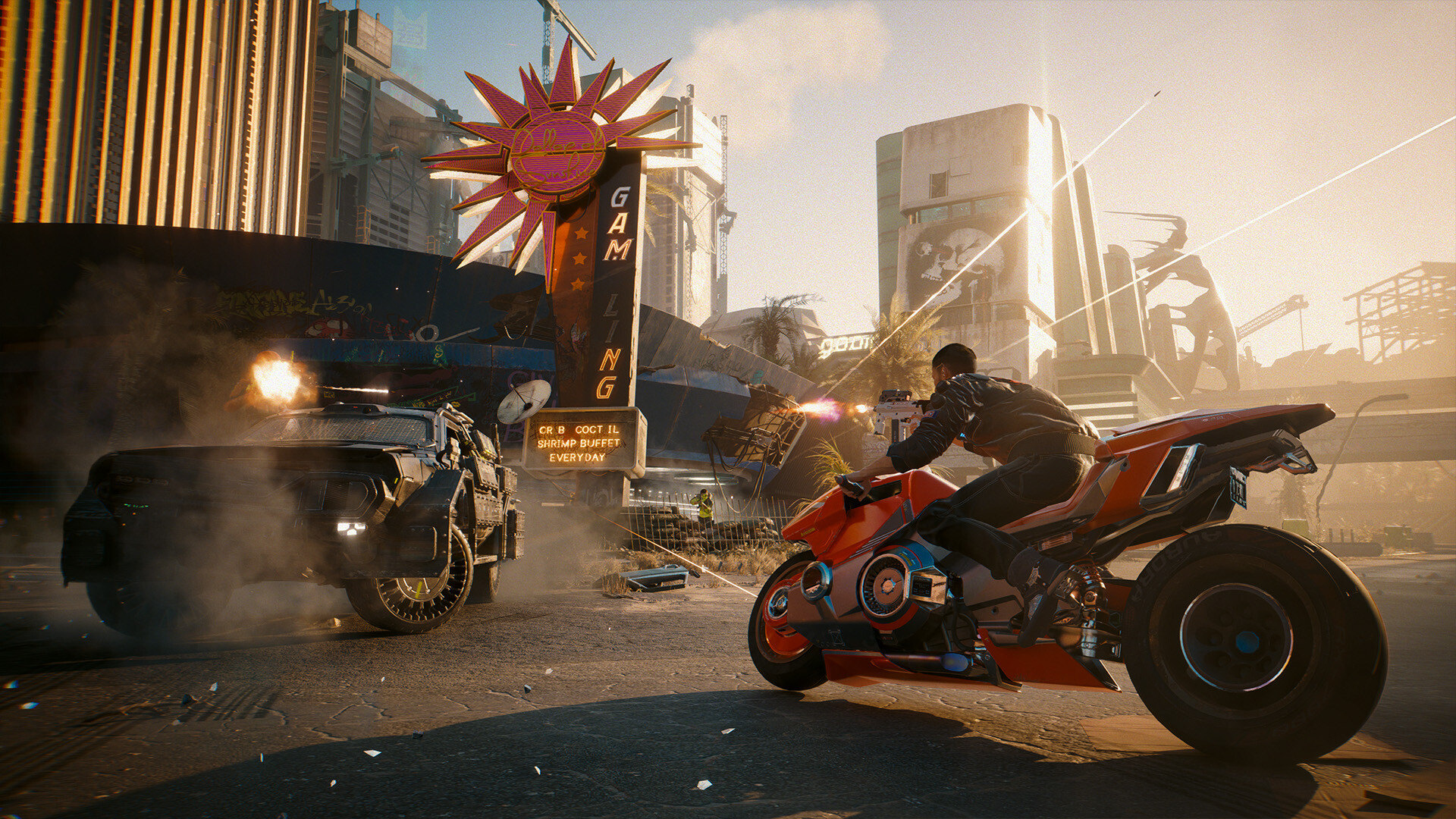 Cyberpunk 2077: Phantom Liberty pits you in the shoes of V once again, searching for a cure to her bio-chip malignance that's killing him/her slowly while also sharing the mind of legendary edgerunner/rocker legend Johnny Silverhand (Keanu Reeves). The DLC gives you the option to look at another solution, starting with a request from top-tier netrunner Songbird. Pretty soon, you end up in a Pacifica sector called Dogtown, ruled by military leader Kurt Hansen, a president's flying plane gets downed, you go in for the rescue. And after a confrontation with a pretty epic robot boss, you start your pathway into being a spy for the government.
You'll also meet a retired badass named Solomon Reed (Idris Elba) who is gruff yet well-meaning, with his own quest to eradicate his personal demons while helping you out in retrieving your person of interest. Not only do you go in guns-ablazing in missions, but you also need to infiltrate areas, and also be in disguise as one-half of a netrunner brother-sister duo to get to your main objective. It's clear as day that CD Projekt is taking bits of the Jason Bourne series and the 007 books from Ian Fleming to create its own sci-fi version of an epic spy caper.
The team hit all the right notes: you are always second-guessing yourself over who to trust, and also getting access to pretty cool tech and swanky gear to infiltrate places while looking good doing so. The setting itself, the military hellhole of Dogtown, has its contrasting design and ramshack aesthetics to highlight the hypocrisy of its ruler. Surrounding the casino, underground markets, and pyramid complex are the military shacks, homeless vagrants and their squatting territory, and broken infrastructure and roads that makes you wonder how all of it truly stands.
You will fall in love with the two stars of the expansion: Songbird/So Mi and Solomon Reed, each with their own agendas, vices, and traits that make you feel for them, but sometimes hate them for it. This IS a dystopian sci-fi thriller RPG title where "heroes" die fast & usually in a blaze of glory, after all. As a bonus, you'll also get an additional ending in the base game's final quest "Nocturne OP55N1" if you complete Phantom Liberty a particular way. Suffice to say, it's on-brand and worth checking out if you really want to see what happens when you get what you wish for in Mike Pondsmith's effed-up world.
While the majority of the story missions are great and all, there is one in particular that is purposely built like a survival horror level complete with an unkillable robot that kills you in one hit. After playing as an ever-evolving badass, it's rather jarring to play a level like this that just feels frustrating especially if you aren't sure what the killstates are, succeeding only with trial and error. That's probably the only sore spot in this otherwise fine Asimov-esque cocktail blend.
There & Back Again
Cyberpunk 2077: Phantom Liberty also boasts a ton of new weapons and gear, a slew of new sidequests in Dogtown, a bunch of gigs from a fixer named Mr Hands with their own moral conundrums (and a sweet payoff), and a couple of new discoveries. The expansion also adds in the final "empty" stat in your character screen: the Relic stat. This lets you activate a bunch of amazing skills and powerups for your existing cybernetics like a vulnerability detector that amplifies the damage you deal if you hit enemies at the correct spot (pointed out via a square), and even an area-of-effect shockwave effect if you charge up and release your gorilla arms attack.
Best of all, you can access the expansion at any level at any time, with the only prerequisite being to finish the Pacifica Voodoo Boys mission (ie: the one where you find out about Alt Cunningham and the Blackwall). It's sure as hell better than grinding to level 30 and finishing the main plot especially if you want to jump in straight from the beginning. Speaking of levels and skills, the 2.0 update overhauls a lot of the base game for the better. The game's skill tree is more streamlined and manageable, the Cyberware and item management/usage mechanics are reworked, and weapons have a simple-to-understand upgrade system. You like that Guts shotgun a lot? You can use it from when you found it up until the end, upgrading it with tier-appropriate item components to boost it up to the high heavens.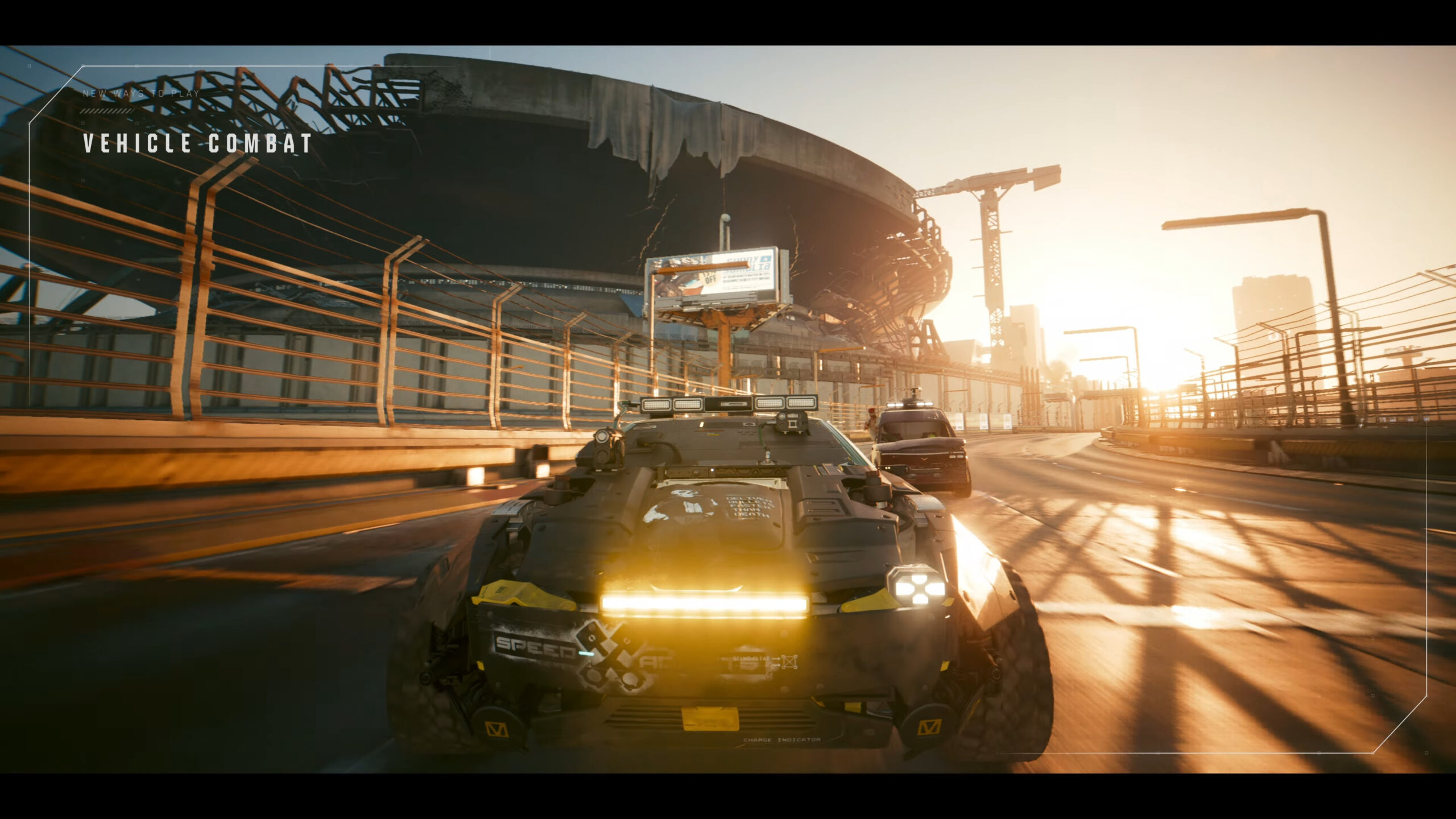 In terms of Cyberware (ie: the cybernetics that help power you up according to your playstyle), you can load up as many as you can as long as it doesn't go over the yellow bar on the left side of the Cyberware menu. Boosting up some skills in the Tech tree can increase and decouple the limit of the bar, meaning you can overload yourself ala David Martinez. The level cap is now at 60, meaning you can experiment and branch out to a few more skill trees and traits. In addition, you'll get permanent stat boosts based on how you play thanks to the Skill Progression system. If you do a lot of killing, you'll get more combat-related stat bonuses with the Headhunter Skill Progression. Tinker around with doors and equipment more? You'll get stat boosts via the Engineer Skill Progression.
Basically, everything you do that isn't tied to the main story will accelerate your progress and power level more. You'll definitely feel the differences either when you enter combat, or when you're skulking around using your nethack and quickhack skills for subterfuging. Even if you played the original in 2020, the changes and reworking in the 2.0 is more than enough for a committed replay. Maybe even twice. It's honestly the best kind of dark-edged scifi RPG you need to experience this side of Shadowrun, with the Phantom Liberty expansion being the main draw.
Free Bird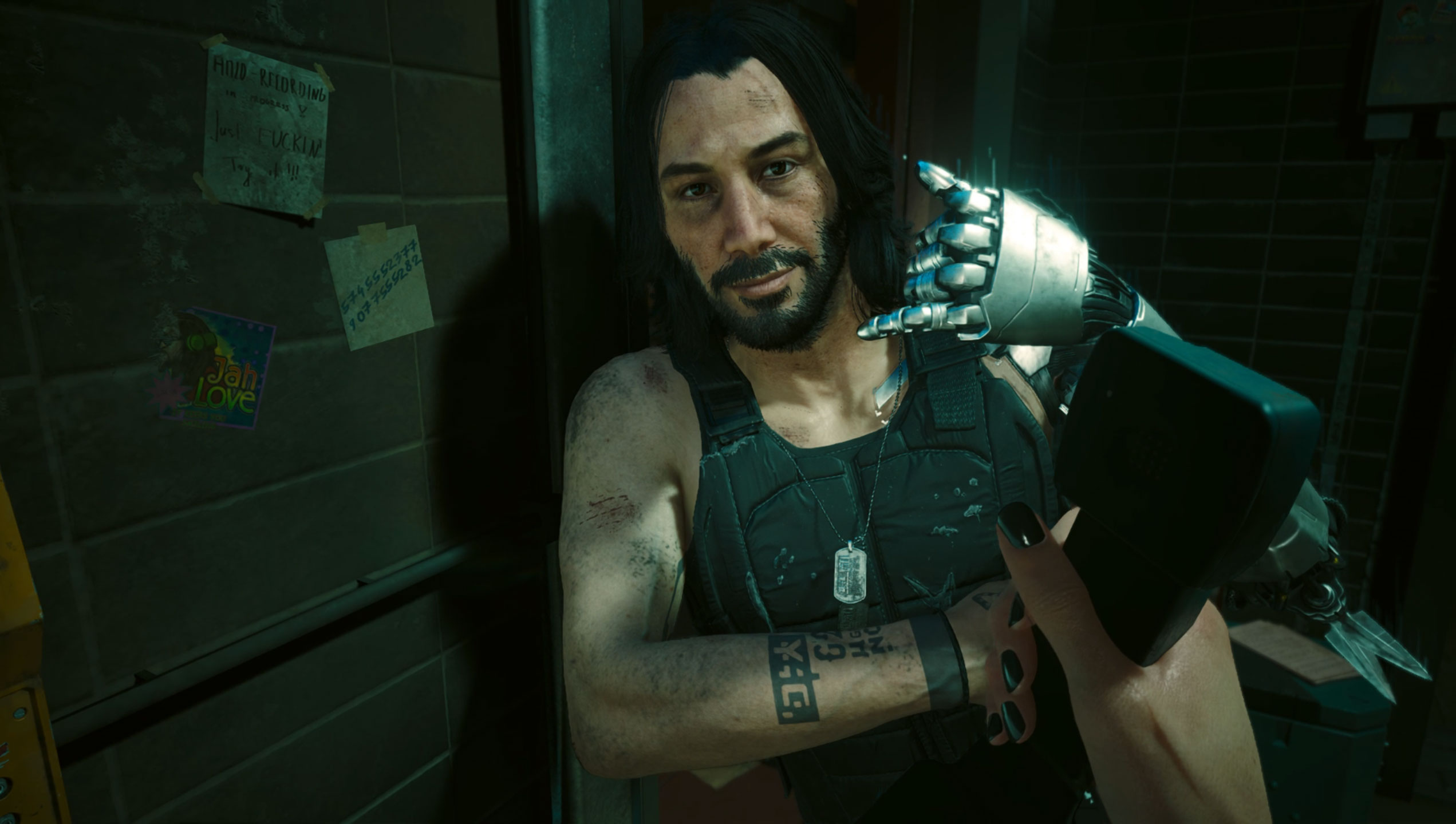 Cyberpunk 2077 back in 2020 was a good game under a ton of mess. After many years of fixing, it's great to see the trials of V and his/her adventure in Night City -seediness & all- now in its final Super Saiyan God form.
The Phantom Liberty expansion is a helluva adventure as well featuring the best talent for its narrative, lovely structure and levels, and all-around captivating spy motif and cloak-and-dagger who-can-we-trust package. Strap in for the ride; you're in for an edgerunnin' good time!
Final Score: 90/100