Despite living in the age of MMOs and digital games, nothing quite compares to the comfort of moving a miniature across a board or the satisfaction of drawing and revealing that one card you desperately needed.
Whether you're a diehard Arkham Horror collector or a casual Scrabble player, here are 5 board games that should be on your shelves.
Stuffed Fables

Newly released, the premise of Stuffed Fables is unique and aww-inducing – players are stuffed toys who must journey to save their beloved child from certain evil. Perfect for those who bawled at the end of Toy Story 3.
In Stuffed Fables, players explore a world filled with both beauty and peril. Jumping across conveyor belts, steering a racing wagon down a hill or engaging in melee battles are just some of the challenges that our heroic stuffed toys will face.
Driven by player choices and conveying a childlike sense of wonder, playing Stuffed Fables is akin to reliving your favourite children's storybook.
Find out more about Stuffed Fables: https://www.plaidhatgames.com/store/2200
ELO Darkness

A completely customizable strategy card-drafting game, ELO Darkness boasts over 600 cards, custom miniatures and a MOBA-inspired, 3-Lane gameboard.
Pitting players against each other with a 40-card deck per player, each deck features five heroes from five different classes. Players can customize their deck according to preferred play style and team, with tons of possibilities to choose from. No two games will ever be quite the same!
In order to win, players have to invade their opponent's base, destroy enemy towers and break through one of the Lanes on the board. Great for you Magic: the Gathering fans out there.
Preorder ELO Darkness now: https://www.kickstarter.com/projects/reggiegames/elo-darkness-0
Betrayal Legacy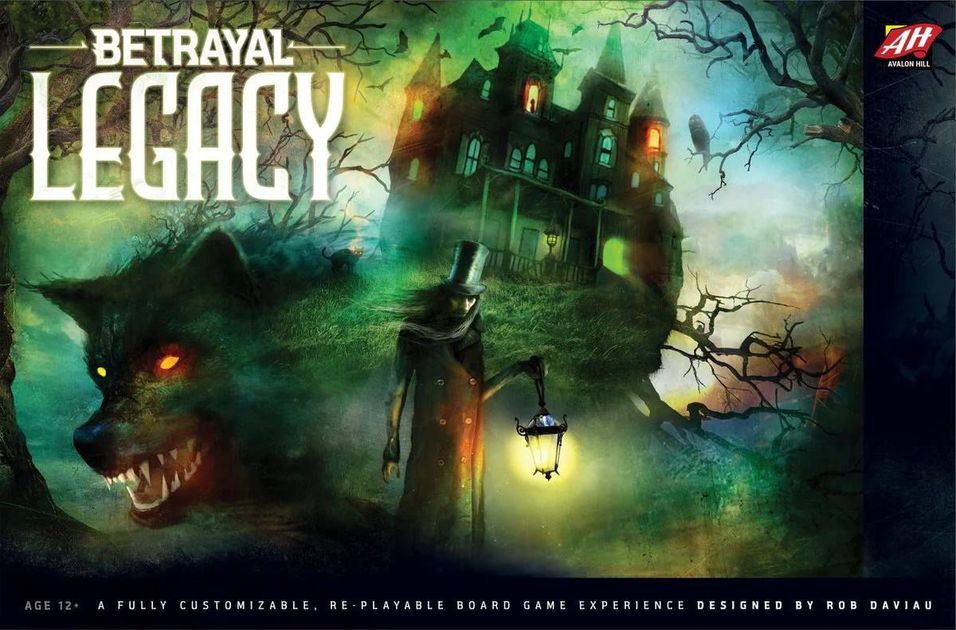 Are you a glutton for punishment? Look no further than this ominous-looking creation.
Betrayal Legacy marries two of board gaming's most prominent designs – as popularized by Betrayal at House on the Hill and Risk Legacy – to create a spooky tale of characters who can't just leave well enough alone.
Fans of narrative games will be pleased with Betrayal Legacy's story-driven system. Instead of random characters, however, players now represent different families. Different characters from each family come into play every chapter to explore a horror-movie-trope house, with the results and possible add-ons of previous games being brought over to the current one.
Though Betrayal Legacy may come across as just another Legacy game at first glance, this crossover actually makes sense – if 'sense' equates to 'exploring a haunted house again and again'. This is a must-get for horror aficionados or fans of the parent genres.
Find out more about Betrayal Legacy: https://boardgamegeek.com/boardgame/240196/betrayal-legacy
 
Batman: Gotham City Chronicles
Our favourite broody billionaire needs no introduction, especially if this game's Kickstarter results are anything to go by – Batman: Gotham City Chronicles achieved over $4M in funding, far exceeding its goal of $500K. And yes, the game is officially licensed by DC Comics.
A miniatures skirmish game built for 2-4 players, the rules are adapted from Monolith's Conan board game and features classic Batman heroes and villains facing off in crime-capital Gotham. One player controls a villain and plays as the Mastermind, while the remaining players play as Batman and his allies. Players spend energy throughout the course of the game to perform actions but must manage their finite store of energy carefully.
With its gorgeous artwork and strategic gameplay, Batman: Gotham City Chronicles brings to mind Arkham Asylum and the Dark Knight trilogy rather than George Clooney's bat nipples. And we're incredibly okay with this.
Batman: Gotham City Chronicles is still available for late pledges: https://www.kickstarter.com/projects/806316071/batmantm-gotham-city-chronicles
My Little Scythe
Veteran board gamers may find this particular title familiar. That's because the My Little Scythe board game is based on the print-and-play family-friendly version game of the same name, which was adapted from the award-winning area-control board game Scythe. Phew!
Suitable for group sizes between 1-6, players control animal miniatures in the world of Pomme. In order to be crowned the winner, players have to earn 4 trophies out of 8 possible categories. Trophies can be earned by completing quests, delivering gems and apples to Castle Everfree, making friends or even engaging in pie fights!
Whether you're a closet brony, a family looking for a break from Monopoly or a seasoned D&D adventurer, My Little Scythe is a pretty good (and safe) choice.
Preorder My Little Scythe now: https://stonemaiergames.com/games/my-little-scythe/
—
Are there any other board games you're looking forward to that we missed out on? Let us know in the comments!