Disclaimer: we figured we bring in a flip side to our glowing review of Assassin's Creed Odyssey to show the polarizing nature of Ubisoft's year-end open world game.
I have a very long and strained relationship with the Assassin's Creed series that's over a decade old now. I was a huge fan of the first game despite its widely known flaws. The idea of blending in the crowd and stabbing people sneakily was almost revolutionary, at least not at the graphical fidelity it was showcased on in the early trailers at that time.
While most gaming sites made sure to criticize the repetitive nature of the game, it was generally accepted as a good game, and seen with great potential to grow.
Fast forward to 2018, I was given the opportunity to play the latest instalment of the series, Assassin's Creed Odyssey. To be honest, I never gave its predecessor Origins a chance, as I was reluctant in getting a copy after being constantly soured by the series since Assassins' Creed 3.
My main complaint with the series is that with each release, the developers were more concerned with putting in more things to do instead of fixing its sluggish controls and mechanics. The games were always littered with things to do and collect but rarely were they interesting to pursue or useful to the player.
I also have a problem with the maps, as they get exponentially larger with each release, but are a chore to traverse through. Unfortunately, Ubisoft was very happy to advertise all of this as "content". The only thing that matters to Ubisoft is always sales, and the numbers show that gamers are happy to put their money into this kind of experience.
A Needless Grind
With Assassin's Creed Odyssey, it's clear that Ubisoft has chosen to continue with the winning formula that they had with Origins, most notably in its format as an action RPG now since the success of its predecessor. I don't really have a problem with this, since the series have always had a levelling system in unlocking gears towards making the main character stronger as the games progress, so this evolution doesn't seem out of place or illogical.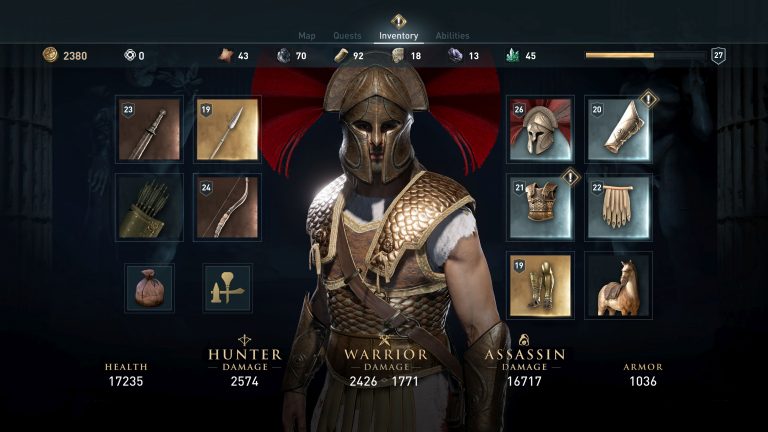 What I do find fault with though, is how the game 'forces' you into grinding for hours so that your chosen character will not be underpowered during combat. In the first 10 levels, I played the game just like how I would play other RPGS of the same vein.
I went through the main quests, while casually pursuing some of the side missions that pique my interest and ignoring those that I think were tedious (which is a common flaw in a lot of RPGs). Initially, it was a perfectly adequate playstyle, as I was constantly at the recommended levels for each of the quests, but after around level 20 or so, I was struggling to keep up.
It wasn't enough to just do the side quests that interested me. I had to constantly go to forts to kill, loot and burn whatever I could, find cultists around the world, just to get my Mysthios at the desired level. Perhaps not everything needs to be covered, but it's enough to take up hours of your time to merely raise a level or two. At one point, I got sick of all the grinding, so I took my character (who was a couple of levels lower than the main quest's recommendation) to just go for it and prove that the game is wrong for underestimating me.
After all, it was possible in Horizon Zero Dawn and Witcher 3, which I consider to be perfect examples in the action RPG genre of how a game can let the players let their skills do the talking, if their stats are high enough.
It did not go so well. I got slaughtered. Being underleveled in this game is difficult, as your character will take much less hits to die. However, you deal significantly lower damage to even the most normal of enemies who may just be a SINGLE level above you, making for some frustratingly drawn-out combat.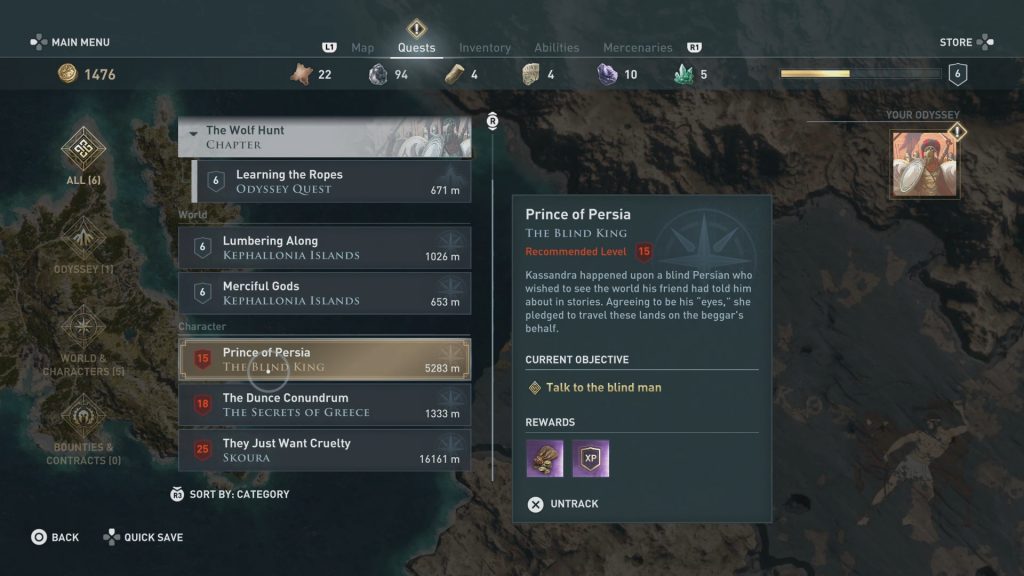 It's easy to lose your patience and mess up the timing of the counterattacks because these encounters shouldn't be so time-consuming and sometimes, I just wanted the seemingly endless poking with the spear to end. Making matters worse, you rarely fight them one on one, so be prepared to get sick of hitting that R1 a button a lot.
Thankfully, this game's autosave system lets me save the game frequently, so that the frustration of attempting tough side quests or main missions is well mitigated.
If you are the type of gamer who insist on hunting for trophies and completing achievements in your games, this idea grinding through mundane and tedious quests might not feel that palpable in your playthrough. However, those who want a more direct experience with the main story and dabble in the occasional distractions, prepare to be frustrated.
The game will not restrict you from progressing if you overlook its plethora side quests to progress, but the strict level gating will make sure that the game places you a level (or two) below its recommendation if you are not committed to completing them as well. At one point I seriously considered going to the Playstation Store to buy the controversial Timesavers pack. My gamer pride made sure I didn't, but I would never judge those who did succumb to it.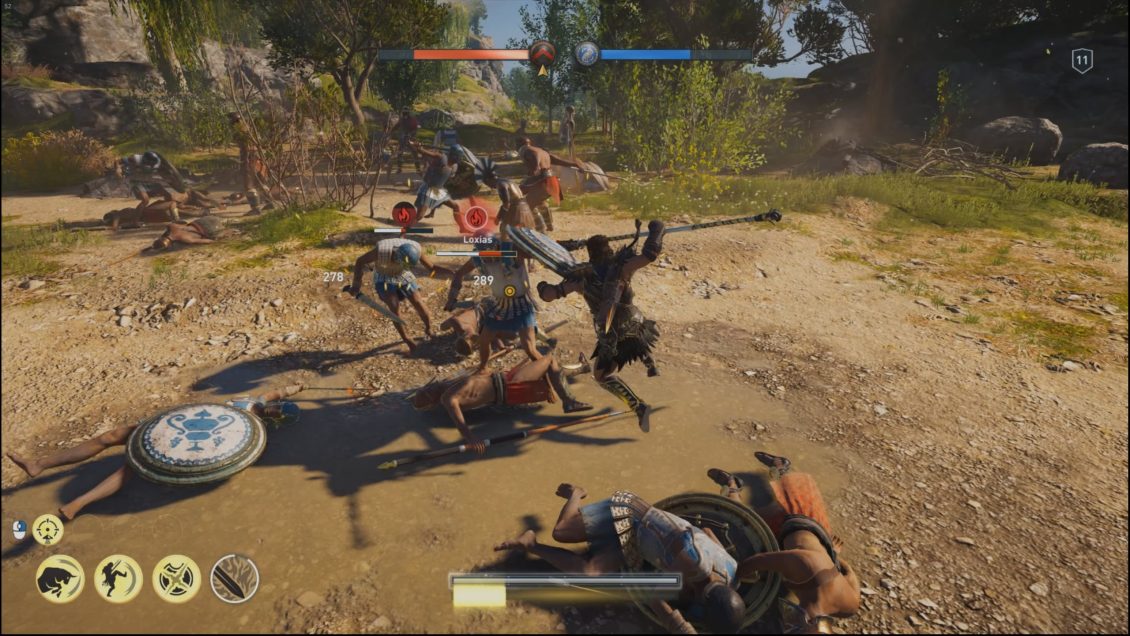 Which is a shame, because I really liked this new combat system, and this is a first because I always thought the series was very forgiving towards the player in past titles, so that you would feel like a master assassin who can take down hordes of henchmen when you're spotted. Assassin's Creed Odyssey's (and Assassin's Creed Origins, I suppose) combat is challenging and enjoyable where every encounter can mean your last if you're not careful.
This makes stealth much more valuable now, especially in the first quarter of the game where you don't really have a lot of useful abilities to gain an advantage over your foes in combat. This balance could have been fantastic if it weren't for the questionable design choices to strengthen your character.
Permission to Stealth
I may sound overly negative towards the game so far, but only to one aspect of the game which was the manipulative progression system. In many ways, Assassin's Creed Odyssey is a much better game than a lot of its predecessors. Other than the new approach to combat, the open areas are a blessing for those who prefer freedom in approaching the objective.
There are no invisible walls from the animus to funnel you into one specific way of doing stealth. I wish the controls were tighter like those in Metal Gear Solid V to allow for emergent gameplay moments and less unintentional alerting of the guards in the more constricted indoor spaces, but for the most part, stealth is completely viable. You cannot say the same thing for many of the past Assassin's Creed games.
Story Worth Telling
Assassin's Creed Odyssey is also one of my favourites in the series when it comes to story. It is a surprisingly uplifting story about family, which is nothing new, but solid writing, unexpectedly thoughtful social commentary at certain points in the story made it less familiar and kept me interested until the end.
There is less intervention from the modern day setting and characters, but they are still relevant in the game's overarching plot, in a way that is much less intrusive but much more effective.
We've Seen This Before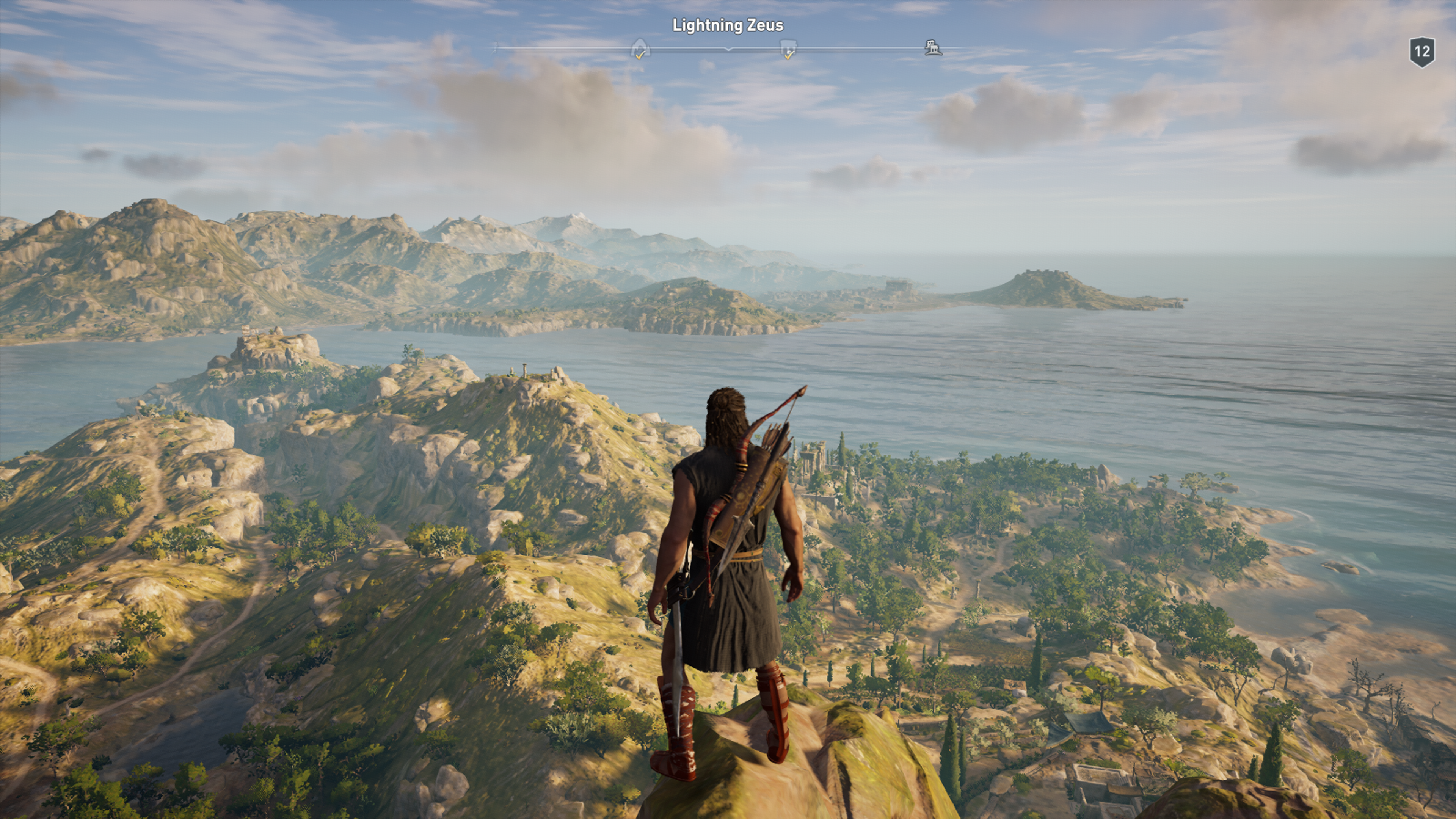 The game's visuals are great, but in a year of gorgeous looking games like this year's God of War and the recent Marvel's Spider-Man, Assassin's Creed Odyssey doesn't really do anything interesting other than looking really pretty.
At times, I compared it to CD Projekt Red's The Witcher 3 and found it to be lacking in character and atmosphere compared to the smaller scope in that other RPG. Perhaps Ubisoft is limited to the scope of historical accuracies, but when you have mythical creatures running around the game, a bit more flair with visuals wouldn't hurt.
In the end, Assassin's Creed Odyssey is a commendable achievement by the developers to make the series feel fresh again. All things considered, this should be the right path that the series should embark upon. I just wish that the progression is much more sensible and hopefully we will hear less of their predatory practices for the next release.
Padding games with tiresome content to make them longer or bigger doesn't magically turn the experience into a memorable one. This franchise can be smaller and more compact in a way that doesn't overwhelm the player.
Long story short: the Assassin's Creed series needs to be better than just a copious time-waster with check-lists.
Related