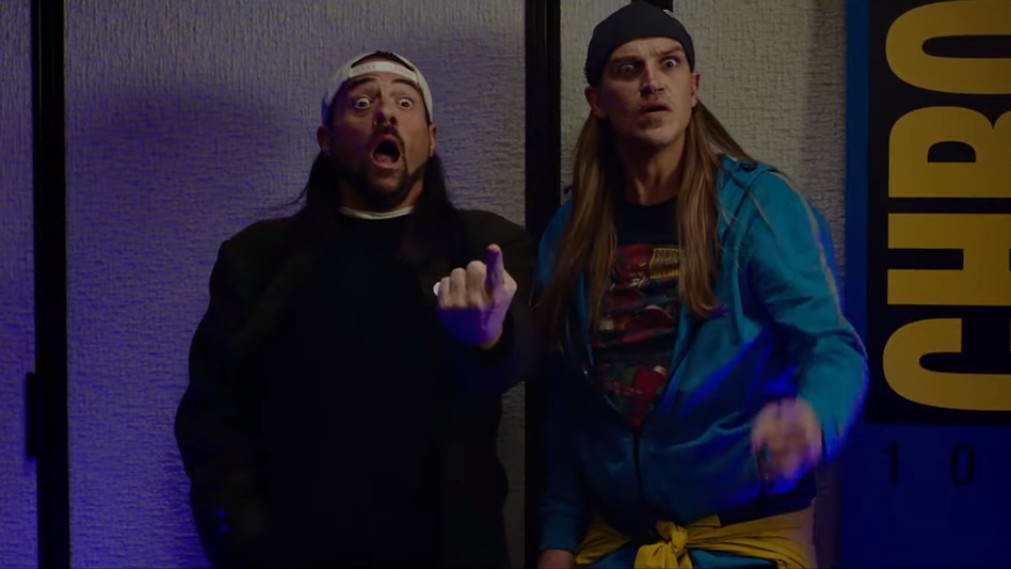 by in
Despite featuring the word 'reboot' in its title, Jay And Silent Bob Reboot is actually a sequel to 2001's Jay And Silent Bob Strike Back, and the eighth overall movie in Kevin Smith's View Askewniverse shared cinematic universe (it's like the MCU but with Kevin Smith movies instead).
Jay And Silent Bob Reboot follow the two protagonists Jay and Silent Bob travel across the United States in an attempt to prevent the live-action adaptation reboot of their comic book property Bluntman and Chronic from being made.
Along the way, they'll meet familiar faces from the View Askewniverse. The movie boasts a star-studded cast that includes the following actors and actresses:
Jason Mewes as Jay/Chronic
Kevin Smith as Silent Bob/Bluntman and himself
Harley Quinn Smith as Millennium Falcon, Jay's estranged daughter, and a member of the girl gang
Aparna Brielle as Jihad, a member of the girl gang
Shannon Elizabeth as Justice
Brian O'Halloran as Dante Hicks
Jason Lee as Brodie Bruce
Joey Lauren Adams as Alyssa Jones
Jennifer Schwalbach as Missy
Treshelle Edmond as Soapy, a member of the girl gang
Alice Wen as Shan Yu, a member of the girl gang
Craig Robinson as judge
Joe Manganiello as bailiff #1
Jordan Monsanto as bailiff #2
Frankie Shaw as a prosecutor
Justin Long as Jay and Silent Bob's lawyer
Jason Biggs as himself
James Van Der Beek as himself
Donnell Rawlings as a captain
David Dastmalchian as a SWAT officer
Kate Micucci as Mooby's clerk
Diedrich Bader as Gordon, a relentless security guard
Joseph D. Reitman as Bluntman & Chronic assistant director
Melissa Benoist as herself/female Chronic
Chris Wood as himself
Val Kilmer as himself/Bluntman
Ben Affleck as Holden McNeil
Matt Damon as Shawn Oran
Ralph Garman
Grant Gustin
Tom Cavanagh
Method Man
Redman
Chris Jericho
Fred Armisen
Marc Bernardin
Nicolas Cage
Molly Shannon
Scott Mosier
Rosario Dawson
Chris Hemsworth
Adam Brody
Dan Fogler
Tommy Chong
Brian Quinn
Karrueche Tran
Robert Kirkman
Fans should prepare for a geekfest of epic proportions. Jay And Silent Bob Reboot is slated to release on 15 October 2019. In the meantime, check out the trailer below.
---