12. Castlevania: Harmony of Despair (Xbox 360, PS3)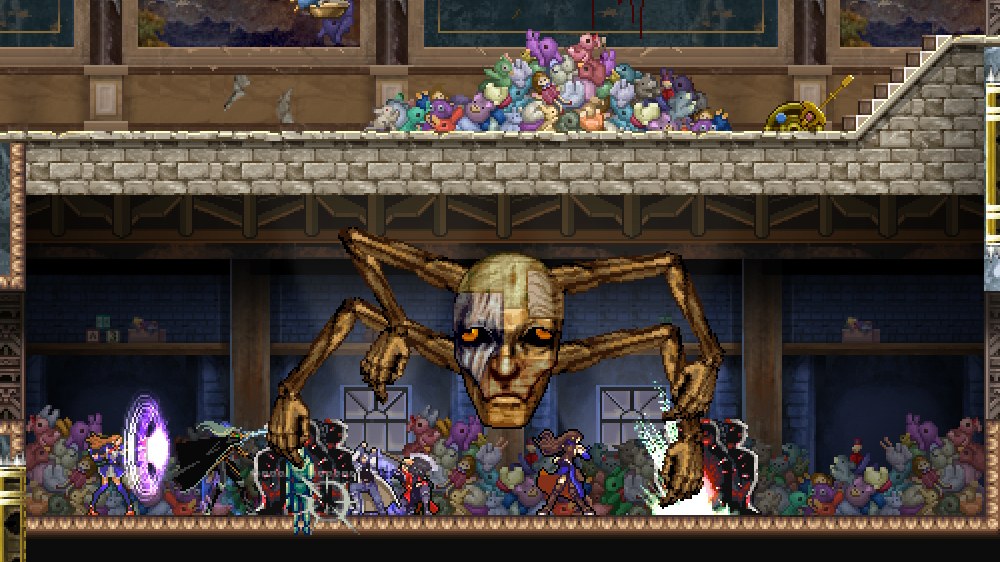 Harmony of Despair is a case of using constraints of game design and assets to your advantage. Clearly designed as an attempt to create an online, cooperative Castlevania game with as small a budget as possible, it consists almost entirely of recycled material drawn from across the entire franchise, smashed together with little regard for consistency or cohesion.
And to be honest, it's brilliant and plays incredibly well given its end goal. Players can team up to make a mad dash through multiple remixed versions of Dracula's home, controlling characters ranging from 8-bit Simon Belmont to Order of Ecclesia's Shanoa, battling a wide range of monsters and super-bosses.
Purists may say it's a visual mess, but the whole thing hums with a sort of manic energy that never gives you time to stop and contemplate the strangeness of the whole affair. Besides, when's the last time anyone's ever played a couch co-op multiplayer Castlevania style action game? Exactly, which is why this final project from Koji Igarashi before his departure from Konami should warrant attention.
11. Castlevania: Portrait of Ruin (DS)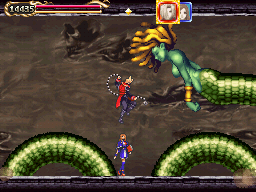 The Metroidvania approach was beginning to wear out its welcome by the time this DS title arrived. Still, it managed to keep things feeling fresh by mixing things up a bit.
Players controlled two heroes at once — whip-wielding Jonathan and spell-casting Charlotte — swapping instantly between them with the touch of a button. The game makes clever use of the dual-protagonist style, with levels and battles designed around the duo -Dracula's team-up with Death is one particular highlight. Narratively, it works as a sequel to Bloodlines, and its portal-based structure allowed the action to range far beyond Transylvania.
It's a shame the grindy weapon system and repetitive back half drag things down, despite all the obvious attention and care that went into the game.
And the less said about the cheap anime portraits, the better.
10. Castlevania: Curse of Darkness (PS2, Xbox)
Arguably the best of the 3D Castlevania games in the 2000s, unfortunately saddled with the laziest subtitle in the series.
Curse of Darkness abandoned the look and style of Lament of Innocence in favour of a darker adventure that took tremendous liberties with the Castlevania concept. While it suffers from some pacing flaws and the clumsiness common to action games of the era, Curse of Darkness feels more like its own creature than any other 3D Castlevania outing.
It drops the whip-based combat in favour of shorter-range melee skills and places the burden of mechanical variety on the demons its protagonist, a former servant of Dracula called Hector, can synthesize and summon. Pretty nifty stuff. Too bad it was largely ignored by fans, though it's nice that the  Netflix Castlevania showrunners paid homage to the game with the inclusion of Hector and Isaac in the show's second season.
9. Castlevania (NES)
Just like the first Super Mario Bros game was, the first Castlevania back in 1986 was a pioneer in slow-based action gaming featuring monster movie schlock icons and tough gameplay.
The level design and challenge was tough but fair. The music was awesome. The controls were tight. While it's a shorter affair by modern standards, it still holds up well with its other peers because it's the Castlevania game that knew what it wanted.
8. Castlevania Chronicles (PlayStation)
Yet another attempt to remake the original Castlevania, this is the best of them.
Originally released on the Japan-only Sharp X68000 home computer, it was remade for PlayStation with some new features years later. Either version you go with, you're in for a visually stunning remix of the original NES classic with dazzling music and arguably the most difficult gameplay in the entire series. The kind of difficulty that is fair and not based on sloppy game and level design, of course.
Like Super Castlevania IV, Chronicles incorporates elements of later games into its expanded rendition of Simon's journey. There is no shortage of new surprises ranging from stained glass windows that leap to life and attack, to swarms of monsters that attack you for trying to reveal hidden power-ups from the original game.
7. Castlevania: Dawn of Sorrow (DS)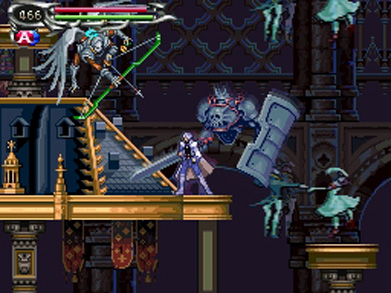 In some ways, this entry is a refinement of the great ideas contained in Aria of Sorrow — not to mention a vast audio-visual overhaul made possible by the move from GBA to DS. However, Dawn of Sorrow falls somewhat short of its predecessor thanks to a few poor design choices that appear to have trickled down from the corporate offices.
The story and character art abandon the series' painterly gothic mystery in favour of anime-style bombast; it's an obvious bid to sell Castlevania to a younger audience. Worse, the boss battles are punctuated by an ill-conceived touchscreen gimmick in an attempt to show off the DS hardware; as if having a permanent map available on the second screen at all times wasn't a big enough selling point.
Despite these shortcomings, Dawn of Sorrow has one of the best gameplay loops in the series thanks to its soul-capturing system. Oh, and the unlockable bonus mode is a heart-warming love letter to one of our top 5 Castlevania games on this list.