Good Game Asia Episode 5 has aired and I'd have to say this week's episode is somewhat bittersweet, but we'll get into that later.
Every Friday at 7:35 PM (GMT+8), the first gaming reality show, Good Game Asia airs on Warner TV. Five weeks in and 10 contestants remaining, we're a week closer to finding out who will take the grand prize of US$200,000.
---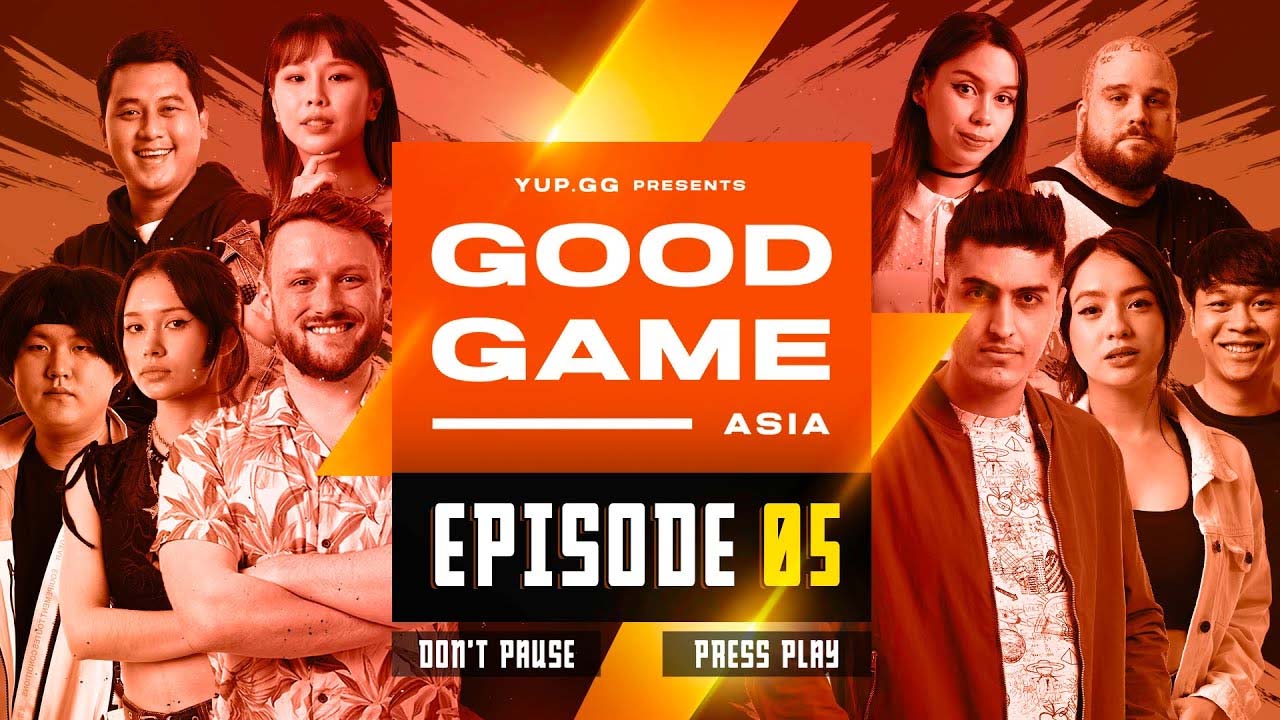 This week's recap features Estelle taking the lead of the discussion as we find out how the remaining contestants feel about being Top 10. We also hear from Rudeism that being away from his home in New Zealand is beginning to take a toll on him but he this show is a once in a life time opportunity so he needs to see it through. Shin also expresses how surprised she is to be in the Top 10 as for the first three weeks, she was placed in the bottom three.
Following this Syaza enters with a lucky draw box containing blue and orange balls, each contestant takes their pick as it will determine who will be on who's team for this week's Get Real challenge. It's then hinted that players could be getting bruises and will definitely need protective gear.
CHALLENGE – GET REAL: paintball
If you haven't guessed already, this week's Get Real challenge featured Paintballing. As mentioned before, teams have already been divided into two teams where they will compete against each other in a five minute paintball match. The objective is to go to the middle of the arena and take balls from a bucket, to bring back to their base and place it their respective buckets. Whoever had the most balls by the end of the five minutes would be crowned as the victors of this week's Get Real challenged. Note that contestants were only allowed to take one ball at a time.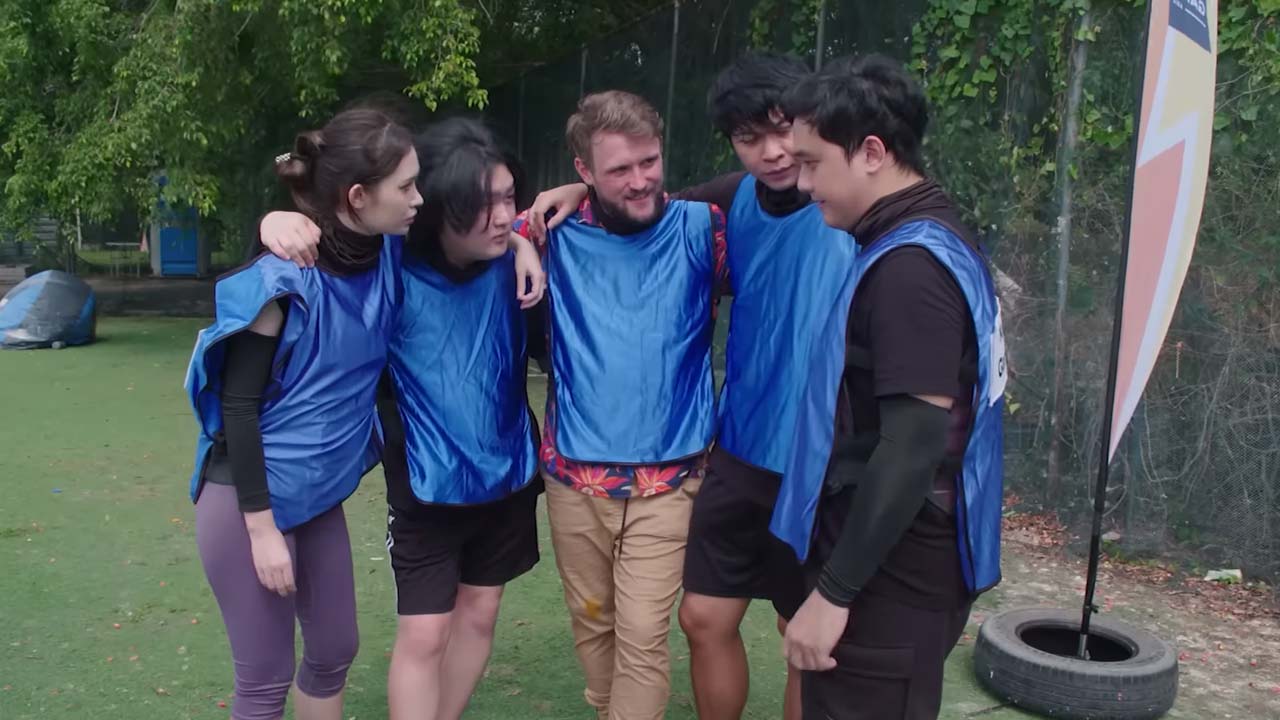 The contestants were also allowed to name their teams, the pink team featuring V3nom, Estelle, Reby, Shin and Panda dubbed themselves "Sexy Balls". And the blue team, consisting of Rudeism, Melan, Maser, Kelvin and Fl0w3R called their team "Balls of Steel".
Starting off the match both teams had different strategies, Sexy Balls' strategy went out of the window when Balls of Steel commenced their strategy. When the timer started, instead of filling their guns with ammo, Balls of Steel ran straight for the middle to each grab a ball and get an early lead and catching Sexy Balls off-guard. As a result, the entire match just became a free-for-all as all strategy was forgotten and contestants rained paint on each other.
At the end of the five minutes, Balls of Steel were crowned victors winning by two, with a total of 18 balls.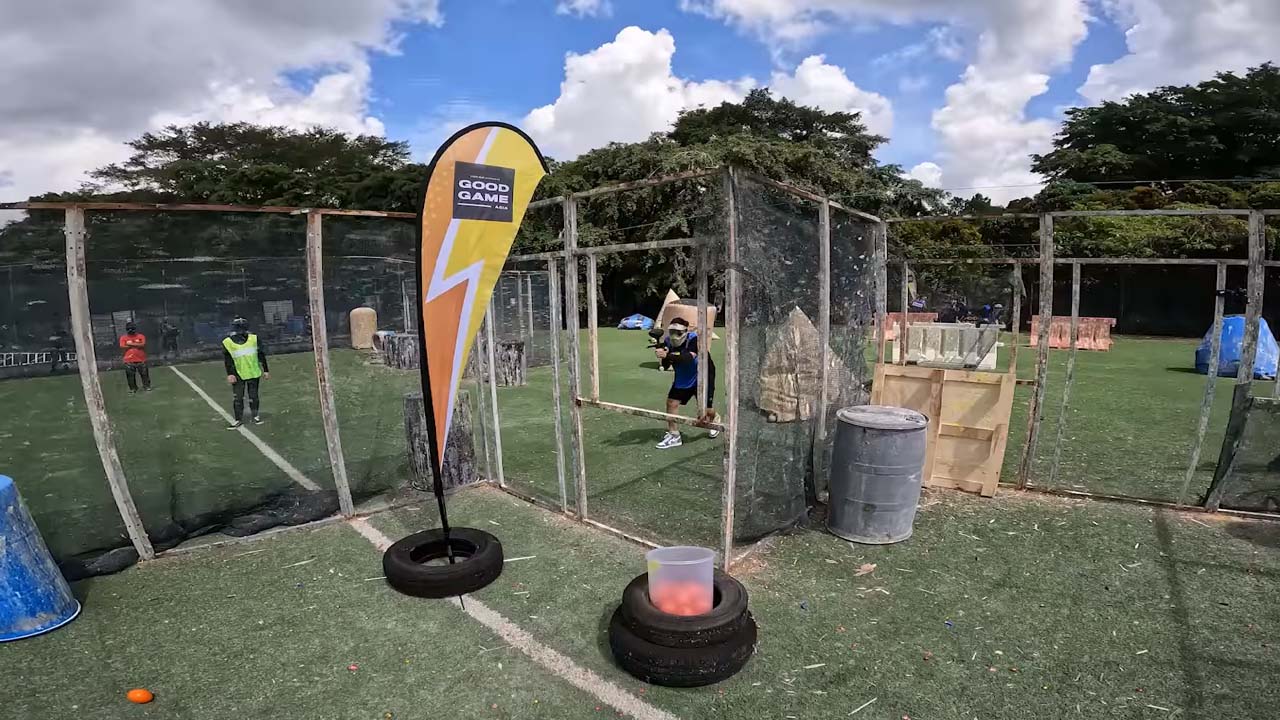 CHALLENGE – on air
Another Battle Royale was selected as this week's On Air and The Box game, Apex Legends. For the IRL section, we saw V3nom step-up his content as he vlogged bringing Panda for a traditional Indian haircut that may or may not have had a violent twist to it. On Panda's side he decided to films a mock-tutorial on how to be good at Apex Legends.
Rudeism again went viral as he repurposed his controller-gloves from the Sifu episode for Apex Legends. He would aim with the glove and make gunsounds with a microphone to shoot.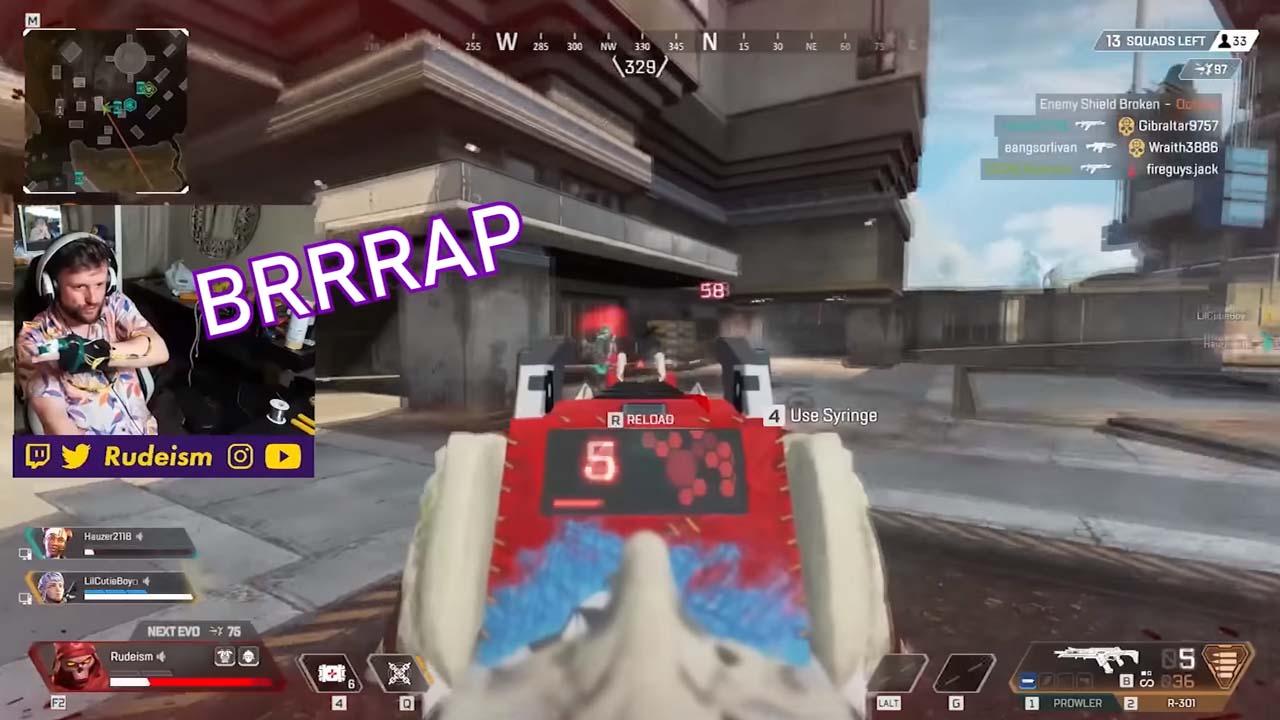 Maser's content for this week was lacklustre to say the least. All he did was get Shin to give him a haircut on stream which really didn't amount to much. Fl0w3R on the other hand is coming out of his comfort zone by forcing himself to film somewhat entertaining content which is nice to see, even if it's a bit forced.
Challenge – The Box: APEX LEgends
With Apex Legends as the name of the game, each contestant would drop down into public lobbies, not know whether or not, their lobby had other contestants inside. Points would be allocated by how many eliminations they got and where they placed in their lobby. The twist with this weeks The Box is that the contestants could have non-contestants on their teams as they were playing trios. Many of them got professional players from their respective regions.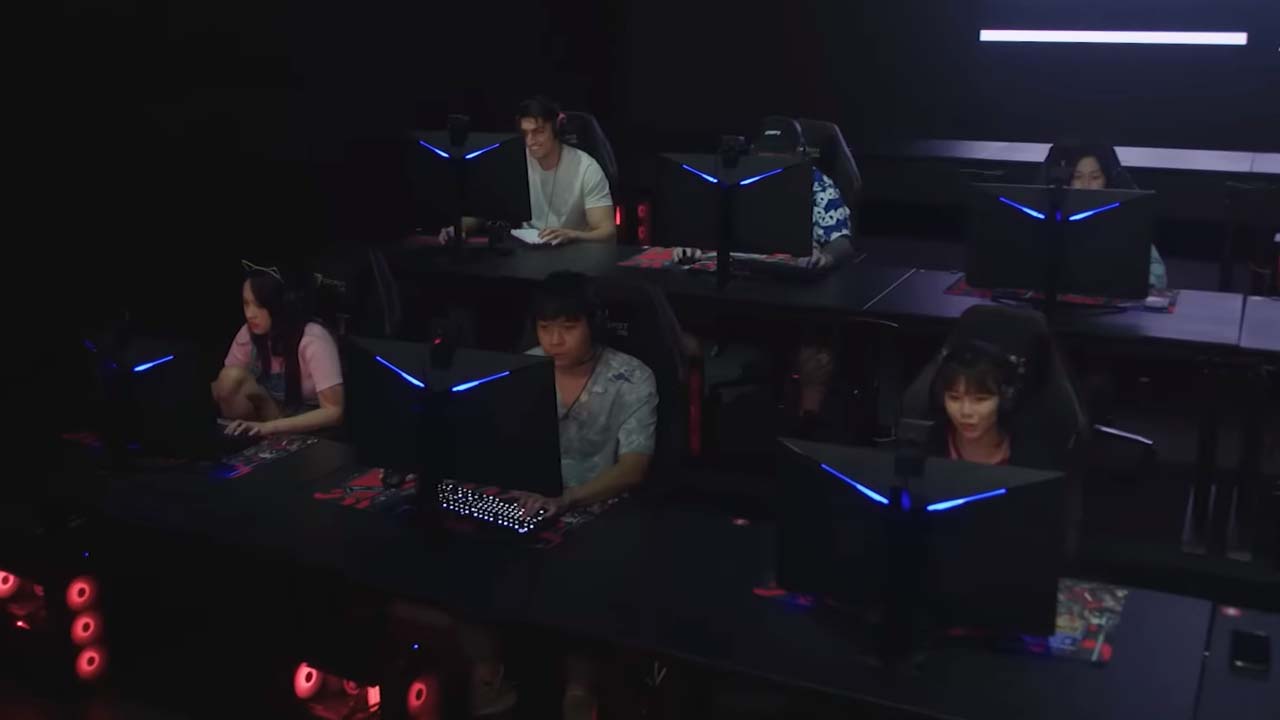 Estelle's team was the first to be eliminated as she didn't have any friends who played Apex competitively. Reby was the next to be eliminated after landing badly, her team was eliminated by Panda's squad. The overall segment was pretty hard to follow as the commentary followed the pacing of the games at hand — which was extremely fast. Because of this all the games were over before we knew it. Below you will see the final results of this week's The Box.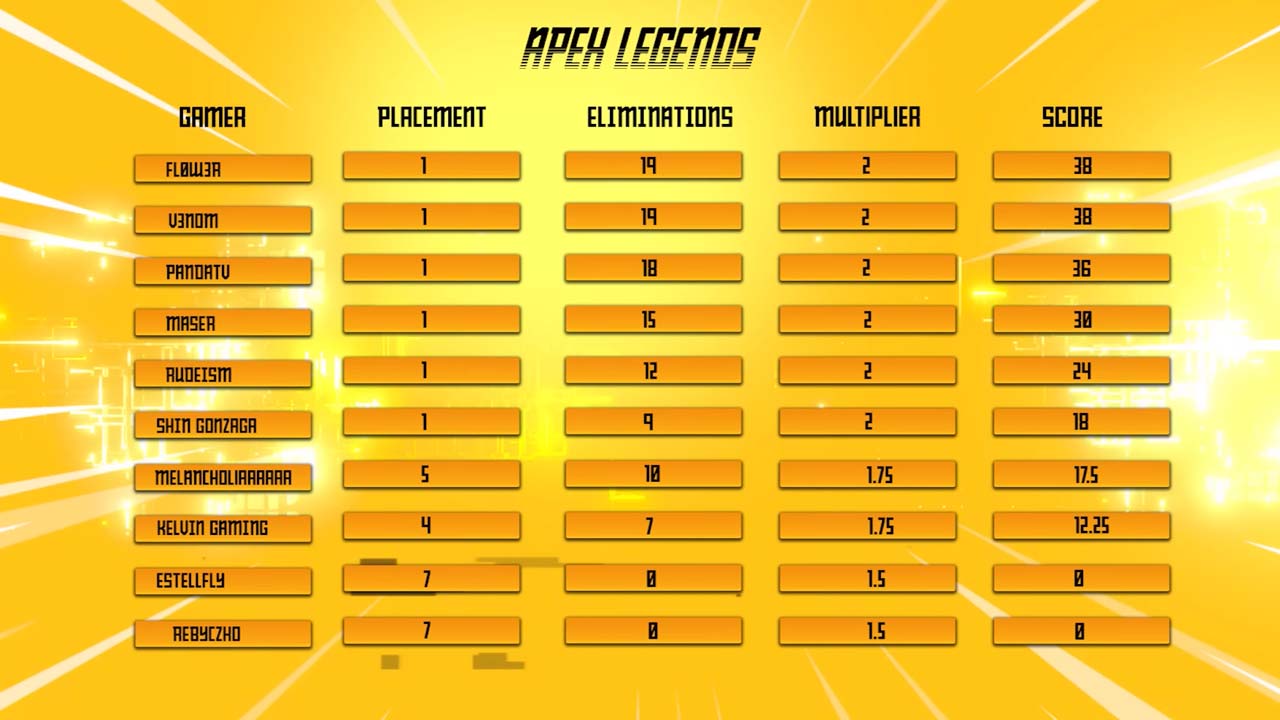 WEEK 5 LEADERBOARD
Before the results got announced, the contestants expressed their wanting for no eliminations this week as everyone there had potential and deserved to be there in the Top 10. Panda also stated that he thought there will either be no eliminations or there will be two. One of those statements was right.
Going on to the results, due to Rudeism and Panda's performance throughout the On Air segment, both were placed 1st and 2nd respectively this week. With that said, the elephant in the room was Estelle and Reby being placed at the bottom in 9th and 10th. Following this discovery it was bittersweetly unveiled that they would both be eliminated.
During their outros, both Estelle and Reby express their gratitude for having the opportunity to participate in this competition. Teary-eyed, Estelle also states that she will be rooting for Panda as she believes he's the most deserving as he not only possess the talent but also the heart and acts as "the glue" between all the contestants.
Before we are brought into the Swag Store, we are shown a post discussion amongst the contestants as they express how they feel about the elimination of Reby and Estelle. Kelvin addresses Rudeism's surprising depression about Reby's elimination as we find out that they were close throughout the competition so far. It is revealed that Rudeism acted as a mentor towards Reby as he saw a lot of his personality in her. Panda being Panda, relieves the tension in the room as he states that both Estelle and Reby are definitely going to make it in this industry as having worked so close with them, he see potential and doesn't worry one bit about them.
To conclude the episode with the Swag Store segment, we find out that the contestants are actually allowed to keep the products they purchased using their Yup points. And as a result, both Rudeism and Kelvin use their points to get Nanoleaves and Panda gets a ringlight that he will leave for Estelle when he leaves back to Australia.
Critical Take
With the eliminations of Ngyelling and Cherzinga last episode, the narrative has definitely mellowed out into something that is a lot less cringe and something that is a lot more wholesome. Ngyelling being gone really makes no impact on the show as he really was just fading into the background. As for Cherzinga, I feel that her personality could have both benefitted the show, but also could have been the downfall of it.
This week's Get Real challenge was entertaining to watch, especially because of Balls of Steel's strategy to the challenge. I feel their unorthodox and out of the box thinking really livened the challenge this week. Following this we got a noticeably longer On Air segment which I assume is due to having less contestants this week. Over the coming weeks I feel we will get to know the remaining contestants more and more as they will get more and more screen time.
I'm also beginning to feel that The Box segment needs to return to a tournament style segment instead of just a one of match, as contestants' performances can be inconsistent and they may be caught in a bad game. I thoroughly believe that with Battle Royales at least, the production team needs re-format The Box segment so that they play at least three games in total to make it more fair.
I also disagree with this week's eliminations of the Estelle and Reby. Objectively speaking, I believe that Maser is currently the weakest link out of the remaining contestants and was surprised that he was placed 8th and not lower. Both Estelle and Reby have great personalities and ideas for this industry so it really makes me ask the question — "what exactly is the objective of the show?" — To find the next gaming superstar? In what way? The term and title is extremely vague and I fail to understand what they want from the contestants. Instead I think the objective should be revised to just being a competitions for gaming personalities rather than a talent show to find "the next gaming superstar".
TAKE A LOOK at the other episodes we have recapped so far
Related