In case you missed it, Yup.gg has created the first gaming reality show, Good Game Asia airs every Friday at 7:35 PM (GMT+8) on Warner TV. In short, the game show pits 15 streamers and gaming personalities against each other to win a grand prize of US$200,000. Episode 2 aired last week and from thinking there's a lot more to take away from this episode in comparison to the previous one which I will get into later in the Critical Take section.
Opening this episode, we're met with a small recap provided by the contestants as they discuss amongst,themselves about last week's events. Namely Ang Negrong Gamer (A.N.G.) discusses about his disappointment in his performance last week and also aims to redeem himself from here on out. Following this, is a monologue from Cherzinga in regards to her discomfort about being around her ex-boyfriend Hades.
CHALLENGE – GET REAL
We are then introduced to this week's first challenge, which is themed around unboxings. Unlike tlding challenge, this challenge actually makes sense as there's a massive unboxing community in-and-around YouTube and content creation in general. The challenge is for the contestants to produce a skit where they advertise a gaming laptop. They're also provided with varying filming locations, some good and some bad. The contestants are also given 15 minutes to plan, 1 hour to shoot and 1 hour to edit the entire skit.
The contestants are then divided into teams of three, meaning there will be five teams in total. As the team toction process unfolds, we're treated with interview clips of the contestants as they get selected. After the selection process is concluded, the teams a given a folder containing a picture of their designated filming location. As I said before, some will be lucky, some not. Cherzinga's team for example, were tasked with filming in a mall, in contrast to V3nom's team who had to film in the Fairmont Hotel's underground service area.
We then follow the teams as they discuss their concepts and proceed to their filming locations. We're then met with a montage as they go through the process of filming in their respective locations. Once all wrapped up, they then proceed to their rooms at the Fairmont Hotel where they begin editing the their videos.
We then accompany contestants as they watch one another's final products. As we see the contestants' reactions, the obvious winner is Cherzinga's team with the highlight being MakNooN as he shows off his bubbly and goofy personality. This is later solidified through the results as Cherzinga's team places first, followed by Team Kelvin, Team V3nom, Team Rudeism and finally Team PandaTV.
CHALLENGE – on air / BUtter royale
Directly after we're given the results, we are introduced to the next challenge for this week's On Air segment. The contestants will be tasked with streaming a mobile game from Mighty Bear Games, Butter Royale. We are then introduced to this week's guest judge, Carlos Alimurung, CEO of One Esports.
As we watch the contestants go about streaming throughout the week, the segment's highlight is PandaTV as he shows off how he innovated to incorporate funny challenges to immerse the viewers into his stream. We're then met with an interview segment from Estelle Fly as she recaps her week of streaming, with the highlight being her Pepe the Frog cosplay.
Challenge – The Box
Like last week, the contestants will be challenged to face each other in the game they were tasked to stream during the On Air segment. In this case, it's Butter Royale but this week they won't be put into teams and will have to play solo amongst themselves. Syaza, the commentator walks us through as the match is being played with clips and POVs of different contestants. As one after another got eliminated, Maser claimed victory as he eliminated Kelvin to take 1st place.
WEEK 2 LEADERBOARD
Before we're shown the results, we watch as Rai, Sezairi and guest judge Carlos Alimurung discuss their thoughts about the contestants over the past week and whether or not some have improved or not. What we can take from this is that the contestants who don't tend to speak English in their streams are going to have a handicap going forward unless their switch languages.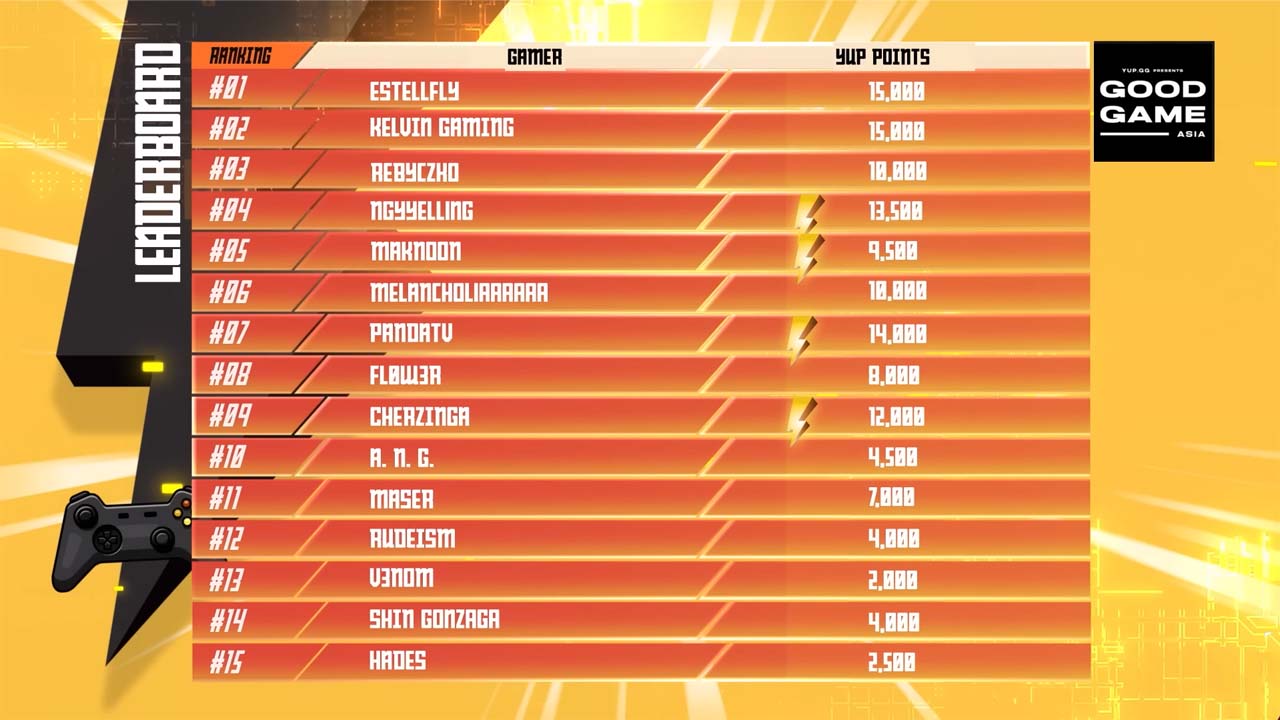 As the results are shown, we find out that once again, Hades is on the bottom side of the leaderboard, but is now placed last meaning that he would have been eliminated. But it is then revealed that just like last week, no one is being sent home just yet meaning that Hades has another chance to step up his game.
We've then presented the rest of the standings with Estelle, Kelvin and Reby topping the leaderboard this week, meaning that they get access to the Swag Store at the end of the episode. As for the MVP, Panda is awarded an MVP for the On Air segment as his streams were the most creative and innovative. Alongside him, Cherzinga's team of MakNooN and Ngyyelling.
As for the Swag Store segment, Kelvin goes for the same Elgato Capture Card that V3nom got last week. Estelle and Reby both go for the Nanoleaf Lights to help spice up their streams' backgrounds.
Critical Take
To be perfectly honest, I enjoyed Episode 2 a lot more than the pilot. I found that we got to see a lot more emphasis on the contestants themselves and what makes them entertainers as we're shown more in the On Air section.
Again, I still find it unnecessary to include the Cherzinga and Hades narrative as I feel it contributes nothing to the show other than pointless drama. I also think that the showrunners decided not to eliminate Hades to prolong the drama between him and Cherzinga which I find really unfair to the other contestants.
TAKE A LOOK at the other episodes we have recapped so far