Doujin Market or Doujima, Singapore's largest celebration of art, illustration, and independent creator culture, is back after a three-year break! The 8th edition of Doujima has the theme "Through adversity, art endures!" and celebrates the resilience of the global creator community.
With even more opportunities to be inspired, artists, cosplayers, designers, and illustrators are all welcome. Jason Koh, the founder and producer of Doujin Market, said, "It's been a long time coming. We are excited to once again bring everyone together in the spirit of 'doujin', to create, and to geek out together."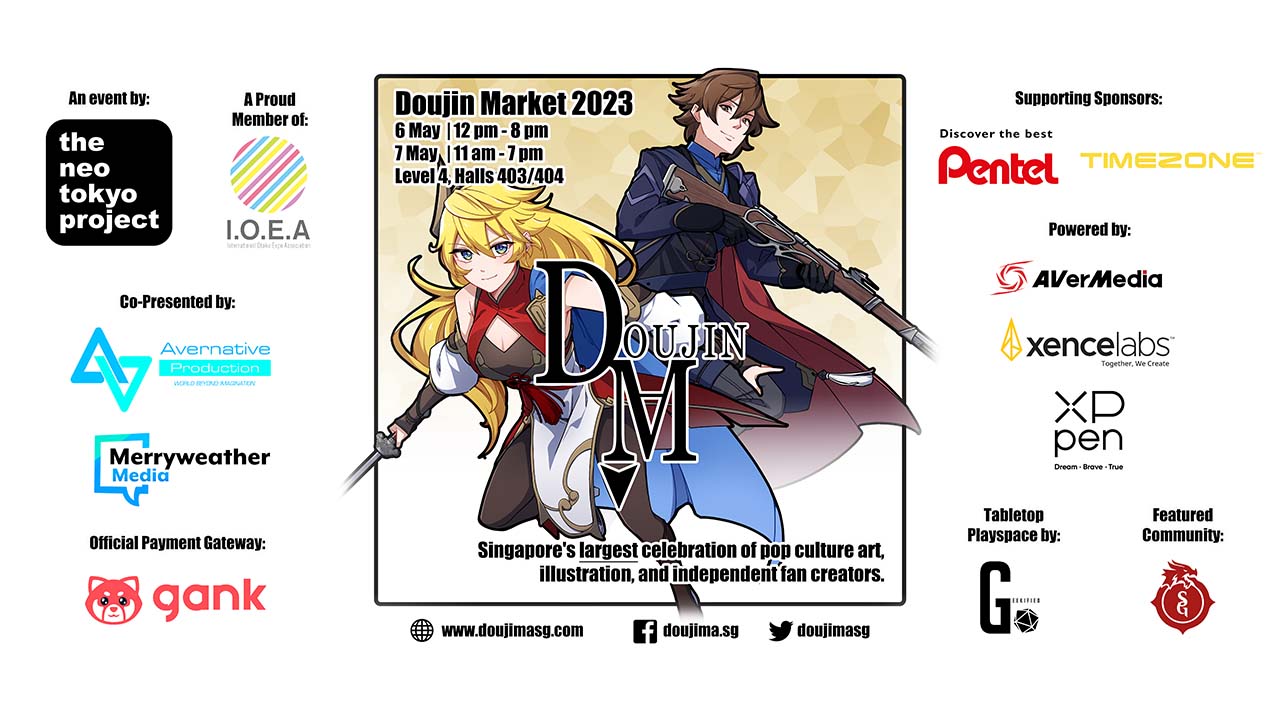 Partnering with Doujin Market are Avernative Production and their featured brands, including Avermedia, Xencelabs, and XP-Pen. Singapore's first homegrown virtual creator team, VD:0, will be presented, and panels will help aspiring virtual creators take their first step. "Virtual creators have taken the world by storm," said Mr. Alvin Ho, Founder of Avernative Production, "and we are incredibly proud to showcase our home-grown creators at an event that has always placed them at the forefront."
Merryweather Media, known for their web-based media, including webcomics and VTuber content, is co-presenting Doujin Market this year and exhibiting in Singapore for the first time. Visitors can meet Lucius Merryweather, the VTuber persona of the studio's founder, and other key members of his production team. Visitors can also buy convention-exclusive merchandise and print compilations of popular Merryweather Media comics at their booth. Ho Wei Rong, Regional Director of Merryweather Media, said, "We want to inspire other creators out there that were just like us when we started out, and interact with newer members of the community."
Doujin Market has partnered with Gank to provide a robust e-payment solution to all exhibitors at the show. Through Gank, creators from selected regional countries will be able to have their earnings transferred directly to their bank accounts and accept multiple payment options such as PayNow without needing a Singapore bank account. Gank will also be running a currency top-up campaign during the show to encourage visitors to support creators more.
The convention will be held on 6-7 May at Suntec Singapore Convention & Exhibition Centre, Hall 403 & 404. Admission to Doujin Market is ticketed, and the prices are SG$10 for a Day Pass (Saturday or Sunday) and SG$18 for a Weekend Pass (both days).
You can get your tickets on Eventbrite at https://doujima2023.eventbrite.sg. As a bonus, ticket holders are eligible to receive SG$10 in-game credits sponsored by Timezone, redeemable at the convention.