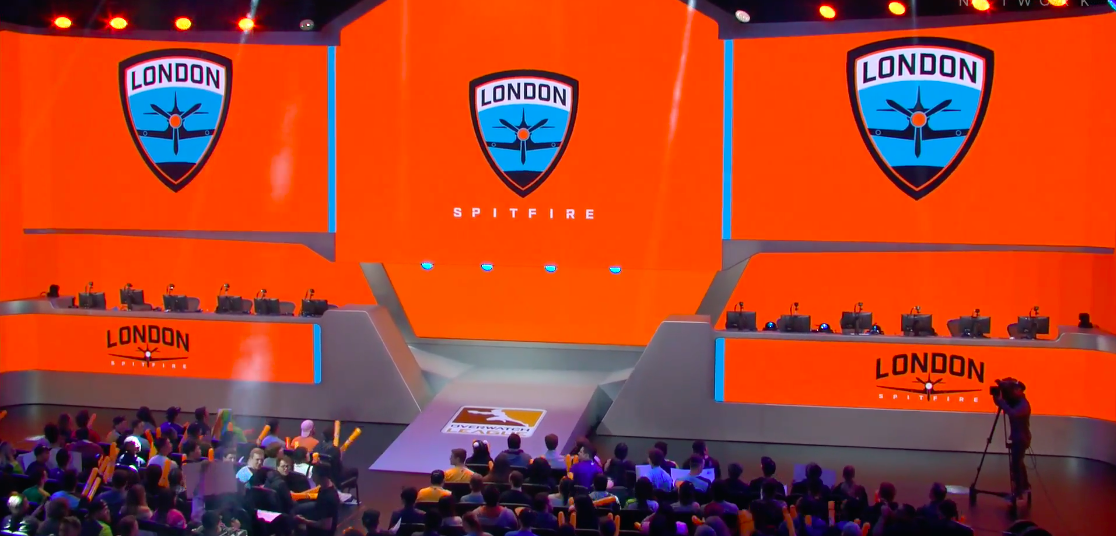 1. LONDON SPITFIRE – Season Record: 8-4 ; Map Differential: +15
End of Stage 1: 1 (Unchanged)Â 
The Spitfire bounced back from their narrow loss to Houston Outlaws with a convincing 3-2 comeback win against the New York Excelsior and cemented their position as top dogs in the league. The team is now leaner following the departures of Fissure and Rascal but make no mistake about it – they've found stability and a team core that will ensure they stay amongst the front runners in Stage 2.
2. New York Excelsior – Season Record: 10-2 ; Map Differential: +22
End of Stage 1: 2 (Unchanged)
The NYXL failed to avenge their playoff loss to the Spitfire this week but remain among the frontrunners in a DPS & tank favoring meta. Their decisiveness in approaching teamfights and potency of their DPS corps also make them one of the most enjoyable teams to watch. With Houston nipping on their heels, the NYXL would have the perfect opportunity to separate themselves from the pretenders as both teams meet next Sunday.
3. SEOUL DYNASTY –Season Record: 9-3 ; Map Differential: +15
End of Stage 1: 5 (Up 3)
 
The boys are back in the groove and what better way to stomp their authority by 4-0-ing the team that killed off their Stage 1 playoff hopes, Los Angeles Valiant. Not only was the 4-0 win a show of power and return of the Dynasty to their comfort zone, it also showcased that Ryujehong & Co learn from their past results and improved on their reverse fixtures as they also improved their result (from 0-3 to 4-0 & 3-2 to 3-1) vs Valiant and Shock respectively. A repeat of Stage 1's opening week matches is on the cards next week as they face the resurgent Dallas Fuel and improving Los Angeles Gladiators.
4. Houston Outlaws – Season Record: 9-3 ; Map Differential: +22
End of Stage 1: 4 (Unchanged)
They were mighty impressive against the Spitfire and seem to have their London rivals' number dialled up as they successfully countered everything the Spitfire threw at them. Avenging their playoff loss to the Spitfire was indeed sweet but we feel that this team has lots to catch up in terms of how the meta is evolving. Do not let their 4-0 win over the Uprising cloud the fact that it was a much closer series than the final results and we seem them struggling as the season progresses. The likes of Fusion seem to have grasped the meta better, and with NYXL waiting around the corner next week, expect the Outlaws to run out of steam come mid-Stage 2.
5. Philadelphia Fusion –Season Record: 8-4 ; Map Differential: +4
End of Stage 1: 7 (Up 2)
What a difference a week's rest and a meta change has made for the Fusion. They brushed aside both the Uprising and Mayhem 4-0 to be the only team that didn't drop a map all week ahead of a challenging week 2, where they face tougher competition in the Outlaws and Spitfire. The combination of ShadowBurn and Carpe is buffed up by another DPS star in the making, Josh 'EQO' Corona whose more aggressive Genji plays is perfect complement to ShadowBurn's more patient style. Opposition teams will have it harder in preparing for the Fusion onslaught as Stage 2 progresses which puts them in a commanding position.
6. Los Angeles Valiant –Season Record: 8-4 ; Map Differential: +12
End of Stage 1: 5 (Down 1)
Everyone took notice when the Valiant shocked Dynasty 3-0 in Week 5 of Stage 1. Is this the Valiant at their fullest potential or is this result a one-off?. Sadly tho for the Valiant fans, it's the latter. The Valiant players may have claimed that they played badly following he loss but let's give credit where it's due – the Dynasty were better on every aspect throughout the four maps. The 3-0 win may have clouded some fans' assumptions on how strong this team is but we believe that the shift from the Mercy meta will hit several teams hard – and Valiant is one of them. Their schedule pits them against two teams who relish the departure of our Swiss medic – Shock and Fuel – so expect the Valiant to slide further come end of Week 2.
7. Boston Uprising –Season Record: 6-6 ; Map Differential: +2
End of Stage 1: 6 (Down 1)
Despite going 0-8 in total this week, the Uprising showed grit and remained as one of the most exciting young teams to follow in the Overwatch League. Their losses were expected but despite that, gave a spirited fight before going down to their fancier opponents. Jonathan "DreamKazper" Sanchez is turning into one of the most feared Genji players in the league and if he can find consistency, it won't be long before the Uprising become one of the frontrunners in the league. Their loss to Houston was highly attributed to Gamsu failing to match the phenomenal Muma but expect to see them bounce back in Week 2 as they face the Excelsior and Mayhem.
8. Dallas Fuel – Season Record: 5-7 ; Map Differential: -7
End of Stage 1: 8 (Unchanged)
The Fuel notched their first-ever winning weekend as they brushed aside the Dragons and the Gladiators, both with the 3-1 score. The team is more coordinated and Taimou seeming to have found a second win, and probably calling to play tank as well. His Winston plays were impressive but props have to go to the new recruits – AKM and Rascal who enabled it. AKM brings top tier soldier play which allows Harryhook to focus on Lucio while Rascal fills in the Genji specialist role. However, we fear for Chipshajen and Cocco's spots in the team as the current situation doesn't seem to favor either players. Week 2's matches vs Dynasty and Valiant will be a tougher test for this team and we can't wait to see what they have in store.
9. Los Angeles Gladiators –Season Record: 5-7 ; Map Differential: -8
End of Stage 1: 8 (Unchanged)
The Gladiators are definitely more rounded than they were at the end of Stage 1 with the capture of Fissure from Spitfire but unless they make more similar moves while transfers are permitted, will be consigned to the bottom third of the standings due to other teams' more impressive rosters. Their showdown with the Dragons in Week 2 cannot be any timelier following their loss to the Fuel, and a win is even more needed as they face the resurgent Seoul Dynasty on Sunday. A 1-1 Week 2 is on the cards for the Gladiators.
10. San Francisco Shock – Season Record: 3-9; Map Differential: -14
End of Stage 1: 10 (Unchanged)
The analysts were lauding that Stage 2 is when the Shock improve their records, moreover with Dhak now able to use Lucio – a hero he's more adept with. However his team's record and performances showed otherwise. Dhak may be better at Lucio, but so are other teams' healers. The Shock have moved away from over-relying on BabyBay and Danteh have stepped up his game but overall – the squad is lacking in so many areas that it is hard to see them peeling off the foot of the table. Their style may be the best counter to Seoul Dynasty, as seen from their impressive back-to-back showings against the Korean giants but that's about it. Predictable, one-dimensional and may find themselves struggling to stave off the Florida Mayhem who's been improving since Stage 2 kicked off.
11. Florida Mayhem – Season Record: 1-11; Map Differential: -28
End of Stage 1: 11 (Unchanged)
They may have lost both their games but at least they weren't walkovers. The Mayhem showed tons of improvement both on the mechanical side as well as team coordination in Week 1. The absence (or lack thereof) of Mercy's resurrection allow this team to be more aggressive in their pushes and results are starting to show. The fact that they managed to steal a map from the NYXL is no mean feat and while we don't see them climbing so far up the league, will give other teams a sterner test compared to Stage 1.
12. Shanghai Dragons – Season Record: 0-12; Map Differential: -35 
End of Stage 1: 12 (Unchanged)
Despite adding four players to the roster during the rest period, they were unable to compete due to visa issues so expect the Dragons to occupy this spot for a while. However, they've been on the uptrend since Week 3 of Stage 1 where their losses have been close calls and even against Valiant last week, were close to winning the Hanamura and King's Row. The lack of the final blow in their team fights ultimately led to their losses but with added firepower coming in soon, the Dragons will be off the foot of the table before long.
---