It feels like the inaugural season of Apex Legends was released yesterday, and today EA has let a little preview on the upcoming season coming in less than a month.
For starters, Season 2 of Apex Legends is officially known as Legendary Hunt, and I kid you not, it will be legendary. You'll be rewarded with numerous legendary skins upon completion of the seasonal challenges. Check them out below.
There will also be a limited-time event coming soon. Respawn will be teasing more details about the event next Tuesday.
First Contact
Respawn will also be revealing some of the first details on Season 2 as part of EA PLAY livestream event. It will be happening at 1 am, 9 June local time.
For now, Respawn has shared their plans on improving the second battle pass. They've heard a lot from the community and have shared some of the upcoming changes coming in Legendary Hunt.
Daily And Weekly Challenges
There will be a mix of daily and weekly challenges for players to complete. If you missed a week's challenge or start late, your Weekly Challenges will still be around for you when you return, and you can complete them all at once. This is done to improve the grinding experience.
Rest assured, Respawn won't be implementing over-the-head challenges like a certain battle royale, but these challenges should give your games some variety.
This addition should allow players who can only dedicate a few hours a week to the game to make a very deep cut into their Battle Pass progression.
More Legendary Cosmetics
Respawn is adding three Legendary items to the battle pass. There will also be a Legendary item every 25 Battle Pass level in the premium track. This includes one at purchase, meaning you'll get a Legendary on level 1, level 25, level 50, and level 100.
Like the evolving Havoc in Season 1's Battle Pass, this season will also include an evolving weapon skin on level 100 with a special recolour version for those players who make it to level 110.
New Cosmetic Types
I knew the badge and stat trackers in the first battle pass was a bit too underwhelming as a premium cosmetic.
Respawn has heard our complains and removed badges and basic stat trackers completely from the premium Battle Pass rewards track for Season 2 but has replaced them with a seasonal badge that will evolve over time. It won't take additional reward slots.
Seasonal win trackers are still available on the free path, and they will all be earnable in the first 10 levels.
You'll also be able to earn items from three new content categories in place of badges/trackers. Respawn will be revealing details about these categories closer to the launch of Season 2.
Crafting Materials…
…or the lack thereof. Crafting Metals, or more known as craft mats by the community, have been revised by Respawn since it has an abysmal drop rate back in Season 1, barely enough to craft anything.
The developers have replaced Voice Lines and replaced them with craft mats which can be earned up to 1,200 in the premium pass, enough to craft a Legendary of your choice. You'll also be able to earn craft mats from the Apex Packs.
If you're having trouble choosing what to craft, here's some help to get the gears running.
The Hunt Is Coming
Respawn will be sharing more about Season 2 on their livestream at 1 am, Sunday, 9 June local time.
Personally, I can't wait to see what improvements they'd bring into the next season of Apex Legends. I'm guessing there will be a new weapon or a new Legend, based on the Year 1 roadmap revealed a few months back.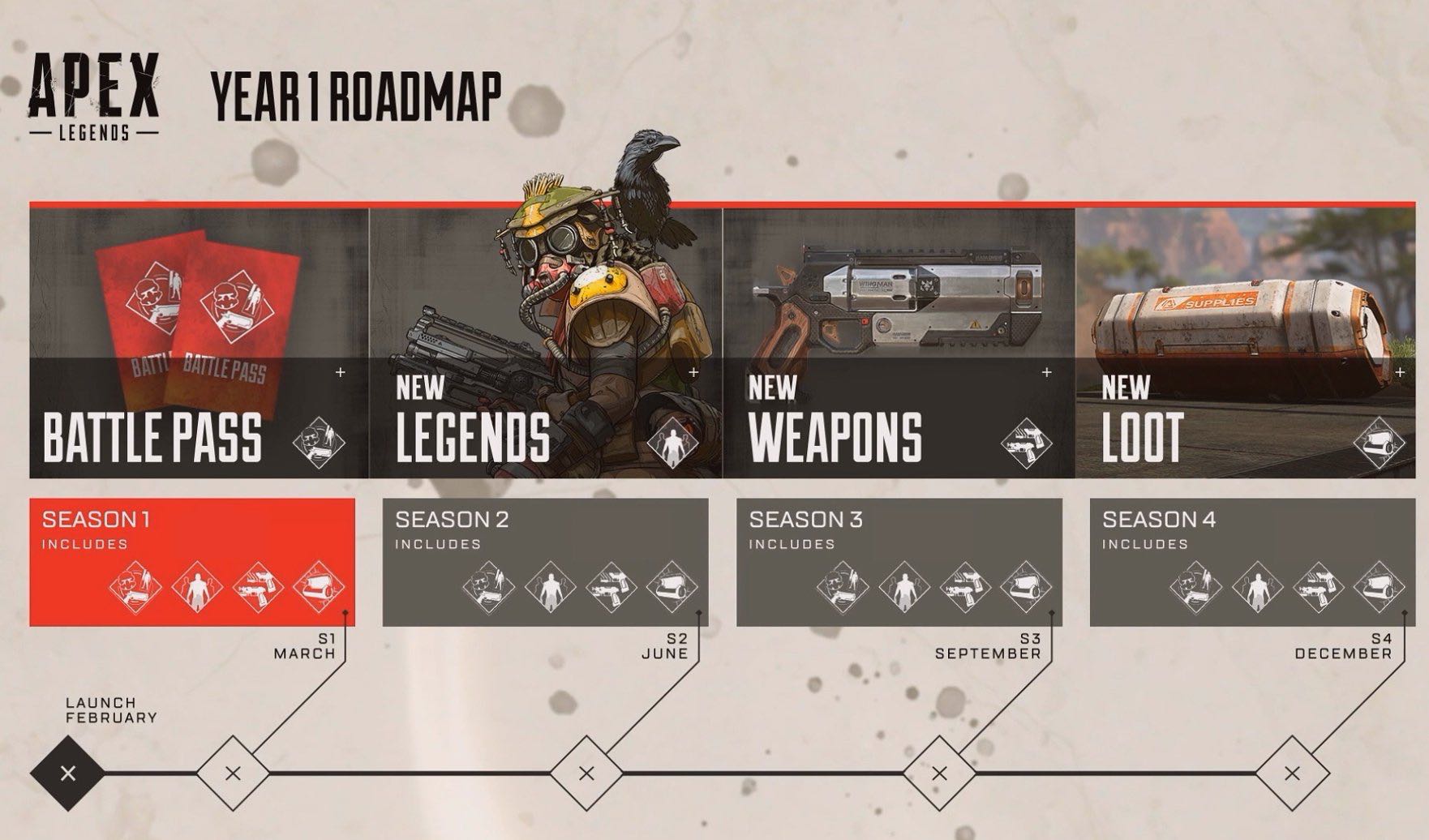 Anyways, here's to Respawn and their outstanding battle royale and to more improvements along its lifespan.