Even with the MCOs in place, nothing's going to keep Animangaki from showcasing its awesome anime expo goodness. Not even a pandemic, which is why this year's anime expo showcase is going online again.
Info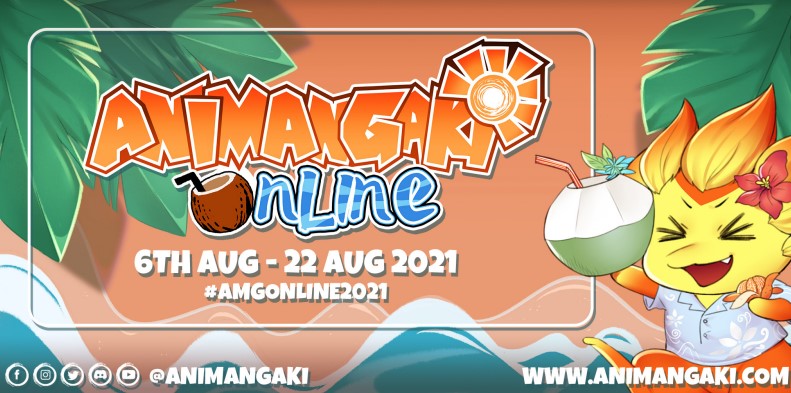 Event Date: 6th August to 22nd August (18 days)
Event Partners: Infinite Carnage, MY Comics Community, The Gaming Company
Ticket Prices: Free
Website, livestream: www.animangaki.com, facebook.com/animangaki
Event Highlights
Art Competition
Artists, feeling hot from the heat and want to blow off some steam? This is your moment to shine! Exercise your creativity and win some awesome prizes! Imagine that it's summer with the ocean breeze and coconut trees, we need you to send our beloved mascot, Kei-chan on a fun beach day! *cue Hawaiian music*
1st place winners get RM500 value of Sakura products, while 2nd place winners get RM300 value of Sakura products. Register here to compete.
Low Budget Cosplay Competition
Kei-chan wants to know how resourceful and passionate you are at cosplaying! Exercise your creativity and stand a chance to win some cool prizes! Register here.
Idolmon Singing Competition
Calling all future idol stars! "IdolMon", for short, is the relaxed & laid-back version of the popular AniManGaki Idol, and this singing competition is back again this year. Miss the stage? Well, here's your chance to belt your heart out in the safety of your own home.
Show us your talent and stand a chance to win some cool prizes! Register here.
Geek Chef Competition
Home cooks and chefs! Let's see you turn your animation, comics and games passion into food! Cook up a storm by channelling your inner creativity and win some awesome prizes! Register here.
Pet Cosplay Competition
Here is a chance for you to have fun, bond and make precious memories with your pets. Get creative and share with us a photo of your cute pets in cosplay costume! Swoon the hearts of many and your pet may walk away with these awesome prizes! Register here.
Cosplay From Home Contest
You can now cosplay at home, join in the fun and maybe win cash prizes! All you need to do is submit a photo or a video. It's that simple! This is a non-competitive activity. Winners will be selected at random. Find out more information from Bunny Gaming, since they're sponsoring the contest.
Fighting Game Tournament
The folks at Infinite Carnage are hosting an awesome online fighting game tournament for Tekken 7, Guilty Gear Strive. and Touhou 12.3. Here are the details.
Guests
The event will feature anime and video game streamer guests such as:
J Hunter
Maxhaze
Rachta Lin
Mika Kobayashi
Faezal Tan
Kupeh Rodriguez
Babybeard
Tsukino
Kureiji Ollie
Taragraphika
Czyong
Liliana Vampaia
Vivid Vision
Aku Napie
Lipwei
KendyLife
---
Schedule
All times are in GMT+8 (Malaysia, Singapore, The Philippines)
Week 1
6th August (Friday)
8:30pm -Â  Opening Ceremony
8:30pm – Performance: Ray Mak
9:00pm – Workshop: How to sculpt chibi balloons with Supa Dupa Circus
9:15pm – Game – Pudds: ACG Online Treasure Hunt!
9:30pm – Game: ACG Feud – The Magic Rain vs Yuki Christy, Papakei, and Aqlif
7th August (Saturday)
11:30am – Hello from Emcee
12:00pm – Performance: Return_Circus + Stove + Pumpkin Nest Maid Cafe
12:15pm – Performance: Tukuyomi Maid Cafe
12:30pm – Competition: Idolmon
1:00pm – Panel: Let's Dejika!
1:30pm – Flex It! Gaki Spotlight
1:45pm – Workshop: Learn how to origami with Malaysia Origami Academy: Battle Axe
2:00pm – Guest: Tsukino
4:30pm – Performance: Simple Jam
5;30pm – Competition: Low Budget Cosplay feat. Vividvision
6:30pm – Game: Anime Quiz
8:30pm – Panel: Panic on Playdate: Is the world ready for a new cranky game console?
9:00pm – Gust: Kureeiji Ollie and Liliana Vampaia
10:00pm – Performance: Kururu
8th August (Sunday)
10:30am – Rocket League Tournament
11:40am – VCT Broadcast (Grand Finals)
Week 2
13th August (Friday)
8:30pm – Performance: Drumstick
9:00pm – Performance: Luna Crescente + Sol Spectra
9:15pm – Game: Quiplash 2 with Rin (ACG Edition)
9:30pm – Performance: Meelz
14th August (Saturday)
12pm – Performance: Alida
12:30pm – Competition: Pet Cosplay
1:00pm – Mika Kobayashi
1:15pm – Meet: Hello from Taiwan!
1:30pm – Panel: The Brave Room
2:00pm – Gust: Babybeard
2:30pm – Panel: Police Sentri by Todak Studios
4:30pm – Performance: Patriots
5:00pm – Competition: Geek Chef
6:00pm – Nmia's Little Secret
6:15pm – Workshop: Learn how to origami with Malaysia Origami Academy – Shield
6:30pm – Anime Quiz
8:30pm – Guest: Liliana Vampaia
10pm – Performance: Windy
15th August (Sunday)
10:30am – Brawl Stars Touranment
11:40am – UEL Official Broadcast (Wild Rift Playoff)
Week 3
20th August (Friday)
8pm – Panel: Ryosuke Tei
8:30pm – Infinite Carnage's Cage Matches: Guilty Gear Strive 5v5 Exhibition Match: Team SF5 vs Team Tekken 7
21st August (Saturday)
11am – Guilty Gear Strive and Hisoutensoku tournament
8pm – Digimon TGC Tournament by Infinite Carnage
22nd August (Sunday)
11am to 9pm – Tekken 7 Tournament by Infinite Carnage