Platform: Nintendo Switch
Genre: Fighting, Martial-Arts, Action-Adventure, Roguelike, Puzzle, Indie
Sifu is a third-person action game with outstanding music, visuals, gameplay, and storyline; it sure as heck impressed (and infuriated) my colleague Mr Toffee when it debuted in February.
But what about the new Nintendo Switch version which is out this week? Surely having a 60fps game run at a consistent but lower frame rate wouldn't dilute the action-brawler experience, wouldn't it? Let's find out what's new and what should have been improved in this port of 2022's finest.
Too Hard? No Problem!
For those who haven't played the game yet, here's a refresher: players start as the main villain, Yang stood in front of an old-fashioned dojo during the night. You ambushed the dojo solo and fought enemies along the way. It was a great start to entice players to get to know the plot even deeper. Your next character who was once a child becomes an adult set to seek vengeance upon his master's death. The storyline and gameplay are similar to the Playstation 4, Playstation 5, and PC versions.
The only difference? The new updates for Nintendo Switch. The game starts with selecting your preferred language, display, and sound option; all brand-new features that weren't available in the original PC/PS4/PS5 version earlier this year. Once those are sorted out, difficulty modes are presented from easiest to hardest; Student, Disciple, and Master. For the classic Sifu experience, Disciple is the option as players can enjoy the game's original level of difficulty.
I chose Disciple at the beginning to experience the classic Sifu gameplay and halfway realized the difficulty was too much for me. Choosing the Student mode is the wisest choice if you wish to explore the storyline with fewer challenges. Master mode, it's self-explanatory and I reckon for experienced players only.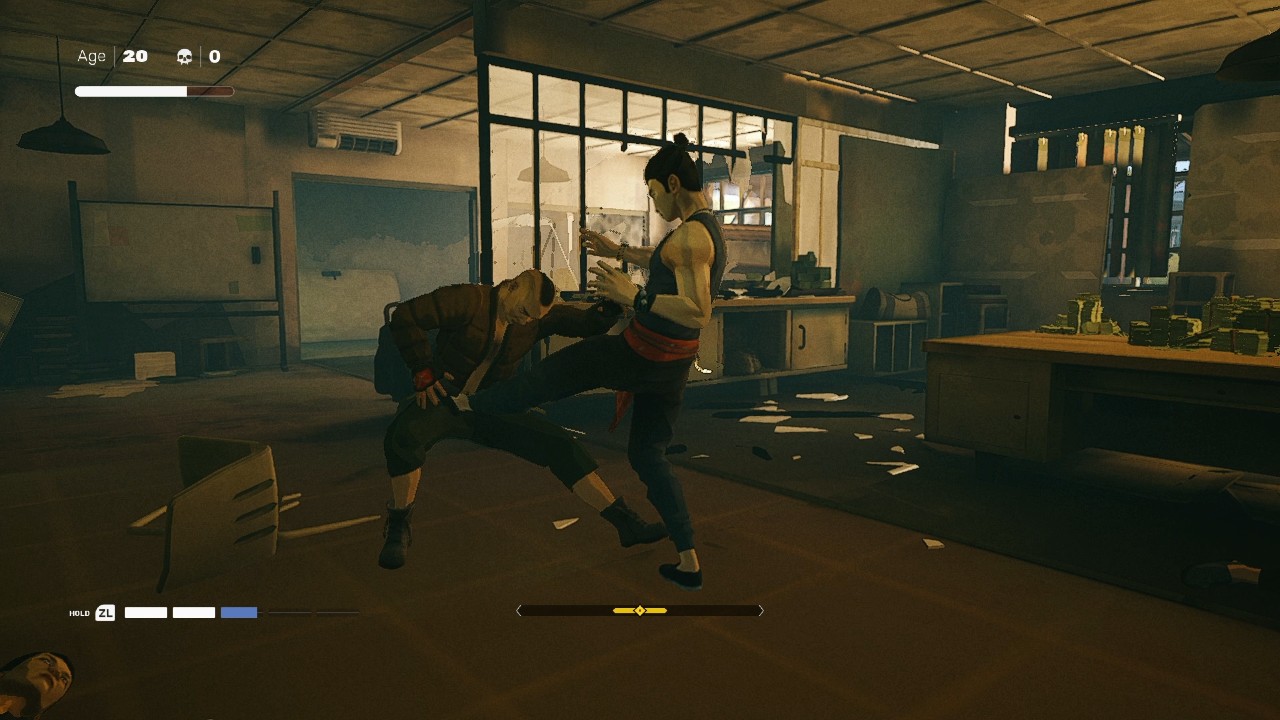 A new standalone game mode introduces as The Arenas. Ten latest arenas uniquely showed various dynamic settings in each chapter. The visuals are brilliantly executed in each arena located at the parking, heliport, and museum exhibition. These arenas are well built according to each boss's personality and style. For example, Kuroki the Artist's arena is set in a futuristic exhibition museum that portrays Japanese ancient relics and art with mixes of bright colours. An odd combo, but somehow it blends beautifully.
There are also various game modes to choose from, ranging from Survival mode to eliminating specific targets. There's even an area-based objective mode with its own scoring method. These game modes spice up to the next level, with the challenges being altered to tailor the game modes provided as you fight your way up till the final chapter. The scoring method varies and can get tricky or challenging for players to play.
You can earn currency by completing and mastering challenges, or just beat enemies and bosses the old-fashioned kungfu way, to purchase modifiers in the game. The currency will also help you to unlock new arenas and challenges.
To summarize, these updates are enticing in every aspect as it changes from one to another. Developer and Publisher, SloClap did a fantastic job in amplifying an already rock-solid martial arts action game with roguelike elements with these options and game modes, enabling you to play detective, martial artist, truth seeker, and an all-round badass.
A DIFFICULT BATTLE AHEAD
The Switch version isn't without its issues. The game can get laggy, especially if you tried to finish the chapter fast. The frame rate drops below the capped 30fps, to the point where it's noticeable when I tried to run ahead past where the camera is framed at.
There was a moment when I fought one of Sean's disciples in the Club stage, and it transported me to Sean himself without realizing if I successfully defeated the disciple or not. It was a bit frustrating, but I don't have to waste my time defeating the small fries! Take every opportunity you get, I suppose.
I'm the type of player who likes to hold the Nintendo Switch instead of docking it to the TV. So far, the experience was a bit uncomfortable as you will feel the weight of the Nintendo Switch getting heavier playing over a long period of time. You can't save it during mid-game and each death causes the character to get older and affects the total health and damage bar. I had to detach the screen and the Joycons to play it comfortably. My best advice would be to dock it to the TV or detach the Joycons; to place the screen as a tablet and Joycons as the held controller.
Mind you that the review code we received did not include the Full Day 1 Patch. So don't worry as SloClap will fix the minor bug and performance issue with a launch patch.
Portable Punch Out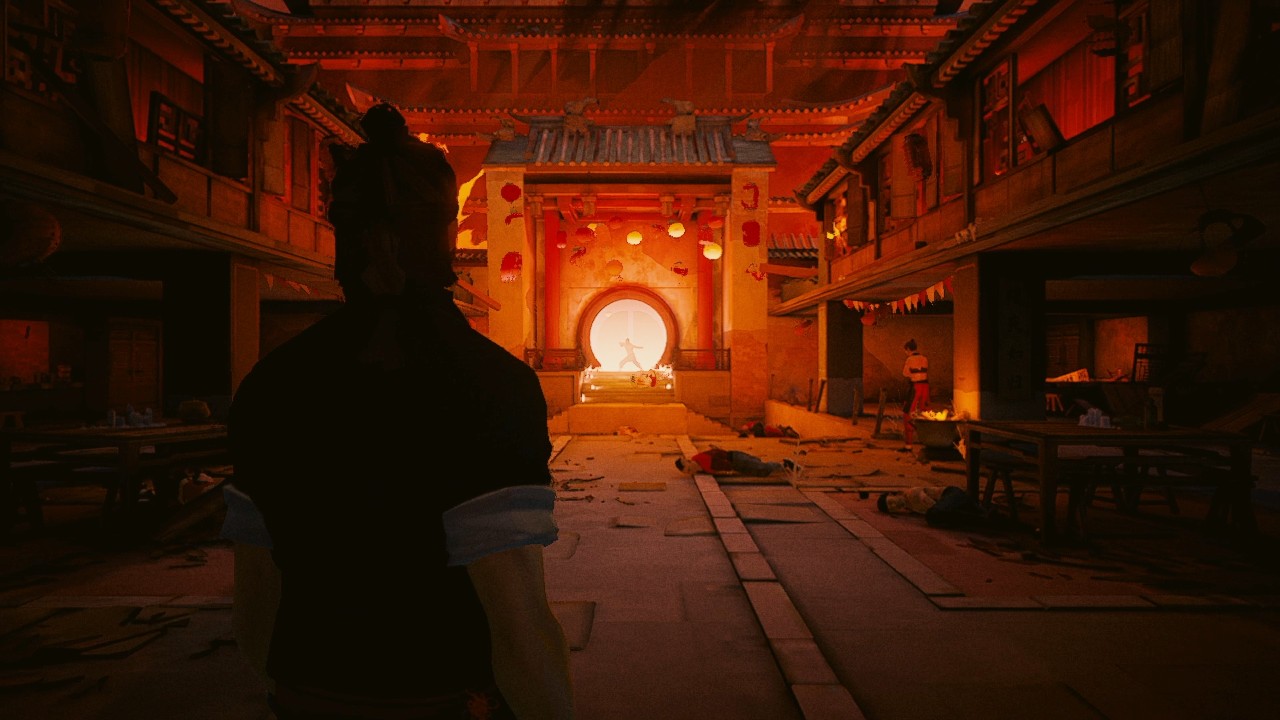 I thoroughly enjoyed playing it even with the minor hiccups of the performance and feel-like experience. Would I recommend the game to new players? Yes, if you are up for the challenge.
I can safely say that it will be a thrilling experience that demands focus, memorization, and persistent upgrades to your character. Once it was over, the sense of accomplishment and satisfaction is rewarding than most indie games I've played. While the overall game is great, this Nintendo Switch port could use some more fine-tuning.
PROS
Beautiful visuals, sounds, and storyline throughout.
Arenas executed elegantly based on the villain's style.
Captivating game modes and currency unleash the game's potential.
CONS
Noticeable framed drops, which will hopefully be fixed day 1.
Requires a strong internet connection to play if purchased digitally.
Generic boss fights stages; one-on-one two battle stages.
FINAL SCORE: 70/100
Sifu was reviewed on a Nintendo Switch based on a review copy provided by SloClap. It will launch for the Nintendo Switch on 8 November 2022.
Related