The sixth episode of The Mandalorian Season 3 is now streaming on Disney+ Hotstar Malaysia. I'll be discussing heavy spoilers so if you haven't seen it or want to avoid spoilers, now's your chance to stop reading.
Meanwhile, check out my breakdown of The Mandalorian Season 3 Episode 1, Episode 2, Episode 3, Episode 4 and Episode 5 here.
The journeys of the Mandalorian through the Star Wars galaxy continue. Once a lone bounty hunter, Din Djarin has reunited with Grogu. Meanwhile, the New Republic struggles to lead the galaxy away from its dark history. The Mandalorian will cross paths with old allies and make new enemies as he and Grogu continue their journey together.
The series stars Pedro Pascal, Katee Sackhoff, Carl Weathers, Amy Sedaris, Emily Swallow and Giancarlo Esposito. The directors of the eight-episode Season 3 include Rick Famuyiwa, Rachel Morrison, Lee Isaac Chung, Carl Weathers, Peter Ramsey and Bryce Dallas Howard.
Check out my breakdown of the first three episodes of Andor, Episode 4, Episode 5, Episode 6, Episode 7, Episode 8, Episode 9, Episode 10, Episode 11 and Episode 12 here.
Check out my breakdown of Obi-Wan Kenobi Episode 1 and 2, Episode 3, Episode 4, Episode 5 and Episode 6 here.
You can check out my previous breakdowns of The Book Of Boba Fett Episode 1, Episode 2, Episode 3, Episode 4, Episode 5, Episode 6 and Episode 7 here.
Last year, we were given the opportunity to interview none other than the former Jedi Knight Anakin Skywalker and current Dark Lord Of The Sith Darth Vader; Hayden Christensen himself.
Koska Reeves Is Working For The Other Mandalorian Fleet, Which Is Led By Axe Woves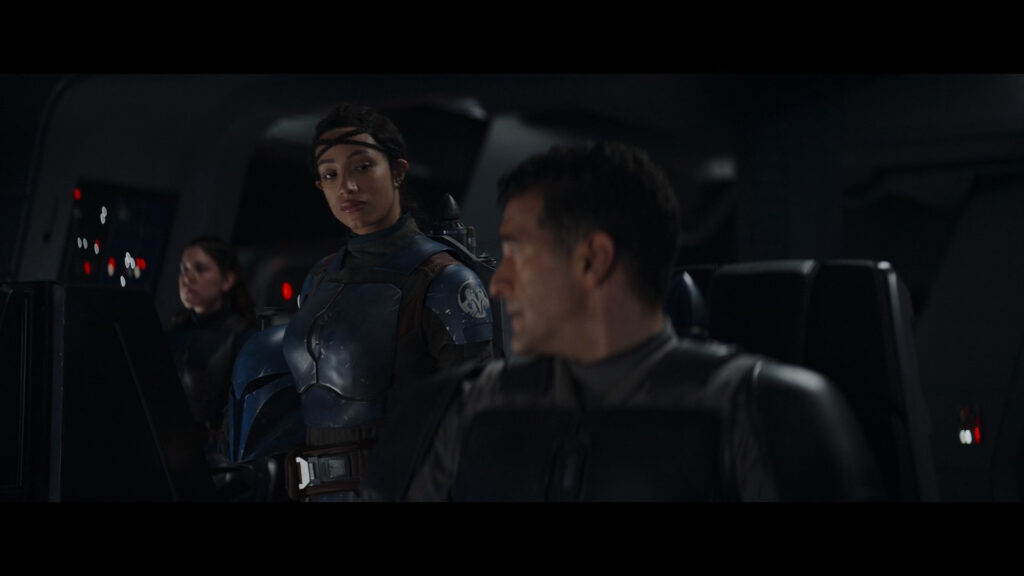 Koska Reeves (Sasha Banks) was a human female Mandalorian who was a member of the Nite Owls. She was last seen in The Mandalorian Season 2 Episode 8. Now she's working for a Mandalorian named Axe Woves (Simon Kassianides).
Axe Woves first appeared in The Mandalorian Season 2 Episode 3, appearing and working alongside Bo-Katan Kryze and Koska Reeves. This episode later reveals that Axe Woves and Koska Reeves left Bo-Katan when they discovered that Bo-Katan still wanted to rule Mandalore.
Jack Black Plays A Rehabilitated Imperial Officer On Plazir-15, And Christopher Lloyd Has A Cameo Too, As Well As Singer-Rapper Lizzo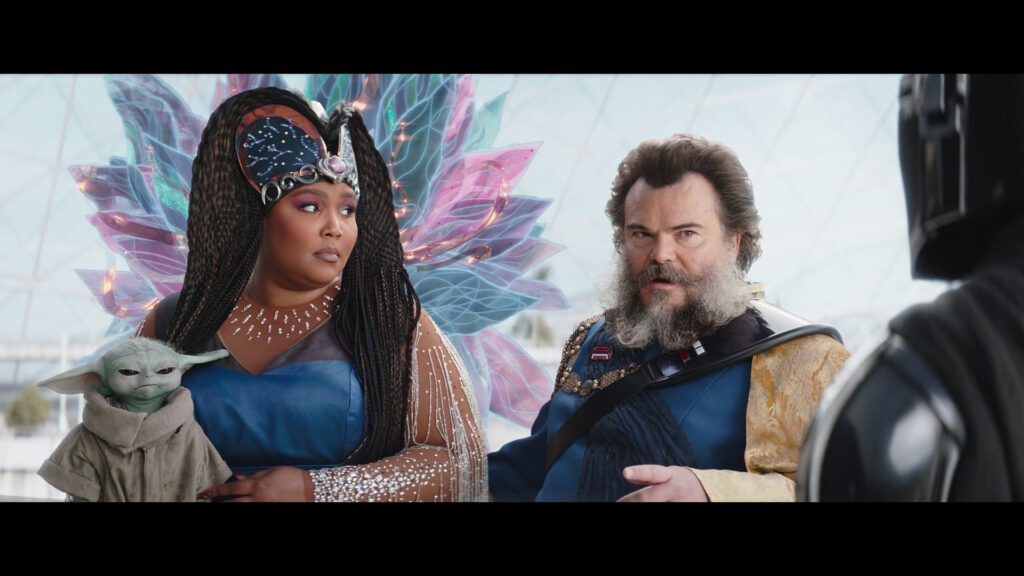 Yes, that's Jack Black in a Star Wars series. He plays a character named Captain Bombardier. Oh, and singer-rapper Lizzo is the Duchess of the planet (the one on the left).
Oh, and that's Christopher Lloyd AKA Doc Brown from the Back To The Future franchise in a Star Wars series. He plays a character named Commissioner Helgait.
Now I've seen everything.
Din Djarin's Prejudice For Droids Resurfaces
To jog your memory, Din Djarin's original family and village were killed and attacked by the CIS' Super Battle Droids during the Clone Wars. That's why he still hates droids until today, and why he treats them so harshly in this episode.
There Are Still 'True' Separatists Out There
Christopher Lloyd's Commissioner Helgait is a Separatist. While the Confederacy Of Independent Systems (CIS) is primarily best known for having been used by Emperor Palpatine as a scapegoat for the Clone Wars, there were actual Separatists who really wanted to be independent from the Republic (as seen in Star Wars The Clone Wars animated series). The Separatists even had their own Senate and politicians.
Helgait even mentions Count Dooku. In canon, it was Count Dooku who is known to be the founder of the CIS, despite it actually being Palpatine.
Din Djarin Returns The Darksaber To Bo-Katan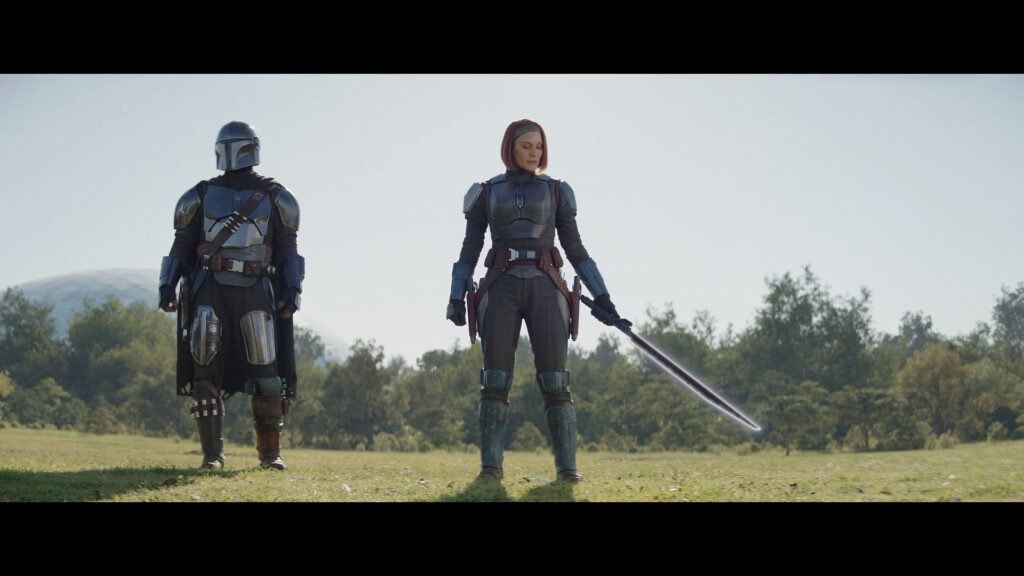 Now that Bo-Katan owns the Darksaber, there's no doubt that she's once again the rightful ruler of Mandalore.
Could we see the rise of a new united Mandalore by the end of this season?
Until next week, excelsior!